Oti Mabuse and Husband Marius Iepure Met as Dance Partners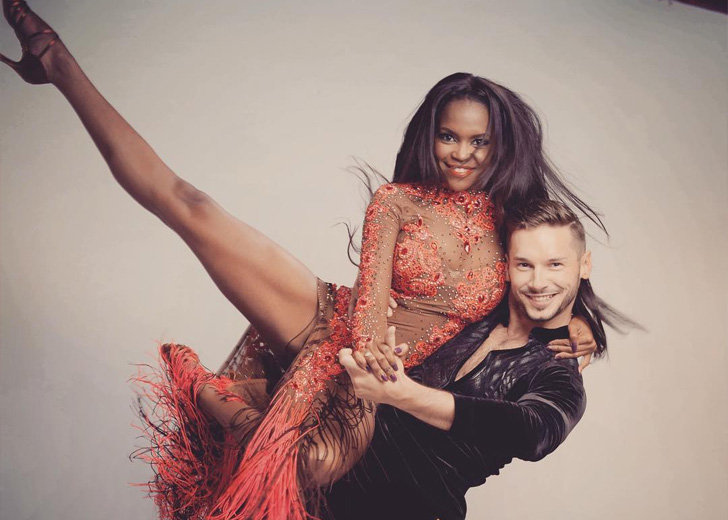 After years of dancing in the competitive scene, the former Strictly Come Dancing dancer Oti Mabuse stepped away and launched her 2022 tour, I Am Here. 
Avidly supporting Mabuse in her new project is her husband, Marius Iepure.
Mabuse and Iepure have been married since 2014. And the beginning of their romance had to do with finding the right dance partner.
How Oti Mabuse Met Her Husband
Mabuse took professional dancing seriously and maintained a competitive spirit. She had already won South African championships eight times. 
Following her passion, she moved to Germany in 2012. Her eldest sister, Motsi Mabuse, was already one of the judges on the German version of Strictly, which is called Let's Dance.
When Mabuse needed a dance partner, Motsi helped by suggesting male professionals for Mabuse to trial.
And this is where Mabuse met her future husband, Iepure. 
Before Mabuse and Iepure partook in Let's Dance as dance partners, the pair had already won third place in World Cup Freestyle Latin in 2014.
They ranked second in the European Championship Latin in 2014 and first in the German Championship Freestyle Latin. 
And during the practices, they fell in love despite their opposing personalities.
In an interview with The Guardian, the Let's Dance star spoke about her and Iepure's differences.
She noted, "He's very laid back. Everyone loves me because of him. I'm very out there, very loud. I'm also a control freak."
"He's ambitious and strict with himself, but he's very chill to live with," complimented Mabuse.
Oti Mabuse's Weddings
Mabuse and Iepure got engaged in 2014. But it wasn't until 2017 that Mabuse shared about the moment she said "Yes."
She posted a romantic throwback recalling the day on Instagram on August 31, 2017.

Oti Mabuse with her husband, Marius Iepure. (Photo: Instagram)
"3 years ago today, this wonderful CRAZY man was annoying the life out of me because he was acting nervous," she wrote, explaining he was nervous because he was going to propose to her at midnight on his birthday. 
She added, "I love you, baby and wish you a great day in 'Strictly' rehearsals (sounds new) let's dance!!!" 
Soon after the engagement, the couple tied the knot for the first time in 2014, when Mabuse was just 23 years old. 
In a 2019 interview with The Guardian, the dancer revealed they got married in Denmark in the countryside.
She said, "We chose a country we thought would be special – I had never been."
The Strictly star also mentioned, "A few years later, my parents wanted us to have a wedding at home, and we ended up having another in South Africa."
Oti Mabuse Denied Pregnancy Rumors Twice
Since the wedding, Mabuse has dealt with pregnancy rumors twice.
In 2019, Mabuse appeared on Your Face Or Mine? and the show's then-host Jimmy Carr stated that there was a possibility of her being pregnant. "I definitely felt something there," he commented after dancing with her. 
Later, Mabuse shared she had to convince her mother she was not pregnant on The Jonathan Ross Show.
But the pregnancy rumors surfaced again at the start of 2020.
This time, Mabuse's husband Iepure shared a loved-up snap of them on Instagram and wrote: "Psst... can you keep a secret? Link in bio." 
Fans immediately concluded that he was talking about his wife's pregnancy. One fan referred to Mabuse and commented, "You're pregnant." 
To their disappointment, Mabuse was quick to deny it and replied, "no, lmao."
While Mabuse has denied being pregnant multiple times, the topic rose once again when she announced her exit from Strictly.
People wondered if she left Strictly to start a family with her husband. But the professional dance set the record straight during an interview with YOU Magazine. 
"No. There are still things I want to achieve. I have a really long list," she admitted. "And when motherhood happens, it'll happen, but that's not something on my books right now."
As of this time of writing, the dancing sensation is busy with a new musical, The Cher Show, a TV dating show, Romeo & Duet, and her 2022 tour, I Am Here.