Nick Cannon Gets A Tattoo Of His Late Son Zen Scott Cannon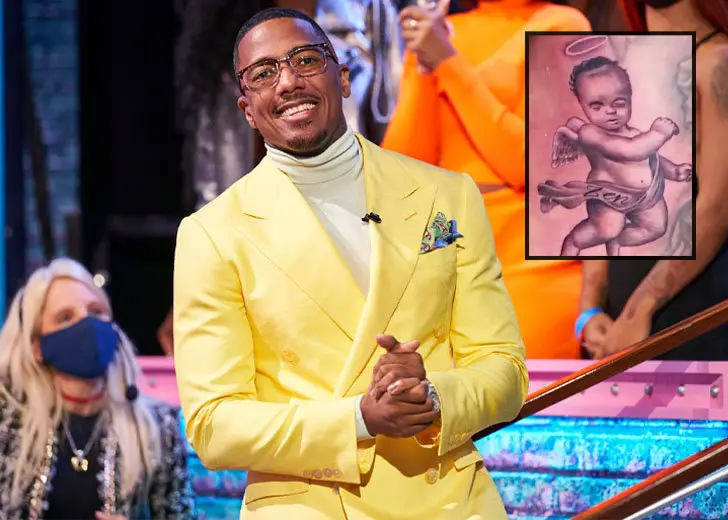 Nick Cannon had his seventh child, Zen Scott Cannon, with model Alyssa Scott, earlier this year on June 23.
However, his son was diagnosed with brain cancer, and sadly the little one passed away because of the disease on December 5, 2021. He was only five-month-old.
However, in this challenging time, Cannon found a way to pay homage to his departed son.
During a recent episode of his self-titled show, the comedian and television personality revealed that he got a tattoo on his rib, showing a photo frame of his latest ink.
Nick Cannon Tattoos after His Son's Death
Cannon later posted a clip from his show on Instagram to update his fans about his latest tattoo dedicated to his son.
The said tattoo was of a baby angel. Cannon thought of his departed son as the angel.
"I've seen so much love this week. I can't say THANK YOU enough. I will always have this angel with me. #NickCannonShow #PicOfTheDay," he captioned the post.
He wrote a heartwarming caption in another post while revealing the process behind making the tattoo.
He thanked tattoo artist Rods Jimenez, Inked NYC Tattoos and Gallery, and Inked Magazine for healing him out with the tattoo.
In the caption, he also shared that he had the privilege to host an Angel on this earth for a short period, referring to his son.
"...but his energy is Eternal and will always be by my side. The strength in my rib. Zen Scott Cannon," he added.
Nick Cannon Announced His Son's Death during the Show
On December 7, two days after Zen's death, Cannon announced losing his youngest son during his talk show.
"Over the weekend I lost my youngest son to a condition called hydrocephalus that was pretty much a malignant, invasive midline brain tumor, brain cancer," he emotionally shared. "It's tough."
In addition, he talked about spending the past weekend with his son in California.
He said he was happy to see sunrise and sunset with the little one.
"I didn't know how I was going to handle today," Cannon told his audience. "But I wanted to grieve with my family."
Therapist and TV host Dr. Laura Berman was present during the episode, who discussed the grief of losing a child with a fellow television personality.
Nick Cannon Has Several Tattoos on His Body
Cannon already had several tattoos on his body before making the latest one for his departed son.
Earlier this year in April, he visited Inked NYC to have his neck and chest tattooed, which took about two days to complete.
The neck tattoo was of an eye, and according to him, it represented his mother's eye.
He also famously had a tattoo dedicated to his ex-wife and singer-songwriter Mariah Carey.
The tattoo was known amongst the fans as the "Mariah tattoo."
But Circa 2014, the comedian made a large crucifixion tattoo on his back around the "Mariah tattoo." His new ink completely covered up his tribute tat to his ex-wife.