4 Actors to Watch Out for in 'Never Have I Ever' Season 3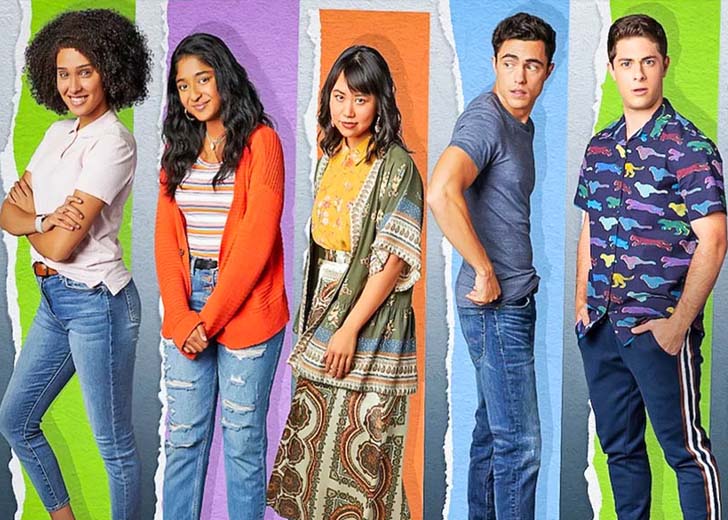 Mindy Kaling's brainchild, Never Have I Ever, is returning for season three in August 2022. The Netflix series is a well-received show with a diverse cast on all fronts — age, talent, and inclusivity.
But there are a few standouts among the already great cast. Even though all cast members are great, some actors within the show have become many people's reasons to keep coming back to the show.
Here's a list of four actors you should keep an eye on for the next season of the Netflix hit.
Warning: Spoilers Ahoy!
Poorna Jagannathan (Dr. Nalini Vishwakumar)
Poorna Jagannathan plays Dr. Nalini Vishwakumar, Devi's (Maitreyi Ramakrishnan) traditionalist, iron-fisted mother, on Never Have I Ever. She has been a part of the show since the first season.
She and Ramakrishnan's characters had a bit of drama going on in season two, which created tension between the two. However, season three snippets from the show make it seem like their bond is tighter than ever.

Poorna Jagannathan (left) with cast member Maitreyi Ramakrishnan on 'Never Have I Ever' season 3. (Photo: Never Have I Ever/Instagram)
It will be interesting to see what kind of performances Jagannathan drops in season three with a mostly-recurring cast. Going by her past record, it should be pretty great.
Jagannathan has worked on many other big projects, such as HBO's The Night Of and Big Little Lies' second season. In Never Have I Ever, she got to act in a world similar to what she experienced growing up, and has been justifying her role up until now.
Lee Rodriguez (Fabiola Torres)
When Lee Rodriguez first got the part of Fabiola Torres on Never Have I Ever, it was her first big acting job. She had worked in small capacities on Snapchat's original series, Bed of Lies, and Grown-ish, but this was a big ask.
Rodriguez has done a great job portraying the mostly-robotic genius that is Fabiola (Devi's one of two best friends) for two seasons. She did a great deal of work to fit the mold of her character, whose high school experience differs greatly from her own.

Lee Rodriguez (top) with Ramona Young (left) and Megan Suri (right) in season 3 of 'Never Have I Ever.' (Photo: Never Have I Ever/Instagram)
The actress attended a performing arts high school in California and studied singing, acting, musical theater, and even contortion during her time there. She initially wanted to do singing but later caught an acting bug, which eventually led her to this show.
During her interview with Teen Vogue in 2020, she said she wanted to do some dramatic roles in the future. For now, however, Never Have I Ever has to do.
Ramona Young (Eleanor Wong)
Ramona Young, like Lee Rodriguez, had a high school experience different than her character, Eleanor Wong (Devi's other best friend), on Never Have I Ever. As an introvert who faced a lot of school changes growing up, it was a welcome change to get to play an extroverted theater kid on the show.
She pushed herself out of her comfort zone to bring the character to life, and all that hard work paid off. She also improvised her character a lot, and her previous acting experiences must have helped her in getting up to speed on set.

Ramona Young (right) with Maitreyi Ramakrishnan on season 3 of 'Never Have I Ever.' (Photo: Never Have I Ever/Instagram)
Young has worked on big projects like DC's Legends of Tomorrow, Santa Clarita Diet, and Blockers. She even has a voice acting credit on Red Dead Redemption II.
For season three, Eleanor closed season two without any certainty on the relationship front. But season three snippets show her getting close with a guy. It'll be interesting to see how Young copes with the changes in her character's life in the upcoming season.
Anirudh Pisharody (Des)
Anirudh Pisharody is a new addition to the solid cast that Never Have I Ever had until season two. And his character, Des, might be there to create some turbulence in Devi's life.
Pisharody isn't exactly a newcomer in the film industry, having played parts in projects like 9-1-1, Aladdin on Totally TV, and The Goldbergs. He is also an executive producer and COO at Black Velvet Films. But Never Have I Ever is the biggest thing he has done yet.
He was born in India and grew up in Austin, Texas. A medical student, because of his parents' pressure, he later realized the movie business to be his calling. He moved to Los Angeles to chase his dreams and hasn't looked back since.

Anirudh Pisharody, a new addition to the 'Never Have I Ever' cast for season 3, with Maitreyi Ramakrishnan. (Photo: Never Have I Ever/Instagram)
Nirdesh (Des for short) is an Indian American teenager. He's apparently as smart as Devi but has the privilege of going to an elite private school.
He's going to be a new addition to the love triangle between Devi, Ben, and Paxton and could be a new distraction for Aneesa. As for Pisharod's performance, there are a fair number of reasons to get excited.