Is Nessa Barrett Struggling to Move On from Jaden Hossler?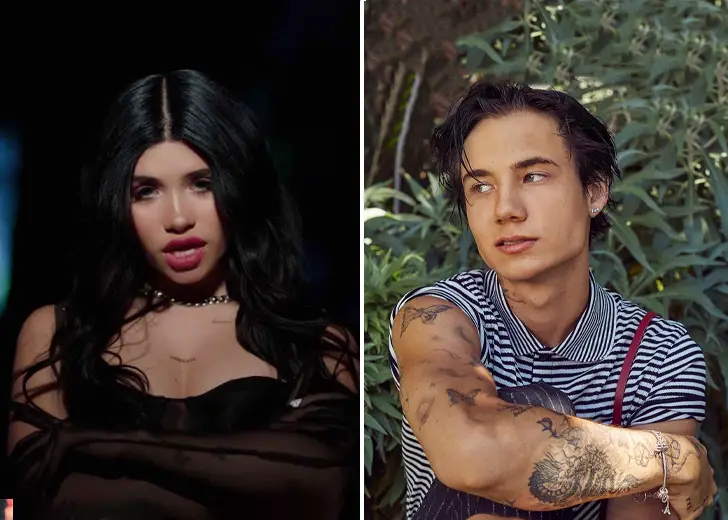 The last time we reported on Nessa Barrett, netizens speculated she was getting back together with Josh Richards after breaking up with Jaden Hossler. 
These rumors started after they were spotted on a "dog walk," and partied together. 
A video of the duo surfaced online after eyewitnesses recorded the pair hanging out at a party. 

Nessa Barrett and Josh Richards spotted partying together by eyewitnesses. (Source: tiktokinsiders/Instagram)
These eyewitnesses also claimed were grinding and making out with one another. 
Nessa Barrett Struggling with Her Break Up
But according to Hollywire TikTok, Barrett was spilling her heart on Twitter on the day of the reported party, May 20, 2022. 
The outlet uploaded a video on TikTok and discussed everything the singer tweeted before heading off to the party. 
In the first tweet, Barrett wrote, "normalize forgetting people exist," and in the second one, she wrote, "I am literally so sick to my stomach."
Then the day after the party, after photos and videos of her and Richards leaked, she tweeted she was having such a hard time but refused to ask for help or tell anyone because she didn't want to appear weak. 
Hollywire assumed she was having a difficult time to move on from her breakup, or she was confused about Richards.
However, netizens in the comment section berated the outlet, saying they were wrong about the tweets. 
In the video's comment section, a user clarified, "the first tweet is probably about Jaden, and the rest are about the house she did not get. She was really upset abt it."
Another user wrote, "I think it's about her ED [eating disorder]. She said she has been relapsing recently, so I don't think this is about Josh."
Some even criticized the celebrity tea channel, with one saying, "This is actually so embarrassing for you. If you took literally two minutes to do easy research, you would not have posted this BS. You are just so incorrect."
Nessa Barrett Confirms She Is Never Getting Back with Jaden Hossler
A few days later, on May 25, 2022, Barrett confirmed she was never forgiving Hossler. 
It is unconfirmed what caused the duo to break up, but rumor has it that the 'Comatose' singer cheated on the songstress.
According to Hollywire, one of Barrett's fans had left a comment on one of her TikTok videos saying she needed to forgive Hossler. But Barrett was not having it and responded by saying that was how one got blocked by her. 
Many netizens thought her response hinted she had indeed been cheated on. And while the 'La Di Die' singer was blocking fans, it looked like Hossler was missing the singer. 
The aspiring rockstar took to Instagram story and posted a screenshot of the song 'As the World Caves In' by Matt Maltese. 
According to fans, the former couple had previously mentioned how this was their song.
They opined Hossler was probably regretting cheating on Barrett, while some doubted his intention and said he was probably doing this for clout or because he was lonely now that everyone had turned their backs on him.