Did Naughty Boy Lie about His Real Age? Controversy Explained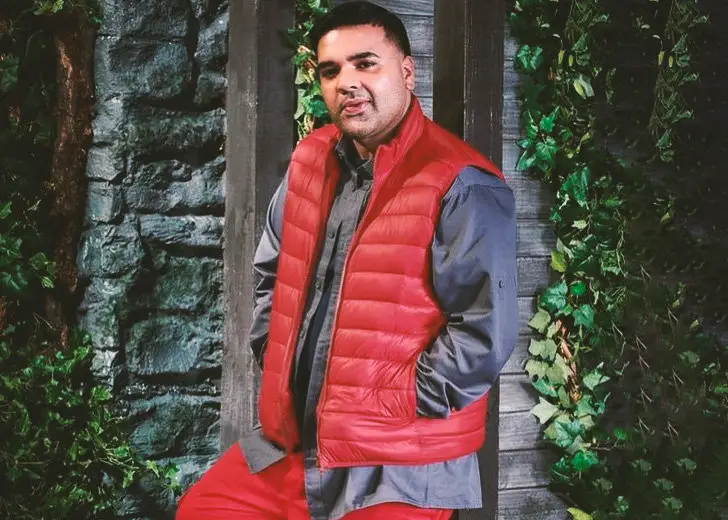 Naughty Boy, whose real name is Shahid Khan, has lately been in the spotlight because of his conflicting activities since joining the reality television show I'm a Celebrity...Get Me Out of Here!, in 2021.
Recently, the British DJ has been accused of lying about his age.  He claimed to be 36 years old during the ITV show, when in reality, he was not. 
An official ITV press release that gave the music producer's false age stated, "Famed for his love of cooking, the 36-year-old hopes to rustle up some meals in the castle by taking on the role of chef. He also hopes to be someone who everyone can confide in."
It Turns Out Naughty Boy Is Not 36 but 40
According to The Sun, public records exposed that Naughty Boy was born in Watford, Herts., on January 1, 1981, making him 40 at present.
And going by these details, the record producer will celebrate his 41st birthday in a few weeks on New Year 2022.
The tabloid also featured comments from the reality TV star's former school pals, who were amused by the lie about his age.
One of his friends, 40, who attended secondary school Westfield Academy in Watford with Naughty Boy from 1992 to 1997, told the publication, "Naughty by name and naughty by nature - he's having a laugh by making out he's younger."
The friend further said, "Shahid's real age is Watford's worst kept secret. It's great he's done so well. But blatantly lying about his age is pretty sad."
Fans React to Naughty Boy's Age News
Daily Mirror, an online tabloid that reported the news on Instagram, immediately received attention from netizens and Naughty Boy's fans.
"Come on, No one thought he was 36, if of guessed 45," someone dropped their honest view while adding, "Those that are moaning this isn't news, I'd rather see news like this than the scare mongering that's been thrown in our faces daily."
Another chimed, "He's just a naughty boy isn't he."
"Honestly just leave the poor guy alone," someone added in support of Naughty Boy.
Someone also joked, "He looks 30 for me."
Naughty Boy Previously Said He Was Quitting the Show
A few days ago, Naughty Boy was in the news stating he was quitting the I'm a Celebrity...Get Me Out of Here! show. He reportedly told his castmates his journey had "come to an end."
During a conversation in camp, the music producer told his castmates Snoochie, Matty, and Danny that he would be leaving in the morning, so he wanted to make his last night a good one.
"I want to make tonight a special night, as I will be leaving in the morning," he stated. "I just think my time here is done."
It was the second time the famed DJ had planned to leave the show, as he previously wanted to exit the castle during his time in The Clink, with Dame Arlene Phillips admitting she felt the same.
Naughty Boy is a full-time DJ, record producer, musician, and chef who owns Naughty Boy Recordings's production company.
He has worked with Ed Sheeran, Jennifer Hudson, JLS, Cheryl, Alesha Dixon, and Tinie Tempah.