Maisie Peters Dishes on Her New Album and Working with Ed Sheeran
Maisie Peters is finally ready to drop her debut album and she's doing it with Ed Sheeran's record label, Gingerbread Man Records.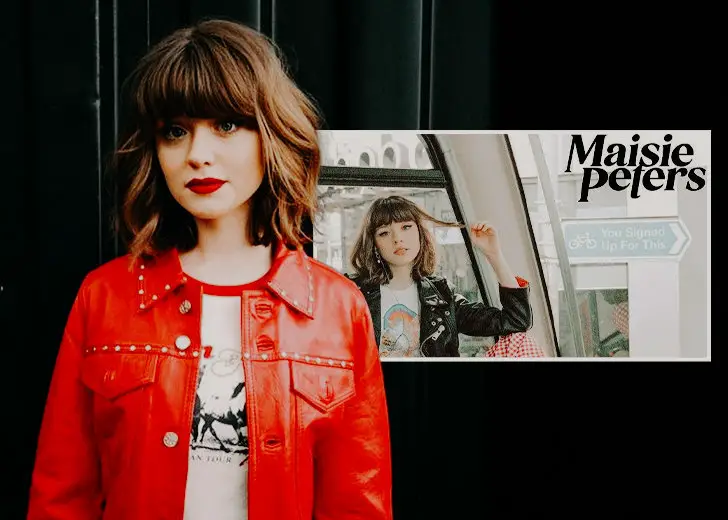 After a few EPs and feature songs for movies, Maisie Peters has finally gotten around to releasing her first professional album.
And she's releasing it with Gingerbread Man Records, the record label of another British singing sensation, Ed Sheeran.
Gushes About Album And Working With Ed Sheeran
On July 15, 2021, Peters took to her Instagram to reveal a few things about her new album and about working with Sheeran.
The post contained three pictures — first a portrait of herself, second a list of her songs on the new album, and third a photo of her with Sheeran.
The caption was a lengthy one, beginning with the release date for her album — August 27, 2021 — the name, You Signed Up For This, and the label, Gingerbread Man Records.
Then she expressed her disbelief at what she was about to accomplish and how the album came into existence.
The album, she said, culminated her experiences about writing her first song, train and bus rides, and her desires to create something special, important, and something she loved.
She loves the album — something she reiterates multiple times in the text — and even revealed how good she thought it was and how she had been listening to it repeatedly.
This, she said, was her favorite album ever (her words), and thought being able to work with and collaborate alongside Sheeran and to release it through his label was "insane."
i love this album with my whole heart, utterly and entirely, it is my favourite album. it's been years in the making and i really can't believe that it's gonna be in all ur earphones soon, not just my terrible blue ones. so wild so exciting so wonderful pic.twitter.com/EhMW3bf1WK — maisie peters ✨ signed up for this (@maisiehpeters) June 15, 2021
She also revealed the release date of her next single off the album, 'Psycho,' on July 2, and thanked everyone who she felt was with her on her journey to where she was today.
Sheeran, too, made a post about Peters being the newest addition to Gingerbread Man Records.
His caption, although much shorter than Peters, talked about how he had been following her for 'a few years' and praised her for being a "real, real talent."
Maisie Peters — A Brief Intro
Maisie Hannah Peters was born on May 28, 2000, in Brighton, England. She started writing songs when she was nine years old, wrote her first song on a friend's guitar when she was 12, and created a YouTube channel in 2013 to release her original tunes.
borrowed olives guitar when we were 12 and wrote my first song. now we're 21 and live together and sing along to my debut album in the kitchen 🥺 https://t.co/xzYhklEqDI — maisie peters ✨ signed up for this (@maisiehpeters) June 15, 2021
Her first big hits were 'Worst of You' and 'Place We Were Made.' Then, after a few more singles and a year later, Atlantic Records UK signed her in 2018.
With Atlantic, she released her debut EP, Dressed Too Nice For A Jacket, on November 2, 2018. The EP contained six songs, including 'You To You' and 'Feels Like This.'
Atwood Magazine even described her as a human mix of the "lyrical prowess of Taylor Swift" and "delicate yet fierce vocals of Ed Sheeran" in their review of the EP.
Peters kept releasing songs regularly in 2019 before her second EP, It's Your Bed Babe, It's Your Funeral, in October 2019.
It was after this that she really took off. First, Atlantic Records released 'Smile,' her single for the movie Birds of Prey, on February 6, 2020.
Later that same month, she became the opening act for former One Direction band member Niall Horan's 'Nice To Meet Ya Tour' European leg.
2021 started well for Peters. First, she and fellow British singer-songwriter James Bay worked on 'Funeral,' the lead track of Apple TV original Trying. And now, she is associated with Gingerbread Man Records.
Other than a brilliant musician, Peters is also an avid reader. To spread her love for reading, she started an online book club on Instagram. To this date, the Maisie Peters Book Club has over 7,140 followers.
Looking at her meteoric rise over the past three years, it looks like Peters has a bright future ahead of her.
Now we just have to wait and see what she has cooked up alongside Ed Sheeran for everyone in her album.