'It's Tough' — Natalie Noel Defends David Dobrik Amidst Heavy Allegations
"He is not doing weird shit behind the scenes. He is just a normal, average dude," Noel said of Dobrik.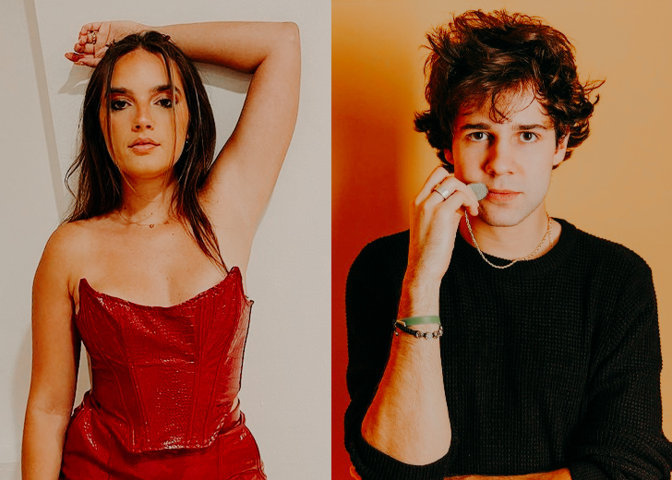 Natalie Noel recently made an appearance on the BFFs with Dave Portnoy and Josh Richards podcast, where she was seen defending allegations against the once-dubbed King of YouTube, David Dobrik. 
For those of you uninitiated in the Dobrik controversy and questioning, "What did David Dobrik do?" The YouTuber and his team of bloggers, known as the Vlog Squad, have been accused of inappropriate behavior and misconduct, racial bullying, bullying in general, invading privacy, and even rape. 
Following said accusations, Dobrik took a hiatus from his regular vlog content on his primary channel. But he still managed to stay relevant as different parties involved— the accused and the alleged victims — began peeling back layer after layer of controversies. 
Noel And Dobrik Are Childhood Besties
During the podcast, Noel admitted to having known Dobrik since "forever," as the two had grown up in the same town and were best friends since childhood.
Noel explicitly said that she was quite possibly the closest person to Dobrik and knew him better than anybody. She also outright confessed that everything that had happened was really bad. 
Noel was adamant that Dobrik was a really nice guy, and she felt bad seeing someone, who was actually a good person, being accused of terrible things. Still, she said that there was only so much she could speak about in such a controversially charged topic. 
However, she stood by her statement through and through. When asked if her response meant she stood behind Dobrik one hundred percent, she unhesitantly answered that she did because he was her best friend. 
Noel Claimed Dobrik Was Transparent
Probing further, David Portnoy brought up a statement he directed at Dobrik before controversies began.
In short, he was of the idea that anyone who had achieved superstardom would have had something controversial about them out in the public eye unless they were deliberately hiding them. 
While Noel acknowledged Portnoy's idea and where he was coming from, she insisted that Dobrik did not hide anything from his fans on the internet. She added, 
He is not doing weird shit behind the scenes. He is just a ... like normal, average dude.
She further pressed that even with the overall controversy unfolding, Dobrik wasn't the one at fault. He just so happened to be around when another person allegedly did what they did. 
Noel's Experience
Portnoy also asked her about what it was like for her, personally, given that she was within Dobrik's orbit throughout the entirety of the scandal.
Admittedly, it was had for Noel. She explained, 
I feel like for anybody that goes through something like that it's extremely difficult. Millions of people that are saying terrible things about you that obviously I don't think are true. 
She reinstated that the entire experience was awful and that she would not wish such a fate on anybody. 
It is also noteworthy that Noel spearheads many of Dobrik's business ventures and holds the title of Vice President for David Dobrik LLC.
She also explicitly stated that no one gets into business with the YouTuber without talking to her first.