The Appeal of Monica Bellucci Smoking- See Photos, Gifs and Videos
The hot and happening actress and model Monica Bellucci is often seen smoking in movies and photoshoots.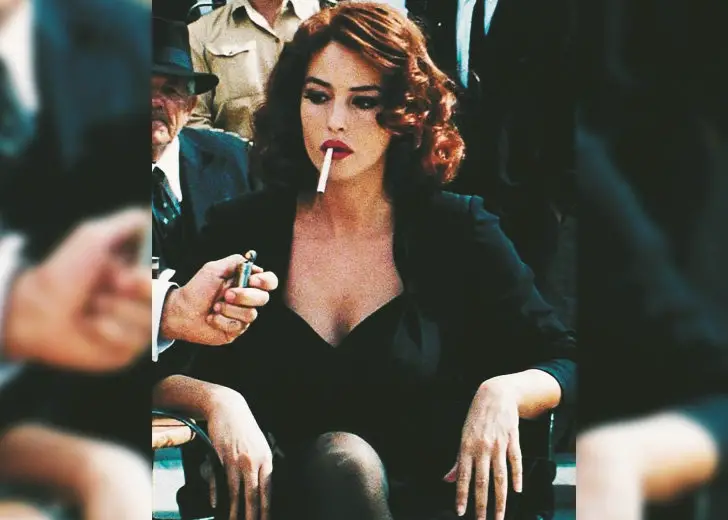 Monica Bellucci's smoking scene from the movie Malena is still fresh in the memories of the movie-goers. In the Italian film released in 2000, Bellucci was Malena Scordia, the movie's lead character.
Since the film, the 57-year-old actress has been pictured smoking frequently. There's an array of pictures and videos available on the internet which showcases the famous actress with cigarettes between her lips. 
A search on the online GIF search engine Tenor shows several moving pictures of the actress blowing cigarette smoke out of her mouth. 
While the Malena actress is often seen smoking in movies, photoshoots, and modeling videos, it is unclear whether she is a smoker in her personal life. 
Reaction to Monica Bellucci's Smoking Images and Videos 
Last year, British actress and ice skater Ingrid Oliver tweeted a collection of Bellucci's pictures with a moderate-length caption explaining how images of the actress smoking mess with her head.
In her tweet, actress Oliver revealed herself to be a former smoker and highlighted how cigarettes are harmful to our health. 
While many cite the danger of cigarette smoking and disregard Bellucci's attached image with cigarettes, some call her to look sexy while smoking.
Earlier in 2021, a YouTube channel titled World of Smoke posted a compilation video of the gorgeous actress smoking cigarettes. The clips were taken from her many movies. 
A peek into the comment section showed the appreciation fans have for the actress. One social media user called Bellucci incredibly beautiful and added that she knows how to smoke for the camera.
Another YouTube user claimed her not to be an actual smoker, but labeled Bellucci beautiful and sexy.
While a third commenter did not impress with her inhaling skills but called the model very attractive, the same user further shared the thought of her not being a full-time smoker. 
Bellucci's Personal Life and Movie Career
Bellucci was born on 30 September 1964 in Umbria, Italy. Other than her native Italian, she speaks fluent French and English. 
So far, the youthful-looking actress has been married twice, firstly with Italian photographer Claudio Carlo Basso in 1990. But unfortunately, her marriage with Basso lasted only for eighteen months. 
Bellucci married French actor Vincent Cassel in 1999, whom she first met on the set of the 1996 French movie The Apartment. With Cassel, the model shares two daughters, Deva and Leonie.  
Bellucci's marriage with Cassel did not last long as the ex-husband and wife went their separate ways on 26 August 2013.
The beautiful Bellucci is currently in a relationship with French sculptor Nicolas Lefebvre, and the two have dated since 2017. 
As of 2021, following in the footsteps of her successful mother, daughter Deva has started her career in modeling. However, the whereabouts of her younger daughter Leonie remain unknown to the public eye. 
Bellucci started her long-spanning fashion career back in 1977 with famous luxury fashion houses like Dolce & Gabbana and Dior. She has since made a name for herself in the fashion world and is still active today.
Bellucci started her movie career in 1990 but tasted overnight success with Malena. Per the actress, this is one of the three movies that shaped her career, the other two being Irreversible and The Passion of The Christ.
Bellucci was also seen in 2015's blockbuster Spectre as Lucia Sciarra, the twenty-fourth movie in the James Bond franchise.