Milana Vayntrub Raising Son with Husband Differently than Her Father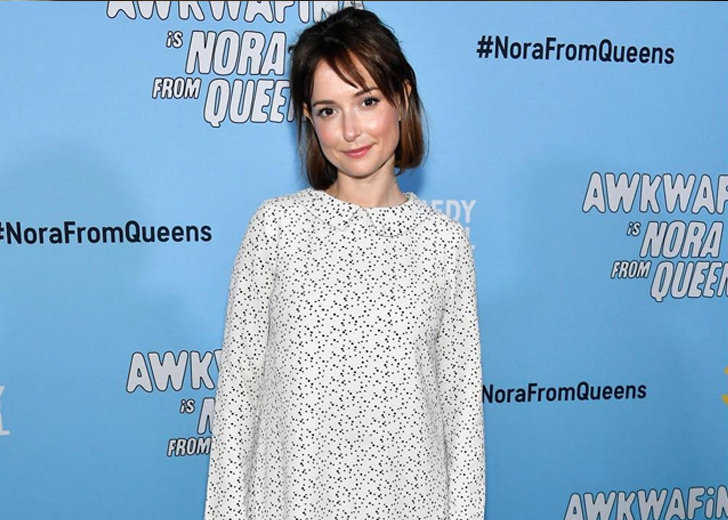 Soviet-born American actress Milana Vayntrub, renowned for her role on the NBC drama This Is Us, has been very secretive about her personal life.
Because of that, she was speculated to be single till December 2021. But all the previous reports turn out to be false, as she is married to a husband and has a baby boy, too.
Contributing an article for The Daily Beast on February 7, 2022, Vayntrub spoke about her relationship status, probably for the first time.

Milana Vayntrub showing off her baby bump. (Photo: Instagram)
In the piece, she majorly talked about her abortion [10 years ago] and experiences of having her first child in May 2020 with her husband, whose identity remains under wraps at present.
Milana Vayntrub on Giving Birth to Her Baby
The Other Space star started her story by opening up about the day she gave birth to her first baby.
As per her, her baby was "sunny side up," a vaguely appetizing term that meant the baby's head was pushing against her spine. Hence, every time she had a contraction, she felt like her back broke.
"The pain felt unfair—like an injustice. Surely, this must be against some law!" she wrote.
She continued to add, "I thought, followed quickly by, I must call the head of the hospital! As the pain intensified, it became, I need to call the police! Finally, I landed on the president. Actually, scratch that. Kamala. She'd know what to do."
Meanwhile, her husband sat by her side when she was in labor and was admitted to the hospital to have their child.
He also squeezed her hips every time she had a contraction to help her with her pain.
After enduring pain for a long time, she eventually gave birth to her child, who was "half-covered in his own poop, and heavy as a bowling ball."
"As the nurse placed his little, loud body on my chest, I remembered why I was there and why I'd gone through all this. I remembered that this was what I had chosen to do. I wanted to create a family," Vayntrub recalled the special moment.
On February 7, the actress later took to Instagram to share a picture from her pregnancy photoshoot.
In the picture, she flaunted her baby bump while sharing nothing has made her more "pro-choice" than her pregnancy and motherhood.
Milana Vayntrub and Husband Raising Son Differently
Vayntrub, personally, had a challenging relationship with her father, who presently lives in Moscow, Russia.
Speaking with Rohan Gunatillake on the Meditative Story podcast in October 2021, the diva admitted her father missed a lot of stuff in her life since he was often away from her because of his work.
"He's working over there to give us a better life here. He's doing his best. I know that. I know he loves me," she remembered thinking like that as a child.
That said, she and her secretive husband do not want their son to have a similar, long-distance relationship with his parents.
Hence, the couple always wanted different things for their family, especially from what she had when she was young.
"I want the closeness that comes from staying close. I want the intimacy that comes from sticking around after the charm has worn off, after you run out of stories, after you get sick of each other. I want to know my child in ways my dad never knew me," Vayntrub added.
And apparently, she has been doing it together with her baby's family. That also justifies why she has kept her husband and son away from the spotlight.