Mike Tyson Didn't Want to Know How His Daughter Died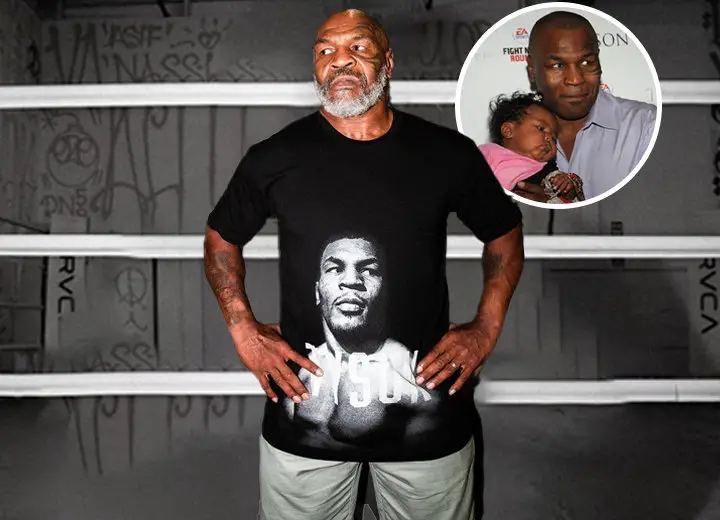 Mike Tyson needs no introduction. He is undisputedly one of the greatest heavyweight boxers of all time. He was the youngest person to win a World Championship at 20 years old.
He protected his Heavyweight champion title from 1987 to 1990 and won the World Boxing Association, World Boxing Council, and International Boxing Federation titles.
At the height of his career, the boxer reportedly earned £300 million from his highly anticipated boxing matches and lucrative sponsorship deals.
As one of the most famous boxers, much of his ear-bitingly chaotic personal life was played out in public. From rape cases to domestic violence and biting off an opponent's ear, controversies seemed to follow Tyson like a plague. 
Despite his success in the ring, he retired in 2005, and four years later, he experienced the biggest tragedy of his life. 
Mike Tyson Shattered after His Daughter Was Found Dead
In 2009, Tyson's four-year-old daughter, Exodus Tyson, whom he shared with girlfriend Sol Xochitl, passed away. 
According to reports, Exodus was found at their home in Phoenix, Arizona, by her seven-year-old brother with her neck tangled in a cable from a treadmill machine. 
The young boy alerted his mother, who removed the chord from the child and attempted to revive her with CPR. She called 911, and her daughter was rushed to the hospital, where she was put on a life-support machine as her condition had been said to be "extremely critical."
 Tyson, who was in Las Vegas when the accident happened, flew to Phoenix to be at his little girl's bedside.

Mike Tyson and his daughter, Exodus Tyson. (Source: Instagram)
Unfortunately, nothing could be done, and his daughter passed away on May 25, 2009. 
Following the pronouncement of death, Tyson admitted in an interview that he wanted to get his gun and go crazy. However, when he got to the hospital, he saw other parents were going through the same heartbreaking experience as he was. 
In another interview, the boxer admitted to Oprah Winfrey while in tears that he did not want to know if someone was truly responsible for his daughter's death.
"There was no animosity. There was no anger towards anybody. I don't know how she died, and I don't want to know. If I know somebody's to blame for it, there will be a problem," said Tyson. 
Mike Tyson's Other Children
Besides Exodus, Tyson is a doting father to six other children.
Mikey Lorna Tyson is the oldest child he shares with his former girlfriend, Kimberly Scarborough. She is a plus-size model and was selected as the cover girl for a November 2016 edition of Queen magazine.
After Lorna, Tyson welcomed two children, Rayna Tyson and Amir Tyson, with his second wife, Monica Turner. Rayna is a film studies graduate, while Amir holds a degree in broadcast journalism.
After Tyson split with Monica, he dated Exodus's mother. The couple also has a son named Miguel. Miguel is a musician and is involved in a lot of volunteering work for charity.
After breaking up with his baby mama, Tyson married his third wife, Lakisha "Kiki" Spicer, and welcomed a daughter named Milan and a son named Morocco.
Milan is training to be a professional tennis player and is coached by Serena Williams' coach, Patrick Mouratoglou.