Did Mikaela Testa Just Tease a New Boyfriend after Split with Atis Paul?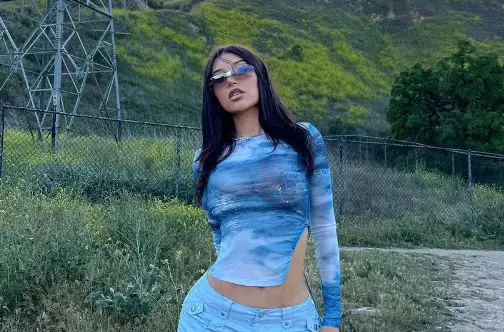 Mikaela Testa cannot stay off the news!
The OnlyFans and TikTok creator, in the latest news, has sparked dating rumors about herself through one of her TikTok videos. One of her most recent videos, where she is seen dancing with a new man, became the source for people to speculate about her potentially new boyfriend.
But is this another case of fans reading too much into something as simple as a dance video on TikTok?
Mikaela Testa Teased New Boyfriend, or Did She?
Testa, on September 12, 2022, uploaded a new video on TikTok. And while she uploading new VODs every day is not a new thing, the content of the video was brand new.
In the video, she was seen dancing with a new man. They appeared flirty and comfortable together and seemed to be having fun.

Testa with her best friend and rumored new boyfriend on September 11, 2022. (Photo: Mikaela Testa/TikTok)
And while just the video might have started a big rumor, Testa tamed the speculations a bit through her playful caption. "I don't wanna see any shipping edits, this is my stepbrother," she joked in the caption.
But that did little to stop the influx of jokes in the comment section.
'"Step brother'' like we ain't seen these videos before," one user responded (via Daily Mail), while another said, "She made it worse by saying that."
Testa, however, appeared to be in no mood to entertain the jokes or the speculations. She replied to a few comments, saying she had been platonic friends with the guy in question for many years.
"This is my longtime bestie of like 5 years just to clarify for everyone," she responded to one of the comments.
In a video the previous day, Testa had clarified that the guy, named Mitch, was her best friend and that he had just arrived in the US from Sweden. She also mentioned that they had not seen each other in two months.
Related: Mikaela Testa Goes Back And Forth On Plastic Surgery Claims
Mikaela Testa's Split with Atis Paul
Testa and her ex boyfriend, Atis Paul's break up, too, made a few headlines in late June 2022. The couple, who had been going out for a while, broke up in May, or so Daily Mail claims.
However, there was a bit of confusion as Testa was claiming they were still together until as recently as early June 2022. Then, on June 20, 2022, she answered a bunch of fan questions on her Instagram stories.

Testa with her ex boyfriend, Atis Paul. (Photo: Mikaela Testa/Instagram)
She said she and Paul never really fell out of love but had mutually decided it was better for them if they separated. "Nothing bad happened, it's just life getting in the way and certain things we want / need in life," she wrote in one of her responses.
At the time, she denied having started seeing other guys, even going so far as to say she would never date another person again. Paul, too, said in a comment that they would never be together again.
As for her 'A' tattoo on her arm, Testa said she was going to "keep it forever" and that whoever married her had to deal with it.