OnlyFans Creator Mikaela Testa Slammed for Crying about Homeless People in LA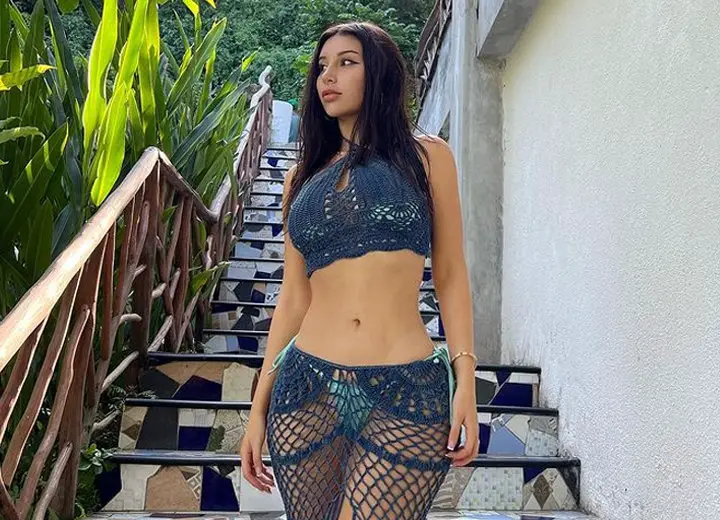 Mikaela Testa, an Australian influencer, is known for doing outrageous things. She is, after all, an OnlyFans creator.
However, her latest outrageous thing has got people angry more than it has people interested in her. She, who posts vlogs on TikTok almost daily, has been getting backlash for a TikTok she uploaded on August 11, 2022.
In the video, her reaction towards the homeless people in LA has people slamming her for what they perceive as insensitivity on her part.
Mikaela Testa Drove around in a Tesla to See Homelessness in LA
On August 11, 2022, Testa uploaded a vlog on TikTok from her time in Los Angeles. She chronicled her day in the city and what she wanted to experience.
The first thing on her list was to drive around in a Lamborghini. However, she could only get a Tesla as she was not over 30.
When she and her friend got their car after a big, expensive salad meal that cost $130, Testa, a big fan of the infamous Cecil Hotel, asked her friend to take her to the area. The thing about Cecil Hotel is that, besides being known as the most haunted building in LA, it is also home to thousands of homeless people.

OnlyFans creator Mikaela Testa is being slammed on TikTok for crying about homeless people and weird video editing. (Photo: Mikaela Testa/Instagram)
But, even before getting to the place, which is on Skid Row, she started crying.
"Driving through these streets was very heartbreaking, I could not stop crying," she said in the video as she drove past the tents the homeless made on the sidewalks. "I couldn't even make it through, I was not going to get out of the car so I missed out."
This is the first thing that caused outrage among her followers and the many TikTok users who came across her video. The second thing was what she showed in her clip immediately after this confession.
Testa, right after this, in what could only be considered bizarre editing on her part, showed American and Australian money and asked which one was better — "washable Australian money or the American money with blood stains on it."
Further, in her vlog, she filmed buying two cups of lemonade from kids and giving them $20, but complaining that the cups were too small.
Mikaela Testa Slammed for Insensitive Reaction Towards Homeless People
Soon after the clip went live on TikTok, her comment section started getting filled up with people slamming her for her apparent insensitivity in the video. Most seemed to be angry at her not for her crying, per se, but her editing of the video.
"The homelessness makes me cry…..which money is prettier," one user commented, which is a good representation of a lot of other writings expressing similar sentiment.
Another person asked Testa, "Did you just drive through Skid Row with a Tesla?" while a third just expressed their surprise, writing, "LMFAOOOO she can't be serious."
However, it would be unfair to say she did not have at least a few users on her side. A few comments mentioned how she was only showing the reality of the city and that LA was not all glitz and glamor as people think it is.
"As a Californian thank you for showing the real side of LA … it's not all glitz and glamour! Makes me sad how the homelessness is out there," a user wrote, echoing the views of a few others.
The comment section of the post started blowing up so much that Testa had to disable comments on it. As of this writing, the comments on the post are still turned off.
After this, people created their own TikToks using clips from her vlog to call her out. One of the most-watched among these videos is of a creator who asked Testa if she would have gotten out of her car if she was not crying.
"Were you going to get out of your Tesla on Skid Row? Would you even roll down your window on Skid Row?" they questioned the OnlyFans creator.
Testa has not commented on this outrage, and it seems like she does not want to. Her TikTok looks like it is business as usual for the creator.