Amouranth's Net Worth Breakdown — From Twitch to OnlyFans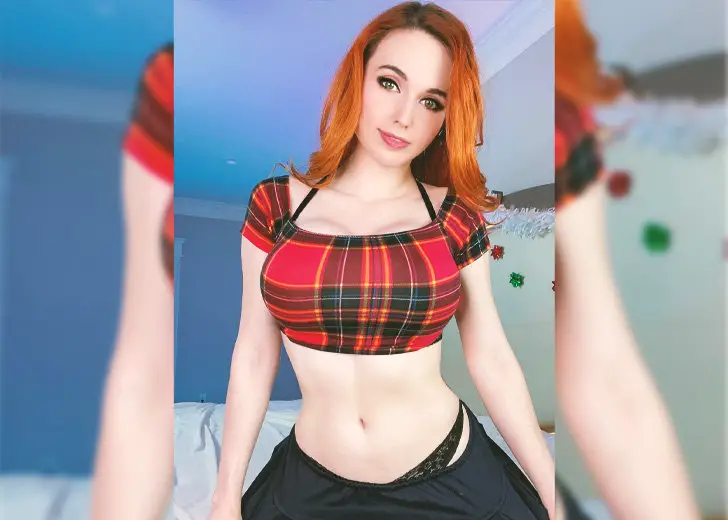 During a Twitch interview around four months ago, Kaitlyn 'Amouranth' Siragusa revealed her income.
The information that she gave made the host Ethan Klein give his guest a round of applause.
Amouranth took her time out and appeared on the H3TV's Twitch stream in July 2021. 
As the chat progressed, Klein touched upon the topic of OnlyFans and extended his best wishes toward Amouranth for her success on the platform.
Amouranth Reveals Her Income Made on OnlyFans
The internet model revealed herself to be the "number one" creator on the website. She further remarked H3TV's podcast to be "the number one podcast in the world."
When asked whether she is ranked as "1" or ".01" on OnlyFans, ".01," replied Amouranth but stated that she is ranked highly in the non-celebrity category and not overall. 
The content creator was also fast to address the income she made through the subscription-based platform.
The host then brought the topic of Trisha Paytas in the mix and talked about his knowledge of their income generated while modeling on OnlyFans.
Klein even made a low-key comparison of their income with Amouranth and told his guest that they were "nowhere close to you."
Upon listening to what Klein had to say, the model did not hold herself back and showed her excitement and desire to make her income through OnlyFans public during the interview.
She first teased the H3TV host by telling him," last month" was the "highest I made."
Her statement was quickly followed by a glowing "wow" from Klein, who wasted no time in posing her the question, "you gonna [going to] tell me how much you made."
"1.1 million last month," replied Amouranth in a mild boastful tone.
Breakdown of Amouranth's Monthly Income and Her Net Worth
After her interview with H3TV went viral, one of Amouranth's past interviews, which remained unpublished till the point, surfaced on the internet.
Investment Talk, a business website run by Conor MacNeil, published an interview conducted with Amouranth before her Twitch chat with H3TV.
This piece of information was made clear in the opening exchanges of the report/interview, which was titled "Confessions of an Onlyfans creator."
It seems the content creator provided MacNeil with a legitimate screenshot of her OnlyFans income, which approved her claim.

A screenshot of Amouranth's monthly income from OnlyFans
Later, the streamer gave a detailed outline of her monthly income, including her Twitch income. Her earnings were broken down into several categories.
Amouranth was making a little over a million per month from OnlyFans while her Patreon income was an estimated value of $189,000.00/month.
Similarly, Amouranth gave a figure of $17,000.00, referring to her monthly income from Fansly, where she was a newbie and was still in the process of growth.
Given the streamer's massive popularity among online users, she quoted relatively low figures for her Instagram and Twitter income.
Amouranth proposed an estimated figure of $10,000-$25,000 and $5000-$15,000, respectively.
However, she cited the lack of timely sponsorship deals as the main reason for her low-key income from the said platforms.
And lastly, Amouranth put out a combined figure which reflected the total monthly value of 1,33,000.00, which she classed as her TikTok, YouTube, and Twitch income.
It is to be noted that despite the streamer's estimated income being known in public, her net worth remains unconfirmed.