Who Was Michele Morrone's Wife? Why Did They Divorce?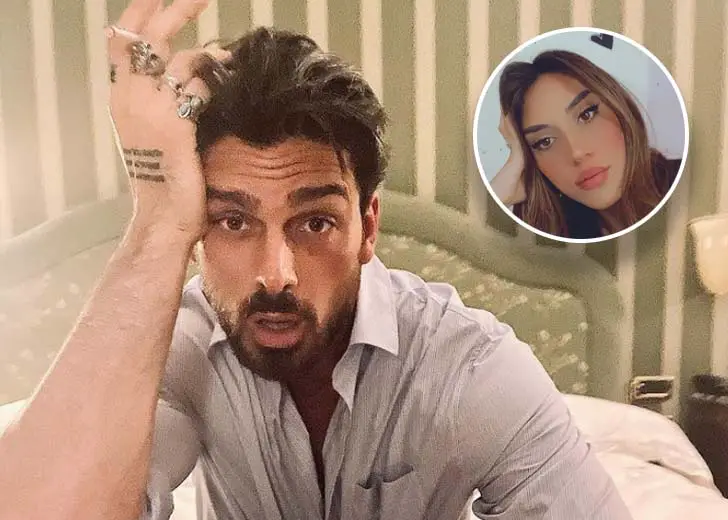 Life has not always been rainbows and butterflies for Michele Morrone.
He rose to fame and got attention worldwide with the 2020 erotic thriller 365 Days, but the actor had almost given up acting before that.
This is because he was in "a severe state of depression" after divorcing his wife, Rouba Saadeh. Knowing the person he is, Morrone is very private about his personal life and relationship history and tends to contain his emotions within himself.
He did not talk about his wife for over two years after their marriage. Then, in an Instagram post uploaded in February 2020, he confessed about his hardships of divorce and going broke. 
And that's that. But now it's the start of a brand new year in 2023. So what changes would the wind bring in his life? Will he again indulge in a committed relationship? Or is he already been dating for some time? Get the answers in this exclusive article.
Who is Michele Morrone?
An Italian actor, model, fashion designer, and model, Michele Morrone, was born on October 30, 1990, in Reggio Calabria, Italy, to a construction worker father and a seamstress mother. He is the only son of his family. \
Morrone's dad died when he was 12. The family was extremely saddened and needed something to keep them going and emotionally intact. It was music that "glued" the family. 
He then grew up as the only male in the family with his mother and three elder sisters, who introduced him early to music from artists such as Michael Jackson, Coolio, Queen, and Madonna. He would later pursue music after making a name for himself in the acting industry. He mastered guitar at the age of 25 and released his first album Dark Room in 2020. 
"In films, I am always someone else, while in music, finally, I am myself. And I like to pass it on to as many people as possible; that's why I sing in English," he said in an interview. 
Morrone's early interest in acting ignited through a Harry Potter movie at the age of 11. He took part in after-school acting programs at his middle school. He later studied acting academically at Teatro Fraschini di Pavia.
His international career got its breakthrough from the Polish erotic thriller film 365 Days (2020), portraying the lead character Don Massimo Torricelli. He also bagged the role in two of its latter sequels, 365 Days: This Day and The Next 365 Days, both released in 2022.
Before 365 days, Morrone had made appearances in a handful of television shows and movies in Italy, such as Second Chance, Che Dio ci Aiuti, Who's the Beast, L'ultimo giorno del toro, Come un Delfino, Squadra Antimafia, Dancing with the Stars and Medici. He had begun his on-screen career playing Ricardo in the web series Second Chance.
In December 2022, it was announced that Morrone would start alongside Megan Fox in the upcoming sci-fi Subservience, a plot about a domestic AI. 
What is Michele Morrone dating now?
Talking to People in June 2022, Morrone revealed that he was a single dad, super focused on his career. "It's not because I want to be single, but I have no time. I'm focusing so much on my career, my kids. And I probably haven't found the right person yet," he clarified.
In September 2022, many fans began speculating that Morrone had been dating Khole Kardashian after he tagged her on one of his posts on Instagram. Previously, Khole and NBA star Tristian Thompson had split in the spring of 2021. 
Who Is Michele Morrone's ex-wife?
Morrone's ex-wife is Rouba Saadeh, who is a Lebanese fashion designer. She was born on  April 15, 1987, in Beirut. She has co-founded a design store named Le Paradis Des Fous. In addition, her Instagram profile mentions her as an artist for Eli Saab. 
When did Michele Morrone and Rouba Saadeh marry?
According to TvZap, Morrone revealed he had a wife two years after their marriage. He did so after winning second place in the Italian version of Dancing with the Stars.
Morrone fell in love at first sight with Saadeh when he took a trip to Lebanon in 2011. He recalled she was "the most beautiful" woman for him and immediately fell for her, head over heels.
He gushed about how Saadeh did not calculate or judge him, making him fall for her more. He said he admired her intelligence and realized he would never find a woman like her.
She dedicated a poem to her, and slowly she started to get interested in him. Eventually, the pair started dating.
Morrone revealed Saadeh was a Lebanese stylist and called her a "true artist." According to her Instagram, as of 2022, she works for designer Elie Saab.
The pair tied the knot in 2014 via a civil marriage in Italy and Lebanon. Their wedding was a private and intimate ceremony with just twenty guests present.
Why did Michele Morrone and Rouba Saadeh divorce?
Unfortunately, Morrone's relationship with his wife did not last long. The pair parted ways in 2018, which left the actor severely depressed.
The divorce was hard on him, and as a result, it almost made him quit acting.
He wrote, "A year and a half ago I was about to leave everything, I didn't want to act anymore. I was in a severe state of depression after divorcing my wife."
Michele Morrone was "severely depressed" after divorcing his wife, Rouba Saadeh. (Source: Instagram)
Around the same time, he was broke and did not have a job. So, he worked as a gardener in a remote village of around 1000 people to earn some bucks.
Fortunately, his life turned around for him, and now, he has become a worldwide phenomenon with the 365 Days movies.
He wrote, "But life is strange when you're down destiny puts the right train in front of you, and if you're strong you can take it. Always believe in yourself... ALWAYS."
Michele Morrone has two kids with his ex-wife
Saadeh is a mother to Morrrone's two kids, Marcus and Brando. And when Morrone learned he would be a father for the first time, he was in Rome.
His former spouse was in Lebanon at the time. She announced the news via a letter by sending a picture of her ultrasound with it.
Initially, the actor was disoriented but later was happy with the news. He confessed that the moment was childbirth was "the most beautiful thing."

Michele Morrone shares two kids, Marcus and Brando, with his former wife, Rouba Saadeh. (Source: Instagram)
He said, "I wanted to know the voice of the creature to whom I had given life." In 2017, the duo welcomed their second son, Brando.
Both Morrone and Saadeh often post about their kids on their social media. For instance, in 2019, the 365 Days: This Day star shared a photo of himself with his kids.
He wrote, "Ho messo al mondo due vite," which roughly translates to "I've bought two lives into the world." He completed his captions with the hashtag #nothingelsematters, showing that his kids mean the most to him.