Where Is Mia Talerico from 'Good Luck Charlie' Now?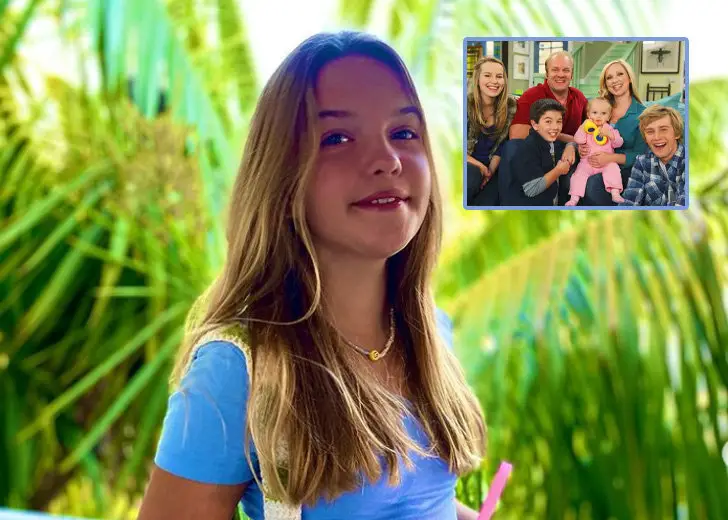 Disney Channel's sitcom Good Luck Charlie is no longer on air now.
It aired from April 2010 to February 2014, with 97 episodes spread across four seasons. It revolved around the Duncan family adjusting to their lives with newborns Charlotte, aka Charlie, and Toby.
Mia Talerico played the role of Charlie, and she was just a baby when she first starred in it.
Good Luck Charlie ended when she was four years old.

Mia Talerico with her 'Good Luck Charlie' co-star, Bradley Steven Perry. (Source: Instagram)
Since she was young, her parents, especially her mom, managed her social media accounts like Instagram.
But unfortunately, just before the sitcom ended, Talerico revived a death threat on Instagram.
Mama Talerico was scared for her child, so she reduced her daughter's public appearance. As a result, people have been wondering where the child actress is now.
Where Is Mia Talerico Now?
Fortunately for the fans of Good Luck Charlie fans, Talerico did not leave acting after the sitcom.
According to her IMDb profile, she starred in a couple of shorts like Shadow Theory and Photographic Memory.
Since 2018, she has been a part of the Brat TV web series Mani.
She plays the role of Paige Rogge alongside other child actors like Piper Rockelle, Hayley LeBlanc, and Bryson Robinson.
Other than these, Talerico had an appearance in Conrad as Molly in 2020.
From the looks of it right now, it seems like Talerico will be involved in the acting industry in the upcoming days as well.
Besides acting, Talerico is also focused on her studies and education. In 2020, she revealed she was starting her sixth grade on Instagram.
So as of now, in 2022, Talerico is in eighth grade. When she is not studying or acting, Talerico has a lot of other passions and hobbies she likes to follow.
For instance, in an interview with Just Jared Jr., she revealed she loved to ski and enjoyed rain and snow.
Similarly, she opened up about her hobbies like swimming, crocheting, sculpting, surfing, painting, riding her bike, and roller skating.
Talerico also wants to travel "as much as possible." She gushed about her love for traveling, saying that if she could "get on a plane tomorrow and go anywhere, it would be the Bahamas."
Mia Talerico Is Active on Social Media
It looks like Talerico and her mother have not let the death threats scare them now. This is because the Good Luck Charlie star is very active on social media.

'Good Luck Charlie' star Mia Talerico promotes the outfit from Five The Label Girls in February 2022. (Source: Instagram)
She especially uses Instagram and TikTok, updating her fans and followers about her day-to-day life.
Similarly, she also shares her time while filming, giving her fans the behind-the-scene sneak peeks of her projects.
Talerico is on TikTok under the username @itsmiatalerico. According to the bio of her account, it is run by her mother.
The mother-daughter duo often posts TikTok videos together, dancing and lip-syncing to different songs.
All in all, it appears as if Talerico is enjoying her teenage years and living her life to the fullest.