Melissa Fumero Didn't Realize Her Husband Was Her Teenage Crush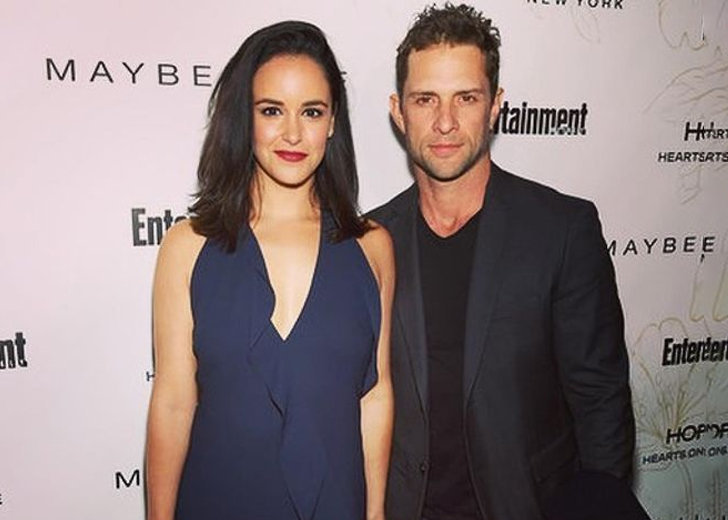 Melissa Fumero is now married to the hot guy who swoops Mariah Carey off her feet at the end of her 'Honey' video. And, much like everyone at the time, she had a crush on David Fumero when the video came out.
But, when she first started dating him, she had no idea who her now husband was, despite having a crush on him for the longest time.
Melissa Fumero Didn't Recognize Her Husband
Melissa had such a crush on David that she would get angry at the TV when she couldn't see him. David appears right at the end, and she would get mad at MTV when they cut the video short by a few seconds.
However, despite having a massive crush on the actor, she did not want to date actors when she came of age. While talking to Steve Harvey in October 2017, she elaborated on this.
Confessing about her "no date actor rule," Melissa told Harvey, "I did have reservations about dating an actor." But she did not have any particular reason behind it.

Melissa Fumero with her husband David Fumero in April 2020. (Photo: Melissa Fumero/Instagram)
So, when she first met David, she was hesitant about going out with him. She knew he was an actor and model but did not yet realize he was THE guy from the video.
This surprised Harvey, who pressed her on the matter. Melissa, however, reiterated her side of the story.
"I didn't know this was the situation I was dealing with," said the Brooklyn Nine-Nine actress, pointing to the stills from the video being shown to the studio audience behind her.
Harvey still couldn't believe that she didn't recognize the man she had had a crush on since she was 13 when she saw him in the flesh.
The host then further joked about it, asking if her husband had his shirt off when she saw him, to which Melissa could only respond with mumblings.
She realized she was dating her childhood crush during a casual conversation on a date about two months later. David just casually revealed he was in a Mariah Carey video.
Then it hit her. She asked him, "Were you in the Honey video? Were you at the end, on the beach?" He said yes.
Shocked and flustered with the realization, Melissa said she immediately excused herself to the bathroom to regain her composure.
She joked she tried to play it off when she came back from her break by asking, "How was Mariah?" to him.
Melissa Fumero's Family with Husband David Fumero
Melissa and her husband David got married on December 9, 2007. They have now been married for almost 15 years and together for even longer.
They now have two kids. The couple welcomed their first kid, son Enzo Fumero, on March 24, 2016. When announcing his birth on Instagram, she said Enzo was the "Sweetest face" she had ever held.
In November 2019, she announced she was pregnant for the second. And on February 14, 2020, she and her husband had their second son, Axel Fumero. With his arrival, Valentine's Day became her favorite holiday.
Having her two kids was two different kinds of experiences for Melissa. With Enzo, she had her loved ones around. But Axel was a pandemic baby.
"We had so much support," she told Parents about adjusting to motherhood when her son arrived. Her parents, in-laws, and friends were all around and pitching in.
However, things were different with Axel because as he arrived, the world shut down.
"David and I were completely on our own," Melissa revealed. Adjusting to a family life of four with two kids below two years of age had been "both exhausting and overwhelming."
The actress grew to like surprises. Even though she and her husband were undecided about having kids, their kids were surprises to them.
Maybe a third surprise soon?