The 5 Best Cold Opens From 'Brooklyn Nine-Nine'
This is the perfect time to binge-watch all the seasons of 'Brooklyn Nine-Nine' before the premiere of Season 8.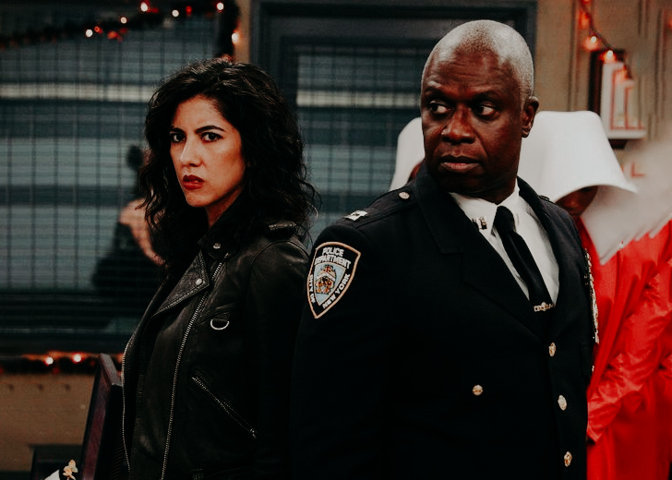 Sitcoms these days have a unique challenge of breaking out of the stale formula of romance between a group of friends. However, Brooklyn Nine-Nine (B99) brings fresh insight into police comedy without being a gimmick that merely masks the romance aspect. 
B99 comes from the brilliant minds of Michael Schur and Dan Goor, who have also worked on the critically acclaimed series Parks and Recreation. B99 revolves around Jake Peralta, childish yet one of the best detectives in the NYPD's 99th Precinct.  
Peralta and his colleagues solve crimes in Brooklyn while simultaneously having fun and enjoying their jobs as police officers.
With casts like Andy Samberg, Andre Braugher, Stephanie Beatriz, Terry Crews, Melissa Fumero, Joe Lo Truglio, Chelsea Peretti, Dirk Blocker, and Joel McKinnon Miller, B99 has been entertaining fans since 2013. 
Fox canceled the sitcom after the release of Season 5 in 2018, but it was revived by NBC because of popular demand. Unfortunately, B99 is coming to an end with the eighth season. 
The 10-episode-season will premiere on August 12, 2021, and end on September 16, 2021, closing the chapter of B99 forever. So while there are still about 15 days until the last season is released, it is the perfect time to binge-watch B99. 
There is no doubt the show is famous in and of itself, but the cold opens make it extra hilarious. A brief skit is presented at 1-2 minutes into the program that is entirely unrelated to the episode's main plot.
Here are the five best cold opens of B99 that will make you cry from laughter. 
Peralta's Prank 
While Peralta is juvenile and always pranking everybody, his superior, Captain Holt, is the exact opposite. He rarely smiles and shows emotions, so his laugh is something people have seldom seen before.
In Season 6, Episode 17, Peralta decides to prank Holt before he gives the briefing for the day. Initially, his idea was to rub ink on the podium so that they would transfer to Holt's hands. 
He decides not to do it once his colleagues warn him about Holt's anger. Then, Peralta says that he would move the podium a foot to the left. 
Once again, his colleague Amy Santiago objects to the prank since it would backfire. Peralta then tones it down and moves the podium only half an inch. 
He is frustrated that the prank will not work out and terms it as the "worst prank ever." On the contrary, Holt notices it the moment he walks into the room and laughs as if it was the funniest thing in the world. 
He was so taken aback that he phones his spouse Kevin to brag about the fantastic prank pulled on him.
Kelly - Wife or Dog
Norm Scully is one of the lazy detectives in the Precinct. He has a companion called Kelly, but his colleagues don't know if Kelly is his wife or dog.
Peralta wondered the same question in Season 1, Episode 14, and discovered that no one on the team knows the answer. So they play "Wife or Dog" to figure it out.
Unfortunately, Scully responds to each inquiry with an unclear answer that may apply to either a canine or a human lady. Jake persisted in asking him directly, only for Scully to get insulted and walk away.
Hula Hoop Injury 
One fine morning in Season 1, Episode 21, Holt walks in with a cast on his left hand. His subordinates are concerned for him, but Holt brushes it off, saying he merely just sprained it and nothing happened. 
Peralta, as always, is curious about his captain's injury, so he asks his colleagues to gather around him and discuss what might be the reason for the injury.
People speculate, but while they were discussing, Holt comes from his office and clarifies the injury happened because he tripped and fell on an uneven sidewalk. Everybody gets back to work, but Holt slyly approaches Peralta and asks if he wants to know the true reason behind the sprain. 
He said that he and his husband attend hula hoop classes together where Holt has mastered every move. He takes out his phone and shows a picture of him hula hooping and explains that it was the reason for the injury.
Peralta is shocked but does not understand why Holt is telling him all this. Finally, Holt says that nobody will believe Peralta, and cunningly, he deletes the photo to remove the proof, leaving Peralta befuddled. 
Marshmallow
Once again, the 99th Precinct is up to something by having fun speculating about Holt's emotions. This time, they are trying to figure out how their captain eats marshmallows. 
All of them attempt to make impressions of Holt, and they are judged based on "voice, body language and lack of flair." While most of them make the impression that is close to Holt, Charles Boyle takes it up a notch and moans and enjoys the marshmallows as if it was a glass of water drunk by a thirsty person.
Everyone makes fun of Boyle, but later, when Holt sees the marshmallows, he does exactly what Boyle did. 
'I Want It That Way'
This one is perhaps the best cold-openings in the history of comedy series. The scene opens with Peralta and a lady behind the interrogation mirror discussing how she was hiding in the bathroom when her brother was murdered.
Although she could not see the killer's face, he had been singing along to the Backstreet Boys' 'hit 'I Want It That Way' that was playing in the bar they were at. For the case, five suspects were lined up before them.
Knowing what to do, Peralta has each suspect sing each line of the opening verse, bursting into the "tell me why" part of the chorus himself and prompting the rest to take the "Ain't nothin' but a heartache" part in unison.
When they get to "I never wanna hear you say," he instructs the fifth suspect to take it to solo. 
The end of the chorus gives us and Peralta chills, only for the lady to break the bliss by saying that it was the fifth suspect who had murdered her brother.