Megan Anderson Looks to Be Too Busy with MMA for a Husband or a Relationship
"...well I don't have a boyfriend," Anderson said in 2015.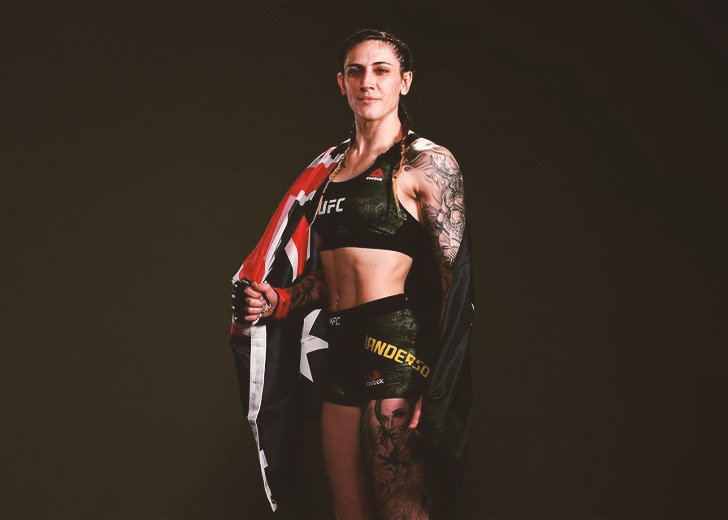 Mixed martial artist Megan Anderson is renowned for her performances in the Women's Featherweight division of the Ultimate Fighting Championship (UFC). In addition, she has also competed for the all-women MMA league Invicta Fighting Championships, where she is the former Invicta FC Featherweight Champion.
Since rising to popularity, she has earned many admirers and fans who constantly look forward to learning more about her life. And while the details about her career and achievements are known to many, her personal life is comparatively unexplored.
That is because Anderson has rarely opted to talk about her relationships in public, keeping fans in darkness about whether she is currently married to a husband, dating a boyfriend, or still relishing her single life.
Megan Anderson Once Said She Had No Boyfriend
Back in June 2015, the 31-year-old fighter took to Twitter to write that even though she had no fights booked, she was always training and stayed in shape to make sure she was ready for the fight on any given day. Her words were accompanied by a mirror selfie, where she showed off her fit physique.
Impressed with her motivating message, one fan added a thread, expressing how her boyfriend must be lucky to have her and deserved a high five. The tweet read, "@MeganA_mma wow! Honestly...wow...whoever your boyfriend is deserves a high five right now."
Anderson immediately replied to the fan tweet, clarifying she didn't have a boyfriend at that time and she would take the chance to take the high five instead. The fan later tweeted that the MMA star was amazing, and she could have whoever she wanted while sending congratulations to her future partner.
Megan Anderson Is Focused on Her Career
The Queensland-born MMA star has been focused on her career since she was introduced to mixed martial arts and began training in 2013. In November that year, she also made her professional MMA debut.
So far, she has had 16 MMA fights, out of which she has come out victorious 11 times and lost 5 times. Out of her 11 fights, she won five by knockout, 3 by submission, and 2 by decision.
Her last fight was against Amanda Nunes at UFC 259, which she lost via a triangle armbar in round one. The fight also ended her six-fight contract with UFC, and now with the organization not opting to renew her contract, she has become a free agent.
But her career isn't limited to MMA only, as she has lately been seen doing YouTube and actively promoting her content. In her channel, titled The Megan Anderson Show, she usually talks about fights, MMA stars, and interviews people related to the industry.
Fans Love Megan Anderson's Tattoos
One of the many things that makes Anderson fascinating to watch during her fights is her tattoos, which she has all over her body.
And some of her tattoos have some deep meanings as well. For instance, on April 23, 2017, the famed fighter revealed, through a Facebook post, that she had a tattoo behind her ear, which symbolized life. 
She also stated that she made that tattoo after overcoming depression and anxiety.
In addition to that, Anderson has full-sleeved tattoos in both of her hands.