New Mom Angela Lee Is Back in the Octagon With Vigor after Daughter's Birth
With a supermom cape on, Angela Lee is ready to take over the world.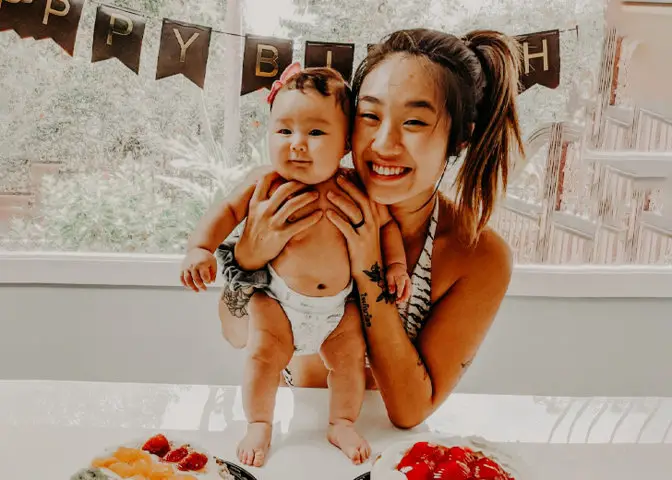 Angela Lee Pucci is a Mixed Martial Artist (MMA) with many accolades under her belt. Nicknamed "Unstoppable," Lee is a force to be reckoned with. 
She made her debut in 2015 and has fought 12 games to date. Out of those, Lee has won 10 matches. 
Lee also has a record of being the youngest MMA champion in the world. She set the record on May 5, 2016, after defeating Japanese fighter Mei Yamaguchi at the ONE Women's Atomweight Championship. 
MMA fighting even led Lee to her soulmate, Bruno Pucci. The two met in 2015 in Singapore, while both were in the martial arts academy, Evolve MMA. 
Three years later, the pair got married in 2018 in a beautiful ceremony in Hawaii. Fast forward to April 16, 2021, and the couple welcomed their first child, Ava Marie Pucci.
After fighting for over five years, Lee had taken a brief hiatus since she was pregnant with Ava. But now that her daughter has turned three-month-old, Angela is ready to get back inside the Octagon. 
Angela Lee's Secret Weapon: Being a Mother
On July 09, 2021, Lee gave an exclusive interview with People where she shared her experiences as a new mom and resuming her career. 
The MMA star always wanted to be a mother, and she has been cherishing every moment with Ava as possible. Regardless, she is still focused on her career and being a fighter.
Even during pregnancy, Lee did not give up exercising. Nevertheless, she did not do heavy ones and as frequently as she used to. After giving birth, she returned to the gym in two months in June 2021.
However, the experience was strange for her since her body was different after pregnancy. She said that she had "certain expectations" for her body, but it needs time.  
The athlete is already mentally prepared for her comeback but not physically. This is why she is taking it one day at a time.
While Lee is working to be a better MMA fighter, many believe she will not be as good as before. But the new mom thinks she is stronger than ever before. 
Being a mother has given her more strength than ever, and she is going to use it to her advantage in the ring. 
I think that now that I've had Ava, it definitely makes me so much stronger as a woman and it'll be like my secret weapon when I get back into the cage.
Similarly, by going back to the ring after a short maternal break, Lee wants to set an example for her daughter — she wants Ava to learn never to give up her passion and chase her dreams. 
Lee wants to prove that she can be a mother and a fighter — both at the same time. 
Angela Lee Wants to Teach Her Daughter MMA
It is no surprise that Lee wants to teach Ava MMA fighting since the sport runs in the family. Her parents, father Ken Lee mother Jewelz Lee, are martial artists. They trained Lee, and she began fighting since she was six. 
Similarly, her younger siblings are also involved in martial arts. Christian is a world champion MMA fighter, whereas Victoria and Adrian are training to be fighters. Recently, on February 26th, 2021, Victoria made her successful MMA debut. 
Lee's husband Bruno is also an MMA fighter, and is a black belt in Brazilian Jiu-Jitsu. 
Lee believes that being a martial artist is very beneficial for young girls. Moreover, she has three reasons why she wants to pass her skills to her daughter — confidence, discipline, and self-respect.