Maude Apatow Apparently Dating New Boyfriend Sam Koppelman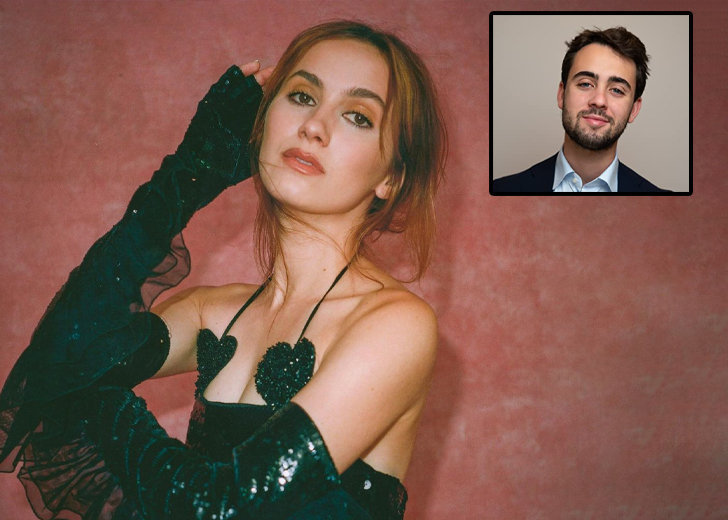 Although Maude Apatow's parentage eased her claim to fame, she has made substantial contributions to the world of cinema to earn her rightful place in the limelight. 
With fame came the peeping eyes of fans and the press, wondering if she had a boyfriend or was dating anyone. 
In the process, she was caught hanging out with a new boyfriend who accompanied her to the New Year Knicks game on January 20, 2022.
Maude Apatow Is Dating a NY Times Bestseller
A fan reached out to the gossip page Deuxmoi with an entry claiming that Apatow was in a relationship with the New York Times Bestseller Sam Koppelman. 
The anonymous source also spoke of how Apatow and her supposed boyfriend were dating on the down-low and were keeping much of their relationship private. 
Further along in their tip, the anonymous source claimed Apatow was accompanied by her boyfriend at the Knicks game last week.

The anonymous tip posted to Deuxmoi (Source: Instagram)
Sam Koppelman Was with Maude Apatow
A report from People also backed up the claim. 
In their roundup article published on January 21, 2022, the outlet shared a picture of Apatow and Koppelman sitting side-by-side while rooting for their home team at the New York Knicks vs. New Orleans Pelicans game in NYC. 
The actress donned a black sweater with the Knicks' emblem sitting loud and proud on her torso.
As for the supposed boyfriend, he sported a Knicks bomber over a jersey carrying the name of the same team. 
Who Is Sam Koppelman?
For those of you wondering, Koppelman is a low-key celebrity in his own right. 
Turns out: No happier feeling than seeing your mom's movie on postpartum depression. Couldn't be more proud, awed, touched by what my hero, @amy_koppelman, managed to write, illustrate, and direct. It's such a beautiful movie. Mask up and go to a theater on October 29th! pic.twitter.com/4LhvurXZCf — Sam Koppelman (@SammyKoppelman) October 16, 2021
As per his LinkedIn page, he is the co-author of Impeach: The Case Against Donald Trump, sharing the title with Neal Katyal. 
His book debuted #2 on the New York Times bestseller list and was ranked #1 in Amazon across categories ranging from political science to US history to constitutional law.
Koppelman also served as the Director of Surrogate Speechwriting for Joe Biden's presidential campaign in 2020. 
He is also a principal at Fenway Strategies, LLC — a speechwriting and strategic communications firm founded by former Obama Administration officials Jon Favreau and Tommy Vietor in 2013. 
Lastly, his portfolio also cites him as a Hot Take Purveyor who wrote for esteemed publications, including The New York Times, The Washington Post, Harper's Magazine, Time Magazine, and The Boston Globe.
On the educational front, Koppelman is a Harvard University graduate with a BA degree in Government. 
During his time at the esteemed institution, he was named John Harvard Scholar in recognition of "superior academic achievement."
He also served for a research fellowship at the Department of Government at the university, where he worked closely with Yascha Mounk to research and assist in writing his critically acclaimed book, The People vs. Democracy.
To top off his glowing resume, he also served as the Op-Ed editor and Executive Magazine Editor at The Harvard Crimson, where he was also a columnist.
Before her relationship with Koppelman, Apatow was reportedly dating British talent manager Charlie Christie. As per Elite Daily, they began dating in April 2018 but have since parted ways.