Martine McCutcheon Exudes Total Confidence in New Topless Selfie — Here's a Peek into Her Weight Loss Journey
Martine McCutcheon lost one stone after following the Cambridge Weight Plan.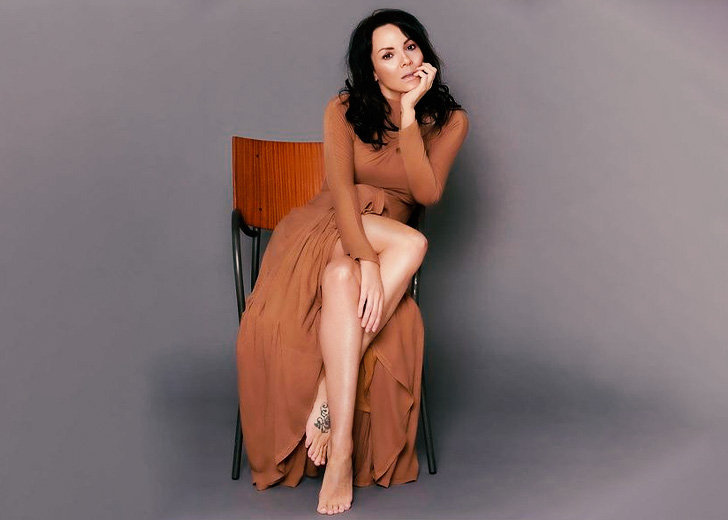 There's no shame in showing off your body. That is what Martine McCutcheon implied when she dropped a topless bedroom mirror selfie.
On August 25, 2021, the 45-year-old actress took to Instagram to show off her toned body in all its glory while adding, "Spain... I miss you!"
She was wearing just a pair of black knickers in the picture with her strategically placed mobile phone shielding her upper body. She also leaned against her wardrobe, leaving her black hair messy and showing off her make-up-free look.
McCutcheon then talked about the lovely weather in the UK while reflecting on the joys she had during her last holiday to Spain through her lengthy caption.
"But, I have to admit, for me, nothing beats that feeling of getting in your cool bedroom after a day of sunbathing, with sea salt and sand in your hair and then laying on your fresh, cold, crisp, white sheets," she added.
The Love Actually actress went on to share that she normally preferred to put on her favorite music and grab a little "G&T with loads of ice" during her chilling-out sessions.
Recalling her vacation memories, she asked her followers if she should hit the road running by booking somewhere away soon.
Vacation Details
McCutcheon traveled to Spain last month with her husband Jack McManus, who she married in 2012, and their seven-year-old son Rafferty Jack McManus.
She admitted at the time that it was her first two-week holiday abroad in 15 years while sharing her excitement at finally getting a good taste of sun, sea, and sand.
"Glad you had a good holiday Martine," one commented under her topless post, while another, who was stunned by her weight loss transformation, asked, "How did you completely change your body shape from curvy to thin?"
Her Weight Loss Journey
Since her weight loss journey came up, it is essential to address it because her story is indeed inspiring.
McCutcheon was "a chubby girl," and jokes were often made about her weight. It was around the same time she portrayed the character of Natalie in the 2003 Richard Curtis film Love Actually. She had previously played the role of Tiffany in the TV series EastEnders for four years until 1999.
The actress has opened up about how "growing up in the public eye" constantly made her feel pressured to maintain a slimmer body size during her early years in the industry.
"I was always conscious of staying as thin as I could be. People spoke about me like I was a piece of meat and I can't believe that's still going on in this day and age," The Sun reported her quote from 2016.
Meanwhile, she wanted to live a healthier life, which led her to follow the Cambridge Weight Plan. After following the plan and doing regular exercises, she reportedly lost one stone and 21 inches by the end of 2017.
Speaking with Hello! Magazine, at the time, the actress shared her weight loss journey was "a tiny bit slower than the average person" due to her health battles with Lyme Disease, chronic fatigue syndrome ME, and Fibromyalgia.
Presently, the mother-of-one is an active fitness freak, and that good habit has helped her to own a healthy and slim body.