Mads Lewis' New Rumored Boyfriend Identified as Trainer Kevin Mejia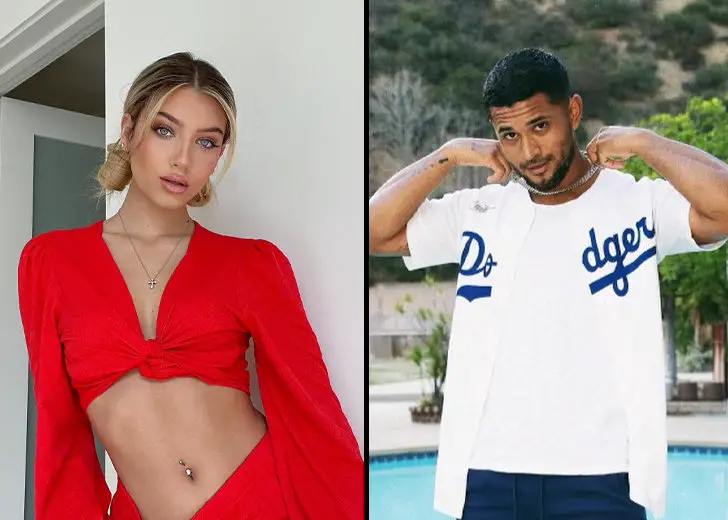 While everyone is talking about Nessa Barrett and Jaden Hossler's break up and how the former might reunite with her ex, Josh Richards, Mads Lewis, Hossler's ex, has removed herself from the drama.
And that partly might have to do with her moving on from Christian Plourde and dating her new boyfriend, Kevin Mejia. 
The original Tiktokroom uploaded a post that had a photo and a gif, including Lewis and Meija. In the caption was written: "Madslewis and her apparently new bae." 
In the photo, the duo looked cozy, with Lewis wrapping her arms around Meija while he had his arms around her waist. 
Meanwhile, in the gif, Meija, Lewis, and their friends were taking a photo, and Lewis had her body turned towards Meija. 
Netizens were divided regarding the post, with some congratulating the reality star while others criticizing her for moving on too fast. 

Mads Lewis and her rumored new boyfriend, Kevin Meija. (Source: The original Tiktokroom/Instagram)
But her loyal fans were quick to defend her, with one user commenting,
"For all the people saying 'she just can't b single,' …poor girl has been thru a lot & has been single for a while. At least she's not looking to reconcile with an ex LOL."
Mads Lewis' New Boyfriend Is Her Trainer
It is unconfirmed if they are actually dating, but the user was right about one thing — Lewis is not looking to get back together with her ex. 
Right after Hossler and Barrett's break up, a photo of the former and a mysterious girl popped up online. 
Netizens claimed Hossler might have cheated on Barrett with the mysterious girl, and they noticed she looked a lot like Lewis. 
Some people even speculated that it could be Lewis and that she and Hossler might have gotten back together.
But before people could speculate further, the TikTok star put an end to it, saying that she would never get back together with Hossler.
Jordyn Woodruff, who goes by "jordynwoodknow" on TikTok, also broke down the viral picture of Lewis and her alleged new boyfriend. 
However, it was not her video that had people raising eyebrows.
In the comment section, fellow influencer Amanda Diaz commented Mejia was their trainer. 
Woodruff later added that Mejia trained them at the DOGPOUND, an exclusive gym in New York City. 
Mads Lewis and Bryce Hall Dating Rumor
Back in February 2022, Lewis and Bryce Hall were rumored to be dating after the paparazzi photographed them together out DOGPOUND. 
The photo was shared on pap.galore on Instagram with the caption "NEW COUPLE ALERT? @brycehall and @madslewis were seen flirting outside dogpound after working out together.
This had fans in a frenzy, but some were quick to call out the post saying that Hall and Lewis were just friends and pap.galore should stop trying to chase clout
The post caught Hall and Lewis' attention, and they also commented on the post. 
"Wow, since I didn't want to take pictures with you after working out. This is the caption. So false," Lewis wrote while Bryce simply said, "Omfg…"
Pap.galore later clarified that the post was just a joke. 
And just like that the dating rumors were put to rest; however, this new rumor about Mejia and Lewis is yet to be confirmed.