Madi Monroe Confirms Relationship with New Boyfriend Nick Machat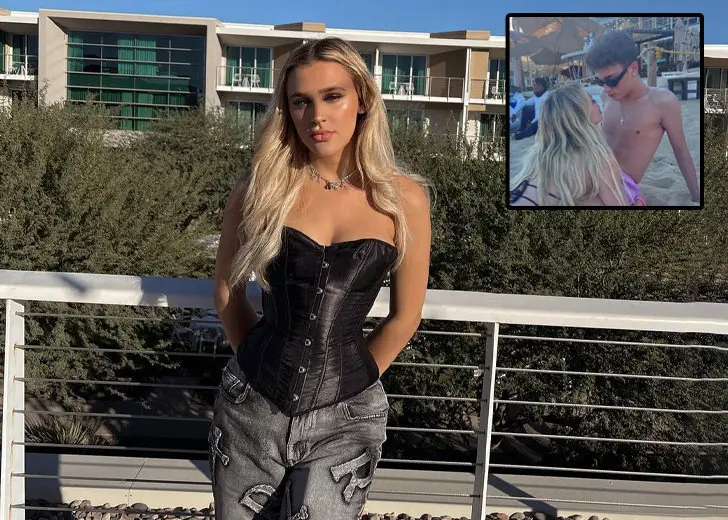 Madi Monroe, a 17-year-old social media personality, allegedly has a new boyfriend.
On February 8, 2020, she debuted her boyfriend, TikTok star Nick Machat, on Instagram, sharing a couple of their pictures snapped at a beach in Cabo San Lucas, Mexico.
In the pictures, the aspiring actress sported a black strappy bikini, while Machat dashed a light purple boxer with a pair of black sunglasses.
"I'm glad you're happy," a fan commented on her post. Someone also asked, "damn who's this lucky [man]."
Madi Monroe Confirms Dating New Boyfriend Nick Machat
A week after teasing her followers with the picture of herself and her new boyfriend, Monroe again took to Instagram to confirm she was dating Machat.
On Valentine's Day 2022, she first posted an intimate picture of the lovebirds on her Instagram story, noting Machat as "my valentine."

Madi Monroe and her new boyfriend Nick Machat celebrating Valentine's Day 2022. (Photo: Instagram)
A couple of hours later, she also reshared her beau's Instagram story as he posted a mirror selfie of him and Monroe.
In his story, Machat tagged his sweetheart and dropped a red heart emoji, too.
When Did Madi Monroe and Nick Machat Start Dating?
Even though Monroe confirmed her relationship with Machat, she — or her boyfriend — is yet to give out any details on how and when they started dating.
Due to that, it is unclear how they met and when they began their relationship.
But that said, the social media star was allegedly spotted posting pictures and videos with him via Instagram stories in January 2022. Hence, some fans suspect that they have been together since early 2022.
Madi Monroe Previously Dated Ex Christopher Romero
Monroe previously dated fellow TikTok star, Christopher Romero.
The two began dating in 2019 and even celebrated their first anniversary in August 2020.
Marking their milestone anniversary, they even got tattoos together — she got a little heart on her wrist, while Romero got her name inked inside his bottom lip.
Despite their adorable chemistry, the two eventually separated in October 2020. They, however, remained friends.
Since then, Monroe and Romero are frequently seen together, especially creating videos together on TikTok.
For instance, she recently posted a video of them on the platform, implying the two had known each other for four years. "...thought u would appreciate knowing we have lived together 4 years lol," she wrote in the caption.
Madi Monroe Was Also Together with Jack Riyn
Following her breakup with Romero, Monroe reportedly dated another social media star Jack Riyn, who has 3 million followers on TikTok and close to 250,000 on Instagram.
Her relationship with Riyn also brought a series of controversies, one of which also included her ex, Romero.
In an Instagram post, Romero claimed that Riyn was like a brother to him during their early days in the limelight, and he should not have dated his ex-girlfriend.
"The fact that I helped this kid out with money and places to stay and was the reason he even went on tour in the first place. Basically took him under my wing and this [is] how he [repays] me? He [is] weird for that," he wrote.
 But Monroe came forward to defend her relationship, stating she wanted to be happy, so she chose Riyn. However, the relationship could not go forever, too.