Are Madi Monroe and Ex Boyfriend Jack Riyn Back Together?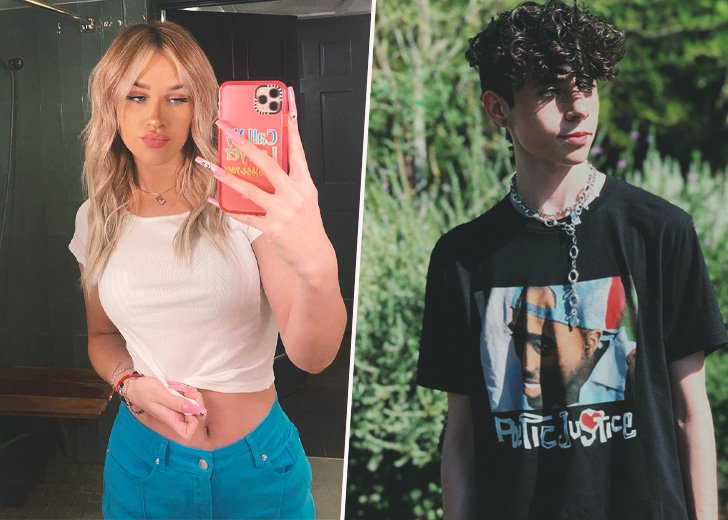 TikToker duo Madi Monroe and Jack Riyn are recently seen together frequently. A few days ago, Riyn appeared in Monroe's TikTok content about relationships and break up. He followed up with another appearance the next day. 
In return, Monroe did her part by wishing Riyn on his birthday and later appearing at Riyn's birthday party. The recent frequent sightings of the two together have their fans dreaming of a reunion.
Did Madi Monroe and Jack Riyn Break Up?
Earlier in 2021, Monroe and Riyn were spotted together in public, sparking dating rumors. Their relationship was later confirmed after Monroe took to her Instagram to announce Riyn as her new boyfriend.
Before Riyn, Monroe was in a committed relationship with TikTok hotshot Chris Romero. However, Monroe was bound to call off her relationship with Romero after cheating allegations surfaced. 
The fiasco saw Monroe's ex-boyfriend Romero get involved in a beef with Riyn. Romero, who used to be friends with Riyn, claimed to have been stabbed by his "own friend." 
Per Dexerto, Monroe's ex even went as far as calling Riyn a kid whom he helped with money and "places to stay" in the past. Romero further claimed how Riyn could go "on tour in the first place," because of his help.
Earlier in September, TikToker Monroe posted a series of cryptic tweets initially misunderstood to be intended toward her close friend Charli D'Amelio. Monroe even deactivated her Instagram at the same time. 
Only after D'Amelio's emotional video post where she was seen with watery eyes, Monroe realized the mess she created.
She was quick to address the matter at hand with a clarification video suggesting that there was no ongoing beef between herself and D'Amelio while her tweets were meant for her ex-boyfriend. 
Her explanation gave a clear picture of the situation, and as a result, Monroe's followers became aware of the break up between herself and Riyn.
Are Madi Monroe and Jack Riyn Back together?
Monroe and Riyn are reunited, per suggestions drawn from their recent social media activities. However, their current relationship status remains unknown.
Nearly a week ago, her former boyfriend Riyn was seen with Monroe in her TikTok video. In the clip, Monroe and Riyn can be seen going along with the video content's audio as they respond to the relationship-related questions.
However, in a follow-up video, Monroe called Riyn as her ex-boyfriend while addressing her subject. She opened her video clip by saying, 
My ex-boyfriend is going to rate by Halloween costumes while we are eating at Denny's at four A.M.
On November 8, 2021, Monroe took to her Instagram and dedicated a birthday post to Riyn with a series of pictures. Later, she attended Riyn's birthday party and presented the birthday boy with many goodies as a birthday present.
Speculation surrounding Monroe and Riyn's supposed reunion was fueled after they re-followed each other on their social media accounts. 
In late August, both Monroe and Riyn unfollowed each other on Instagram, giving their fans an early hint of their split. However, it was only a couple of weeks after their break up was made official.