Are Madelyn Cline and Chase Stokes Still Together? Couple Spotted in Atlanta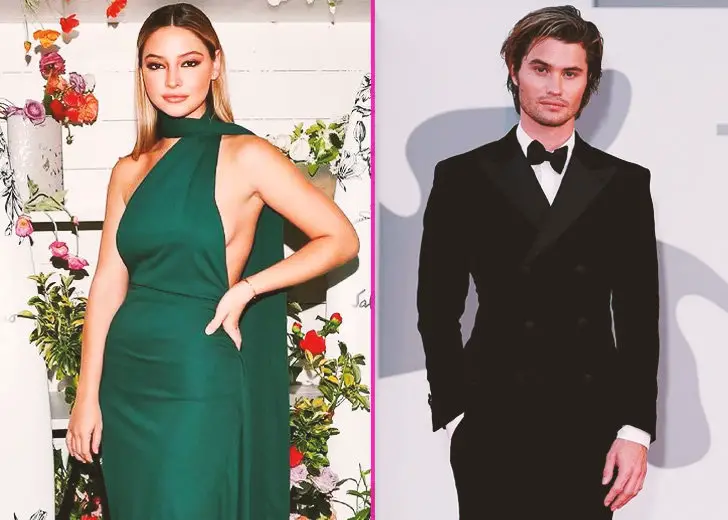 It looks like Madelyn Cline and Chase Stokes have rekindled their romance. 
The Outer Banks co-stars — who reportedly called it quits after dating for 18 months earlier this month — were recently spotted together in Atlanta, Georgia.
A TikTok user [@jordynwoodknow] shared a few snaps of the pair and implied that they were having a good time with each other. The photographs posted showed them grooving to the music at the nightclub at The Hideaway.
Madelyn Cline and Chase Stokes Clicked with a Fan
Leonard Cole, the fan who clicked with the pair, also took to his Instagram to share his excitement of meeting his favorite Outer Banks couple.
"Just ran into my favorite OBX couple...John B and Sarah (Maddie and Chase) Thanks for makin my night! So cool," the fan captioned his November 27 post.
The snap soon made the rounds as many fans of the couple expressed their happiness seeing Cline and Stokes together.
"THANK U SO MUCH FOR THIS," a fan thanked Cole for the picture.
Another chimed, "i can live happily now."
Someone also commented, "IM CRYING OMG THANK YOU FOR PUBLIC THIS PHOTO."
Another Instagram account — a fan page of Cline and Stokes — simultaneously posted a video of the two grooving at a nightclub.
The post also received similar attention from the fans, who were happy to see them in a single frame after a long time. 
"You don't understand how happy this makes me to see them being happy," one wrote. 
Are Madelyn Cline and Chase Stokes Still Together?
The recent evidence depicts that Cline and Stokes have sorted out their last break up. But they are yet to confirm if they are still in relationship.
That said, a celebrity gossip account, @deuxmoi, claimed via Instagram that the pair are dating each other once again.

Deuxmoi claims Madelyn Cline and Chase Stokes are back together. (Photo: Instagram)
Someone first sent an anonymous tip to the account, saying the Outer Banks co-stars were seen together in Atlanta, Georgia. And later, when someone asked them if Cline and Stokes were back together, and the account reposted the submission, writing, "Yes, they are back on."
Madelyn Cline's November 18 Instagram Post Connects All the Dots
Over a week before the couple's rekindling news came out, Cline posted a series of pictures in her November 18, 2021 post. The first picture in the slide was a snap showing "Cranberry" written on the street.
Interestingly, Stokes commented to her post, writing, "Tag yourself, I'm cranberry," to which the actress responded with, "@hichasestokes I'm JD's moldy toast."
The friendly banter between them suggested that the break up reports must have been speculation since there was no official confirmation that they broke up.
Many were disheartened with the news of their break up. However, some refused to accept it and were hopeful that the split was just a rumor. 
"GUYS CHASE COMMENTED!! But why would you guys asume that they have broken up. Madelyn is allowed to have guys friends," a fan even wrote in her post.
The two made their relationship Instagram official in June 2020 after initially meeting on the sets of Outer Banks in April 2020.