'Outer Banks' Cast Dish on Season 2 Romance, Drama and Treasure Hunt
Season 2 promises more romance, adventure, and treasure.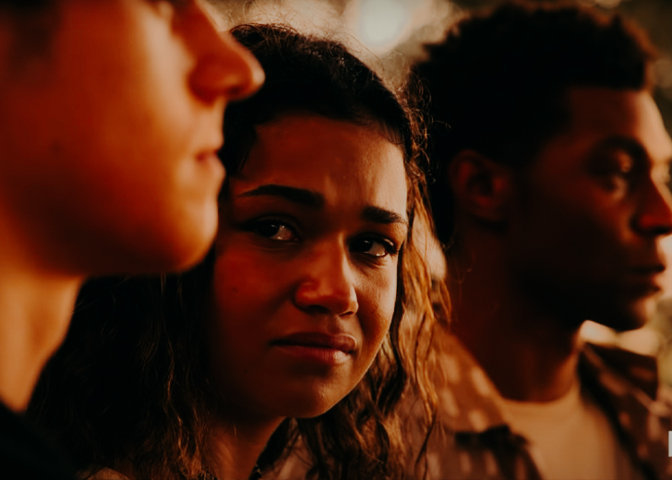 SPOILER WARNING: Plot details for Outer Banks follow
Everyone was obsessed with Netflix's soapy teen drama Outer Banks when it premiered last year in April. 
Set in North Carolina's Outer Banks region, the coming-of-age story follows a tight-knit group of local teens known as the "Pogues" who embark on a treasure hunt.
The cast includes Chase Stokes, who stars as John B, the ringleader of the gang, his best friends Pope (Johnathan Daviss) and JJ (Rudy Pankow), and Kiara (Madison Bailey).
There's a major socioeconomic warfare going on between the working-class, Pogues, and the wealthy, Kooks, some of whom are also keen on finding gold.
Along the way, there are love triangles, petty fights, and murder motives, all things you expect from high-school-centric content. 
Season 1 saw major conflicts and numerous altercations between the Kooks and Pogues which ended in a huge, tempest-tossed cliffhanger. 
Season 2 Promises More Romance 
For those obsessed with the show, the good news is that the release date of season 2 is July 30, 2021. 
In an interview with Entertainment Weekly, the show's stars revealed details on season 2's romance and adventure.
According to Stokes, season 2 will see a change in the relationship between John B and Sarah, as they adjust to their new reality in the Bahamas.
Madelyn Cline, who stars as John B's love interest and elite Kook, explained that her character, Sarah, would struggle with her new Pogue lifestyle and reality, which will test her relationship. 
Cline warns there will be "highs and lows" for Sarah and John B's relationship this season, more than fans may be expecting. 
Apart from this relationship, in the season 1 finale, Kiara and Pope also shared a kiss. According to Daviss, who plays Pope, season 2 will be about his character figuring out what the kiss meant to both of them. 
Throughout the season, we'll see them making moves, and they're trying to be there for the other person. They explore what that means and see what it's like when they are together. And they get that answer this year.
Season 2 Trailer 
But love and romance aside, the teaser trailer promises an action-packed season. The fugitives in season 1 are still hell-bent on trying to find the Royal Merchant's treasure. 
We also get tiny glimpses into a future where the gang of friends is reunited in North Carolina, and a new mystery unveils. It involves a map of the entire island. Could there be another treasure worth chasing after?
Complete with car chases, big boats, shootouts, massive parties, and plenty of explosions, the teaser trailer promises to be just as explosive as the first season.