The Real and Reel Life of 'Outer Banks' Star Rudy Pankow — Everything You Need to Know about This Talented Actor
Rudy Pankow is an emerging American actor who portrays JJ in the 2020 Netflix mystery and teen drama series 'Outer Banks.' Learn how he got started and more about him here.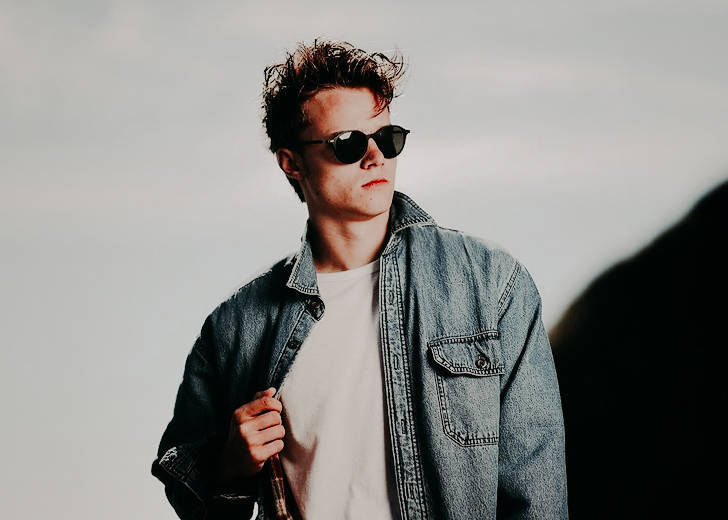 Early Life
Rudy Pankow was born on August 12, 1998, in Alaska, United States. The actor grew up with two brothers, Alec and Henning, in the small town of Ketchikan, Alaska.
According to him, the town he grew up in is fairly similar to the shooting location of Outer Banks, North Carolina, as both towns are famous for fishing and tourism.
In an April 2020 interview with Wonderland Magazine, he mentioned that the biggest difference between the two towns was the temperature. 
The Netflix star attended Ketchikan High School in Alaska. Soon after graduation, he was accepted into a culinary school, but he wasn't interested. 
Around the same time, he moved to Los Angeles to stay with some family friends and gauge whether he'd like to move there for the long haul or not. 
Eventually, he moved to Los Angeles, where he enrolled in his first acting class. He immediately felt like he wanted to work in the entertainment industry.
"I knew it was the route I was supposed to take," Pankow said in the interaction with Wonderland Magazine. 
Career
The 22-year-old made his acting debut in the 2017 short film Sunny Family Cult, where he played Aaron.
In the same year, he also appeared in an episode of the series with the same name. Both thrillers were written and directed by Gabriel Younes.
After that, he starred in several short films, including Nobody Knows (2017) as Abe Wooldridge, 11:47 (2017) as Jesse, Not Me (2018) as Ashton, Last Summer (2018) as Dylan, and Deviant (2018) as Marcel.
In November 2018, Pankow played the lead character in a music video for Muse's song Thought Contagion.
Later, in a 2020 interview with Wonderland Magazine, he revealed how he got the part.
One of his close friends had previously collaborated with the director of the Muse music video. The director was in need of a young man who resembled Steve from the Netflix series Stranger Things. Pankow was cast after showing the director some of his dance moves.
He needed a dude that looked like a Steve from Stranger Things and well… I had the hair down. So I met with the director and he wanted me to show off some dance moves so busted out what I could do and boom. I got it.
In 2019, the Netflix star appeared in two episodes of the Crime series Solve, one as Freddy in Death in Detention, and the other as Robert in Death on the Bleachers.
The same year, he also portrayed a small part in Ryan Murphy's series The Politician. He starred in the fifth episode of the first season of the Netflix comedy series.  
However, Pankow's breakthrough role was in the Netflix teen adventure series Outer Banks, which premiered in April 2020. He played the character of JJ, the best friend of the unofficial leader of the ragtag Pogues, John B. played by Chase Stokes.
He originally auditioned for the part of John B. before being finalized as JJ.
In a May 2020 interview with US Weekly, he revealed the makers of the show were unsure about which character would best suit him. 
You're going to be one of these characters, but I didn't know which one. The last audition I did in L.A. was John B., so I flew to Charleston thinking like, 'All right, they want me as John B.
The Alaska native also shared how happy he was to land the role of troubled JJ. 
In a June 2020 interview with KNUE 101.5, when asked about the similarities and differences between his real life and reel life character, Pankow replied that he was kind of rebellious like JJ and enjoyed doing his own thing.
While talking about the differences, he responded that, unlike JJ, he had a satisfying personal life. 
In 2020, he also appeared as Brocklehurst in one episode of the television series Acting for a Cause.
Recently, in early 2021, he was also seen in a short drama as Danny.
Recent Works
The young actor will be next seen as Joey Kite in the upcoming movie, Space Waves.
It will be his first time playing a lead role in a feature film. The movie will tell the story of two mischief-seeking friends and their rise to fame after their podcast, Space Waves goes viral.
The comedy-drama, directed and written by Spencer Whiteout, is currently in post-production status.
While talking to Wonderland Magazine in April 2020, he revealed that his character in Space Waves, Joey, was like JJ. Both of them had their own way of doing things.
In the interaction, he also unveiled that he would love to do a period movie set in the '50s or medieval times; movies like Knights Tale and Oliver Twist. 
Also, he added that he would be ecstatic to be a part of a superhero movie. "My fingers are crossed. That would be such an honor," he said.
I would love to do a period piece either set in the '50s or medieval time period.
The Netflix series, Outer Banks starring Chase Stokes, Madelyn Cline, Madison Bailey, Jonathon Daviss, Pankow, and Austin North is returning for Season 2 this year.  
According to the August 2020 reports from Swagger Magazine, Pankow is engaged in learning more about acting.
He mentioned that his acting is heavily influenced by his talented classmates more than the celebrities he admires like Andrew Garfield, Tom Hardy, or Adam Driver.
Aside from this, he is collaborating with Armandi Travels for an adventurous and memorable seven-day trip to South Africa in the first week of September 2021.
All the spots for the tour have already been booked.

Personal Life
Like his character, JJ, he too is also not romantically involved with anyone in real life.
In an April 2020 interview with Us Weekly, the actor revealed how he enjoys playing a role that didn't depend on love interests to shine.
JJ is the only character in Outer Banks who doesn't have a romantic storyline. However, he opened up about how there could be a different story for JJ in the upcoming season.
Pankow also talked about how JJ might try out a new dynamic where he hid his feelings towards someone special.
I'm not complaining. I think JJ is not really looking for a lady friend. But in season 2, that could be a different story. I liked it in season 1 where JJ just didn't have really any drive or motivation to be in a relationship,
In an interview with Elite Daily in June 2020, when asked about his life after the release of Outer Banks, he said there hadn't been many changes. He could still go grocery shopping without being noticed. However, he would have a mask on because of the COVID-19 safety protocols.
But that's just in the physical world. His overnight stardom is undeniably crazy on the internet. His social media fan following says it all.
As of March 2021, he has a massive 3.4 million Instagram family. Also, his official account's followers went from a few thousand to a million in just three weeks after the release of Outer Banks in April 2020. 
That was before he even got his Instagram verified with the blue tick mark.
On May 30, 2020, Pankow posted a series of Instagram pictures and videos in protest against police brutality and racial discrimination.
The nationwide protest was sparked after George Floyd, an African-American man, was killed in Minneapolis by a police officer. The officer knelt on Floyd's neck for several minutes.
Pankow believes he has a duty to use his platform and speak out against racial inequality because he has such a broad, engaged audience that skews young.
"I guess, power is a major responsibility, you feel it in your heart, but it's a different thing to say it out loud. When you communicate that out into the world, you've got to be very specific", he said during the interaction with Elite Daily. 
While talking to Marie Claire in June 2020, the Outer Banks Star shared his favorite books in their exclusive series, Shelf Portrait.
 He revealed Zen in the Art of Archery by Eugen Herrigel, as his favorite book. "It is the perfect example of self-determination and self-discipline," Pankow explained. 
Apart from a huge book collection, he also has a sizable record collection, which includes Sam Cooke, Alabama Shakes, Jack Johnson, and Panic! at the Disco.
During the interaction, he unveiled himself as a writer. He mentioned that he was writing a play. "Keep an eye out for it," he said. 
In an April 2020 interview with A Book of Magazine, when asked about which book he would be if he could be, he responded, "Complete Works of William Shakespeare so I can 100% understand the language and know how to use jaw-dropping diction."
The 22-year-old also revealed if he had $100 million, he would get a dog and a farm in the middle of nowhere where he would live raising various animals. After that, he would buy a vacation home in the Bahamas and give the leftover money to charity.
Pankow is also a certified Kayak guide and loves to play the harmonica.
Net Worth
The estimated net worth of the Space Waves actor has not been revealed, however, his acting credits in over 14 projects have contributed majorly to his valuation. Also, his collaboration with Armandi Travels and a brand endorsement deal with skincare brand, Bubble, adds to his income.
The upcoming actor has just begun his professional career and his future projects will definitely grow in time to come. We wish him and the crew of Outer Banks all the success.