Madelyn Cline and Chase Stokes Avoid Each Other on the Set of 'Outer Banks'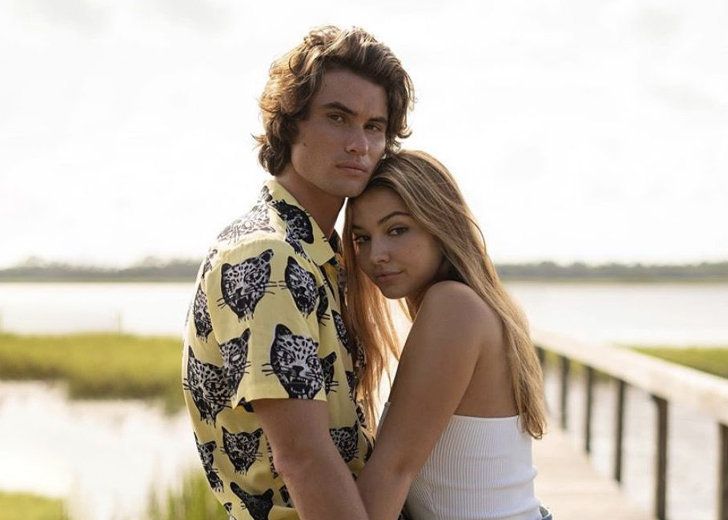 Hollywire uploaded a video on TikTok on June 19, 2022, claiming that things were tense between Madelyn Cline and Chase Stokes. 
According to the outlet, someone wrote into Deuxmoi asking how filming was going between Cline and Stokes. 
Deuxmoi replied, saying they heard things were tense between the duo. Later, the outlet shared more updates about the pair after followers sent information about them.
One anonymous tipper wrote they heard the duo avoided each other as much as they could while on set. 
Another person shared the situation was so tense that when Stokes was asked where Cline was, he replied, "I don't know that is not my responsibility."
Now fans speculate Stokes might be salty since there are rumors about Cline moving on with Jackson Guthy. 

Madelyn Cline and Chase Stokes on the set of Outer Banks before their break up. (Source: Outer Banks/Instagram)
Many netizens commented this might ruin the chemistry between Sarah Cameron, played by Cline, and John B, played by Stokes on Outer Banks.
Madelyn Cline and Chase Stokes Break Up
The co-stars confirmed their relationship in June 2020 after leaving flirtatious comments on each other's photos for weeks. 
Stokes uploaded a photo of them having dinner on a beach while watching the sunset with the caption, "Cats outta the bag." Meanwhile, Cline, who reposted the photo, wrote, "I've fallen and can't get up."
Then, in November, Cline dropped the L-word in an interview with Entertainment Tonight, sharing that the love between her and her former boyfriend was tight. 
She also said she was thrilled to share the Outer Banks experience with her "favorite person." 
In April 2021, the duo celebrated their first anniversary and shared a tribute on Instagram. A month later, they took home the trophy for Best Kiss at the MTV Movie and TV Awards and celebrated with an onstage smooch.
Everything seemed to be going great between the two, but in November 2021, People confirmed the Netflix stars had broken up.
"Madelyn and Chase are no longer together. They were trying to work things out privately but broke up a couple of months ago," a source told the publication.
A second source confirmed to the outlet that the duo had broken up. 
Madelyn Cline Moving on with Jackson Guthy
The duo never confirmed their break up, leading fans to speculate they rekindled their romance after they were seen holding hands in the promotional photos for Outer Banks season 3. 
However, as of May 2022, romance rumors started swirling after a viral TikTok video showed the actress attending a wedding with Guthy seemingly as her date. 
"He's a singer and Olivia jade's ex as well. Wonder if him and Madelyn are a thing or just friends!?" the caption read.
Then Deuxmoi also weighed in on rumors sharing an anonymous tip via Instagram stories that read, "I have it on very good authority that Madelyn Cline is dating Jackson Guthy." 
The post also included a subject line that read, "Wedding pics were a tip off."
Later in June, the duo were spotted enjoying a casual lunch together at Malibu Kitchen, which caused further suspicions. So far, Guthy and Cline have not responded to these rumors.