Who Is Madelaine Petsch's New Boyfriend? Are They Official?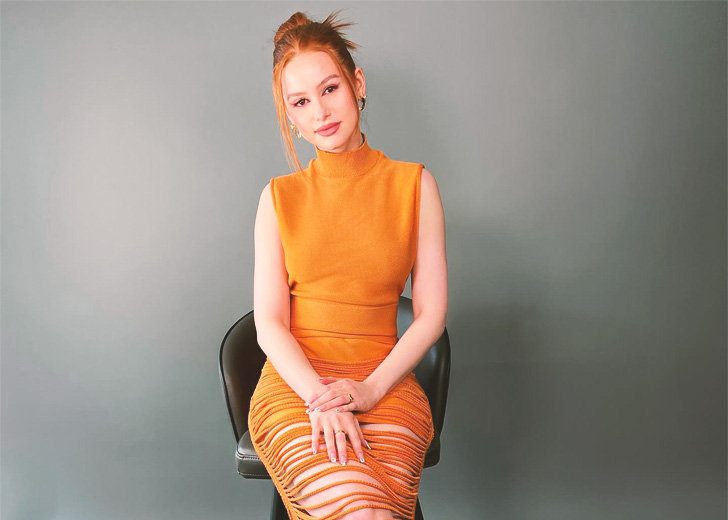 American actress Madelaine Petsch is presumably off the market.
According to several online tabloids, she is presently dating Olympic fencer, Miles Chamley-Watson, and the pair has been spotted multiple times together in the recent past.
Madelaine Petsch and Her Alleged Boyfriend Spotted Together Multiple Times
On March 1, Petsch and Chamley-Watson were first spotted together when they went out for a walk, together with her dog Olive.
Dailymail was the first to report the details, claiming the two were dating each other and the Olympic fencer had moved his training from LA to Vancouver in order to be closer to the actress.
A few days later, the pair was seen walking out with Olive and subsequently bumped into Petsch's Riverdale co-star Lili Reinhart, who was also walking her dog.
Since then, the paparazzi have frequently captured them together and that has led people to believe they are dating.
Who Is Madelaine Petsch's New Boyfriend?
As stated earlier, her alleged new boyfriend, Chamley-Watson, is an Olympic fencer. He competed in both the 2012 and 2016 Summer Olympics and earned a bronze medal in the latter.
In addition, he is a two-time World Champion, and he made history as the first American and first person of color to win the title.
He was born in London, even though he now represents the US Olympic team. His family actually moved to the US when he was eight years old, and he grew up in New York City and Philadelphia.
Chamley-Watson also uses his social media to actively talk about the social causes that he cares about. For instance, he has often used his social media to speak out about the Black Lives Matter movement.
"I will continue to put the port I love on my back for my people and continue to diversify and change my sport," he wrote in one of his Instagram posts.
Madelaine Petsch and Her Boyfriend Haven't Made Their Relationship Official
Despite all the hype about them being in a relationship — courtesy of their PDA-filled pictures — Petsch and Chamley-Watson have not made an official announcement. Because of that, their relationship remains unofficial.
But in a recent conversation with Elle, the actress explained that since her last relationship with musician Travis Mills was public, she felt many people felt she owed them an explanation as to why they broke up. Hence, she stated that she no longer wanted to publicize her relationship details.
She further explained:
I just think I've realized that so much of my life, as you said, is in the public eye that having something private and to myself is really important to me and to future relationships, because I think it creates an environment where nobody who doesn't truly know me at my core gets to have a say in what I'm doing.
Now, we know the reason why Petsch and Chamley-Watson still have not made their relationship official. Following the hint, the relationship presumably is going to stay private for some time.