Who Is Machine Gun Kelly's Baby Mama? Inside Their Relationship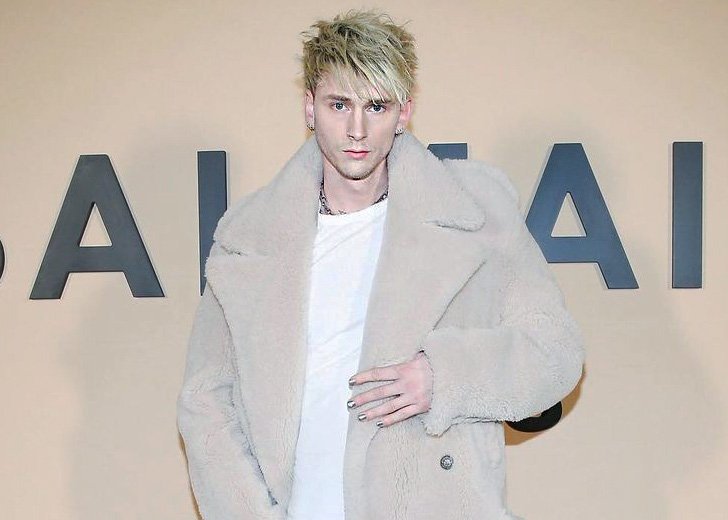 Earlier in June, American rapper Machine Gun Kelly took to his Instagram, posted a picture of himself with a little girl, and captioned the post with the text "dad" followed by a knife, heart, and fire emojis.
However, it wasn't the first time the child was spotted with Kelly on his social media posts. She is also frequently seen with the rapper on their public outings. 
The girl in the question is Kelly's daughter, Casie Colson Baker, from his former girlfriend. During his 2015 interview with YouTuber Jen DeLeon, the rapper can be seen talking about his daughter Baker. 
Who Is Machine Gun Kelly's Baby Mama?
Before Kelly's many love affairs, the rapper turned alternapunk artist was understood to be in a relationship with Emma Cannon. According to Suggest, Kelly and Cannon's love affair began while they were teenagers.
As a result of their intimate relationship, Kelly became a father at 18, after Cannon gave birth to their daughter Baker. There are also ongoing rumors that the ex-couple was married for quite some time.
However, this piece of information remains unverified as of this writing. Despite being associated with Kelly, little is known about the baby mama's personal life as she has continued maintaining her privacy. 
Cannon isn't known to be present on social media, at least not in the public eye, which has posed difficulty for Kelly's fans, who want to learn about his former girlfriend.
In 2012, Kelly released a song titled 'Her Song,' and many of the rapper's fans questioned whether the song was dedicated to his first love. Interestingly, keen listeners of Kelly's song spotted a few lyrics presumably dedicated to his baby mama. 
In the song, Kelly raps about how he was "just out here chasing my dreams girl" and explains his music endeavor to have "cost me my dream girl." Toward the end of the verse, Kelly supposedly offers his regrets for leaving his beloved in pursuit of his career.
After their split, rapper Kelly undertook the responsibility of raising their daughter, but unfortunately, Cannon's involvement in her daughter's life is not publicly known. 
Machine Gun Kelly's Relationship History
The 'Bloody Valentine' hitmaker has had a history of getting involved in several relationships. After his separation from Cannon, Kelly was understood to be dating American model Amber Rose in 2015.
Kelly dated Rose for mere months, and as a result, their relationship did not turn into a long-committed love affair. However, in 2019, it was known that Kelly was in a relationship with another model named Chantel Jeffries.
The former pair first denied being in love but later took to their respective Instagram to confirm their relationship. But unfortunately, the relationship was short-lived, and their breakup was seemingly confirmed after Jeffries took to her Twitter to post a cryptic message. 
It's hard to make someone happy who wants to be sad — Chantel Jeffries (@ChantelJeffries) October 20, 2019
Before Kelly, model Jeffries was dating American electronic music artist and producer Diplo. 
The year 2020 saw Kelly being associated with three individuals. First, in January, the rapper was spotted with singer Noah Cyrus at many Grammys after-parties, and naturally, speculations began of the two being in love. However, nothing transpired from their speculated relationship.
In March, American model Sommer Ray and Kelly started dating each other. Their union was officially announced by Kelly. However, the rap artist called off the relationship with Ray the following month with a mean tweet but apologized to her in a follow-up tweet. Ray, in return, took to her Twitter account and vented her frustration.
Kelly met popular model and movie actress Megan Foxx the same month he was together with Ray. Foxx, who was in the early stages of her split from husband Brian Austin Green, was frequently seen alongside Kelly. 
She later appeared in the music video of Kelly's song Bloody Valentine, arguably Kelly's most popular song to date. In July 2020, the pair confirmed their relationship, and later that year, Foxx filed for her divorce from her husband, Green. 
Recently in September, Foxx, in the company of popular model Kourtney Kardashian, was center-stage at MTV Video Music Awards. The duo of Foxx and Kardashian invited Kelly and famous drummer Travis Barker on stage for their performance by calling them their respective "future baby daddies."