Mac Jones and Girlfriend Sophie Scott Prepared Together For His NFL Selection
Sophie Scott helped Jones learn about the Patriots' playbook.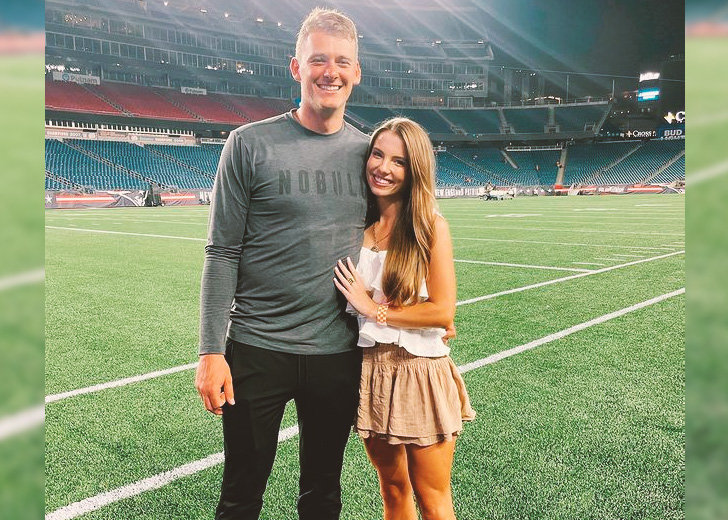 Mac Jones' girlfriend Sophie Scott helped the football quarterback get selected as a member of the New England Patriots during the overall pick from the 2021 NFL draft. 
The footballer beat out fellow quarterback Cam Newton before the Patriots selected him as the 15th pick of April's draft.
He had already impressed many in the preseason, completing 36-of-52 passes for 389 yards with one touchdown and no interceptions. But no one knew his partner helped him secure the post. 
Mac Jones And Girlfriend Sophie Scott
Jones talked about his journey to the NFL selection during an appearance on the WEEI podcast in September 2021. The interviewer asked the young athlete how he absorbed all the new information and lessons. 
At first, Jones gushed about his intense preparations and consistency and attributed his success to his ability to learn visually. The 23-year-old stated he learned new techniques visually, whether by doing it or watching others play. 
Then, he revealed his girlfriend helped him practice every day. He deliberately recruited her to test himself on everything he learned for his NFL preparations. 
As per his accounts, Scott would walk through his plays in the yard and help him practice. And that wasn't all. She even helped him learn about the Patriots' playbook.
Mac Jones Has Been Dating his Girlfriend since 2019 
Jones has been dating Scott since September 18, 2019. The couple met in Tuscaloosa, Alabama, and took their relationship forward one step at a time. 
After Scott moved to Boston, the pair started living together. They even adopted a Maltipoo puppy named Rose. 
Both Jones and Scott are pretty vocal about their relationship. The lovebirds timely posts pictures of one another and dedicate love-filled messages to each other on their socials.
When the Alabama native got into the Patriots' team, Scott took to her Instagram story to celebrate the big day. She posted loving messages from family and friends, one of which read, "I know you proud of your manss!!!!"
And just before that, Jones posted a gallery of adorable pictures with his partner-in-crime on Valentine's Day. The Florida native heralded her as the best person in the caption and stated he was grateful for her. He ended the caption with a sweet "I love you."
Who Is Mac Jones' Girlfriend Sophie Scott? 
Jones' girlfriend Scott is a former student of the University of Alabama. According to New York Post, she is a physical and occupational therapy aide at the University Orthopaedic Clinic & Spine Center in Tuscaloosa.
Scott, who celebrates her birthday every 9th September, turned 22 in 2021. She celebrated her birthday with a Taylor Swift-themed picnic on Rhode Island.