Lizzo's Controversial Weight Loss and Weight Gain Journey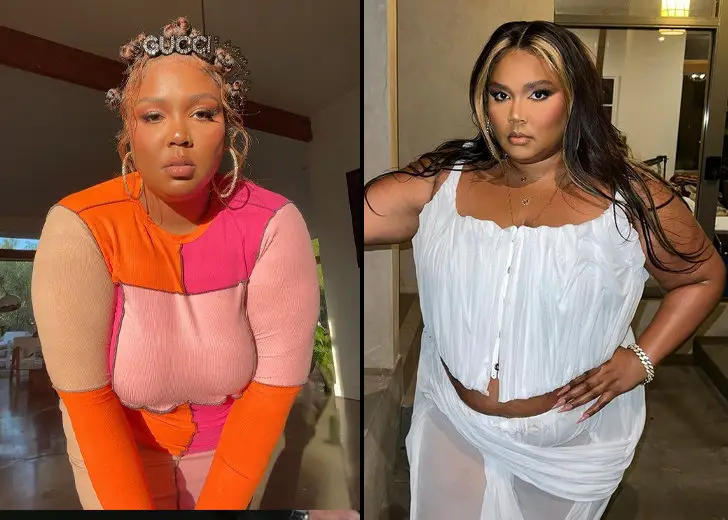 Lizzo heavily promotes body positivity and self-confidence.
Be it from her music like 'Juice' or collaboration with brands like Dove — she continuously advocates for body positivity. Similarly, she does not hesitate to clap back at people who body-shame others. 
But when it comes to weight loss and weight gain, the singer has been at the center of controversies. Her journey has been a rollercoaster and under a lot of criticism. 
Many have complained that she promotes obesity, while many have called her out on allegedly using unhealthy techniques to lose weight.  
Lizzo's Controversial Weight Loss Journey
The Grammy-winning musician is very open about her health and diet. She often shares them on her social media, especially TikTok and Instagram. 
She also opens up any techniques she has applied to benefit her health. For example, in September 2020, she revealed she had undergone drastic weight loss after losing 50 pounds. 

Lizzo showing off her curves after her weight loss journey. (Source: Instagram)
The same month, she explained about her journey on TikTok. She had been consistently working out for the last five years to work on her ideal body time. 
The singer said that she was not exercising for others but for herself and her benefit. Around the same time, she had switched to a plant-based diet and adopted veganism. 
This had also aided in her weight loss journey. But two months later, in December 2020, she faced massive backlash for the same. 
The Backlash From Detox Cleanse
She shared on Instagram that she was doing a 10-day smoothie detox by nutritionist JJ Smith. She tried the cleanse after eating and drinking a lot in Mexico, which disturbed her stomach. 
The first video showed 'Truth Hurts' singer showing the list of smoothies and completing the 10-day-challenge. She also showed off her figure in athleisure from different days of her detox cleanse.
She did the same in the second video and talked about how the detox helped her gastrointestinal issues. She also shared the pictures of Day 1 and Day 10 on her Instagram stories to show the differences. 

The Grammy-winning artist posing for a picture. (Source: Instagram) 
But as soon as she showed her journey with detox and weight loss, the artist faced a massive backlash. People accused her of promoting diet culture and said it triggered some people. 
Moreover, they called her out for being hypocritical and promoting restrictive eating. They also pointed fingers at her for triggering people with eating disorders.
Lizzo Defended Herself on Instagram Stories
The artist then took to Instagram stories to defend herself. She said she would "normally be so afraid and ashamed to post things like this online."
She opened up about how she, as a "big girl," is accused of doing something for a dramatic weight loss rather than something for their health. But that was not the case. 
She was feeling better after the detox and claimed that she was proud of herself and her result. It improved her sleep, mental stability, hydration, and her health as a whole. 

Lizzo dressed up to judge RuPaul's Drag Race. (Source: Instagram)
She claimed to get precisely what she wanted out of it and said that "every big girl should do whatever the [expletive] they want with their bodies."
True to her words, the 'Good as Hell' does not hesitate to share if she has gained weight. On January 3, 2022, she celebrated her weight gain via a dance on Instagram.
She showed off her moves to 'Rodeo' by City Girls. On the captions, she wrote, "I gained weight. I look TF GOODT." 
The comments were filled with love and support for the singer as she celebrated herself.