How Many Tattoos Does Lily Collins Have? A Dive into Her Body Art Collection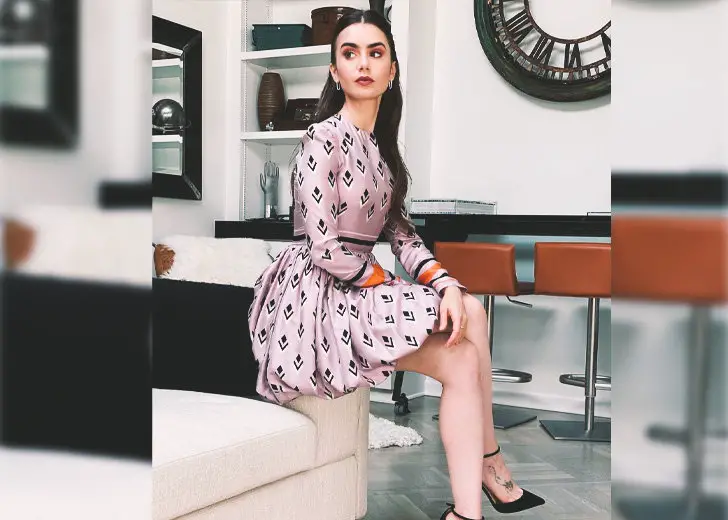 British actress Lily Collins is well known for her work in movies and drama series. Her notable work in films includes Blind Side (2009), Okja (2017), and Mank (2020).
However, the actress is also famous for her body art. Presently, Collins has five tattoos engraved on different parts of her body. 
Lily Collins' Wrist Tattoo
In 2015, actress Collins had a tattoo done on the inside of her right wrist. The tattoo has a design of a British crown that reflects her heritage and is accompanied by angel wings.
She made a post on her Instagram to announce her new design. On her social media, the actress posted a picture of herself flaunting the body art and wrote, "I wear a crown, some wings, a lil LJ, and my heart on my sleeve."
While Collins was getting the tattoo on her skin, the actress was in the company of her mother, Marti Noxon, who also got a tattoo art done on her wrist.
Coincidently, both of the designs have the initials L and J common in them. The letters refer to the actress's first and middle names, which happen to be "Lilly" and "Jane."  
Collins took to her Instagram to address the tattoos and wrote a lengthy caption. In her writing, the actress wrote how she "knew" they were meant "to be in each other's lives to tell this story."
In the same caption, Collins also credited her mother for being alongside her in every step of her life.
Collins' Flower Tattoos
In 2014, Collins had the letters "Love Always and Forever" inked in cursive handwriting below the back of her neck.
She followed up with the design in 2016 during her trip to Korea. While in Korea, she added the design of a lady sitting on top of a fully bloomed Lilly just below the text.  
On both occasions, actress Collins announced her body designs on her social media. While showcasing her then-latest design, the actress called it a "beautiful keepsake" from her memorable Korean trip. 
The British actress also has a beautiful rose tattoo done on her right foot. In 2014, Collins got herself a rose art tattooed along with the text "the nature of this flower is to bloom," a quote taken from the works of author Alice Walker.
The tattoo art sits right between her toes and ankle and is inked in soft black color. In the same art, a falling petal and a rose leaf can be seen clearly.
Lily Collins Has a Tattoo on Her Ribs
The British entertainer made the perfect use of her attendance at the Vanity Fair Oscar Party in February 2016 to flaunt her tattoo engraved on the left side of her ribs.
The tattoo depicts a fairy sitting on a crescent moon while she blows dandelion seeds into the wind. However, the actress has yet to address her rib design publicly and give her followers a full extent of the concept behind the art.