A Look at Lili Reinhart's Tattoos and Their Meaning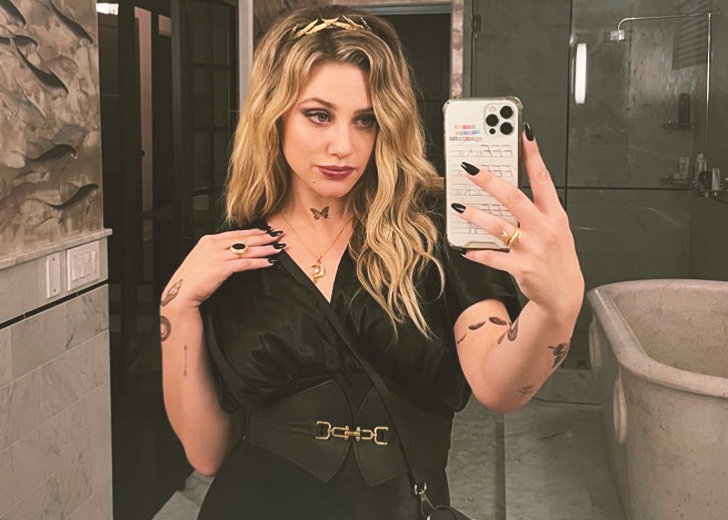 Actress Lili Reinhart has wooed her fans with her portrayal of Betty Cooper on The CW teen drama series Riverdale. Additionally, the Ohio-born actress is noted for her work as Annabelle in the black comedy-drama Hustlers. 
While the actress's onscreen work has helped spread smiles on the faces of her many fans, Reinhart has a history of struggle with mental health. And during one of her past interviews, the actress opened up about the subject and revealed how one particular tattoo had helped her overcome her personal struggle.
Furthermore, Reinhart has a total of four tattoos on different parts of her body. While she has a handful of inked designs, each artwork carries a special meaning in her life.
A Look At Lili Reinhart's Tattoos
During her 2017 interview with People Style, the actress reflected on the meaning behind one of her tattoos. Reinhart raised her left arm and walked through the arrow design between her elbow and her wrist.
According to Reinhart, she got the design made while in Los Angeles, two years prior to the interview. In her interpretation of the work of art, she told the host that the arrow design represented "mental health awareness," which symbolized her struggles with depression and anxiety.
Moreover, the arrow tattoo is based on an original quote by popular coach and speaker Stephanie Simpson which, as per the actress, acts as her mantra in life. It reads, "An arrow can only be shot by pulling it backward."
The same design can be seen in one of her November 2015 Instagram posts. 
Moving on, Reinhart has an earth sign drawn on the left side of her chest, as reported in Refinery 29. While the inked art supposedly remains hidden under her clothes on most occasions, it came to public notice during a red carpet event, sometime before 2016.
The third entry on the list is Reinhart's Rose tattoo, done on the outer part of her right arm. During her chat with People Style, she associated her belief with the concept of her tattoo. When asked by the host to elaborate her ink, Reinhart said,
I love roses, but I don't want to say it's that basic. I'm kind of a warrior for love. I've learned that I do wear my heart on my sleeve. I love love.

Source: Daily Mail
In 2021, Reinhart made alterations to the already existing Rose image and added an eye, along with nine-star symbols. Additionally, the rose and its leaves, when compared to the original image, look color enriched. 
And finally, in 2016, the actress got an image of a tiny cross made on her finger; specifically, the ink sits on the outer region of her left pinky. On June 28, 2016, Reinhart posted a clip on her Instagram account of her getting the outline engraved on her finger.
According to Reinhart, this particular tattoo is like an Easter egg, firstly because it's very small and hard to spot, and secondly, it is the only inked art she does not hide away from cameras.