Lil Soup Reveals She Is Getting Her Face Tattoos Removed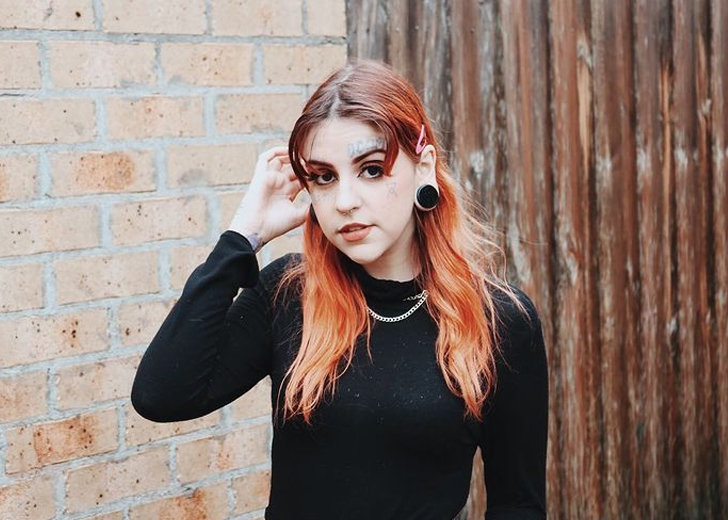 The popular TikTok couple, Lil Soup and Caleb Finn, often updates their large fanbase about their lives, from being homeless to having a baby, via their social media platforms. 
Soup recently gave birth to their first baby, and so far, the private couple has shared little about their new baby. 
However, in March, she shared a glimpse of their life as new parents in a much-requested TikTok video titled "24 hours with a 1-month-old."
But recently, fans have been curious about something else — Soup's face tattoos removal.
Lil Soup Wants Her Face Tattoos Removed
On March 13, Soup, who goes by "xlilsoup" on TikTok, uploaded a video of her before and after hiding her face tattoos with makeup. 
She started the video with no makeup, and all her face tattoos were on display, but later, the footage transitioned into her looking fresh-faced in makeup without her face tattoos. 
A user named Gracie commented, "people are saying you are going to get your tattoos removed. Is that true? You are beautiful either way."
Soup replied that it was true and would get it removed soon but clarified that she had used makeup in the video. 
Earlier in January, she filmed a video of her getting ready, but she had not covered up the designs on her face. 
This is not the first time the TikToker covered up the inks with makeup. 
She often uploads makeup tutorials where she hides the ink under a layer of full coverage foundation.
In 2019, she uploaded a video of removing her makeup to show viewers the power of a makeup remover. 
She gradually removes the layers of makeup, and in the end, all of her facial inks are on full display. 
A user even asked where the new mother worked that required her to cover up, but she replied she did it out of boredom. 
Caleb Finn Confirms the News About the Tattoo Removal
Her boyfriend, whose TikTok username is "caleb.finn," also confirmed the news of her tattoos with a TikTok video.

Lil Soup and Caleb Finn face tattoos video (Source: Caleb Finn/Instagram)
In the video, the couple is lip-syncing to a conversation between SpongeBob and Squidward from SpongeBob SquarePants. 
"I took your advice, from now on I am normal," Soup lip-synced. 
The video was accompanied by the caption, "I woke up, and soup looked like this."
In the comment section, fans were unhappy about the tattoo removal and expressed their dissatisfaction.
One user wrote, "that's not soup that's broth," with a sad emoji, while another one wrote, "I couldn't figure out what was wrong at first. It just looked off."
Finn reshared the video on his Instagram story and reshared the comments mentioned about Gracie and Soup. 
It looks Soup will get her face tattoos removed whether or not her fans approve, but she has not confirmed when so fans will have to wait for some big reveal.