Meet Jessica Miller the Model Wife of Lars Ulrich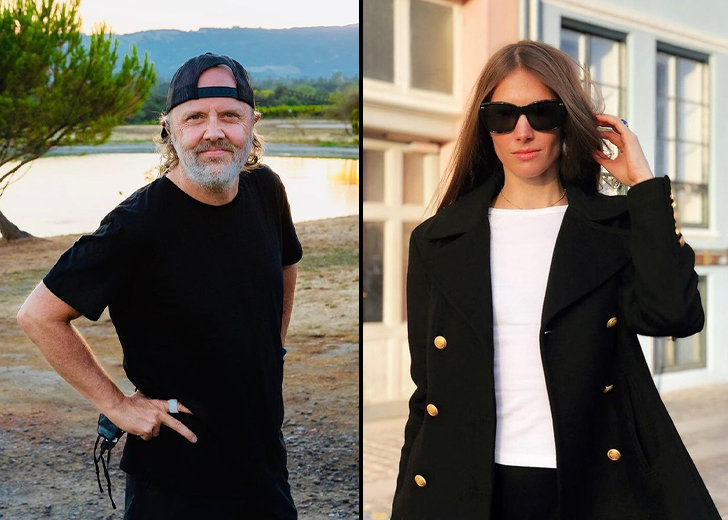 Third times the charm for Lars Ulrich. 
The drummer of Metallica found love for the third time in the arms of his third wife, Jessica Miller. It is unknown when the pair met, and their dating history is murky.
However, it is reported that the two got together in October 2012. Then, the pair dated for nine months before getting engaged in July 2013. 
Their engagement and bachelor party were heavily reported. According to People, many famous faces attended the bachelor party like Bradley Cooper, James Hetfield, and Ian McKellen. 
After over a year of engagement, Ulrich got married to his third wife in March 2015. The pair have been together ever since and often share their journey on Instagram.

Lars Ulrich with his wife Jessica Miller. (Photo: Instagram)
Lars Ulrich's Third Wife, Jessica Miller
Like Ulrich, his wife is also active in the entertainment industry. However, she is not a household name like her husband but is a model who has worked with many famous brands. 
It is reported that Miller joined the industry at the young age of 15. She signed with a fashion agency then, but she did not come to the limelight until she worked with Calvin Klein.
She reportedly signed a contract with the brand when she was around 17/18. Since then, she has worked with many brands like Fendi, Givenchy, Gap, Guess, Jimmy Choo, Swaroski, Tommy Hilfiger, and Miss Sixty.
Similarly, she has graced the covers of many acclaimed brands like Vogue Paris, Harpers Bazaar, and Elle. Miller has also received accolades for her talents.
She earned the award of the 'Model of the Year' in 2003 at the International Photographer Award. She won it against many other talented models like Kate Moss and Carmen Kass.
But nowadays, Miller is very low-key about her modeling career. She is currently signed to Next Management and Iconic Management, but she is not as active as she used to be.
Regardless, it does not stop her from flaunting her physique on her social media. She often posts pictures of herself wearing a bikini and posing surreally.
Moreover, she has collaborated with her husband on various occasions. Ulrich told Vogue in 2016 that he was passionate about photography and had clicked photos of his wife for different projects.
Aside from being a model, Miller is also an activist. She is passionate about animals and often shares that she is working with different organizations for the welfare of animals.
She has collaborated with Animal Place, an institution that helps animals, and raised money for them. She also has a link for the donation on her Instagram bio to urge her fans and followers to contribute a little to help animals.
Previous Relationships of Lars Ulrich and Jess Miller
Both Ulrich and Miller were in serious relationships before they found each other. The Metallica drummer was married twice and was in one serious relationship before Miller.
His first spouse was Debbie Jones, and they were married for two years, from 1988 to 1990. Seven years later, he got married to actress Skyler Satenstein in 1997.
Unfortunately, their relationship did not last over seven years and ended in a divorce. From 2004 to 2012, Ulrich was in a relationship with Connie Nielsen.
They were neither engaged nor married, but they were in a live-in relationship and had a son as well. Miller, on the other hand, only has two publicly known relationships.
She dated Brandon Boyd was even engaged to him. However, the two did not get married. Miller was also in a relationship with Daron Malakian, but other than that, not much is known about Miller's love life.