Does Kyle Long Have a Wife? Here's What We Know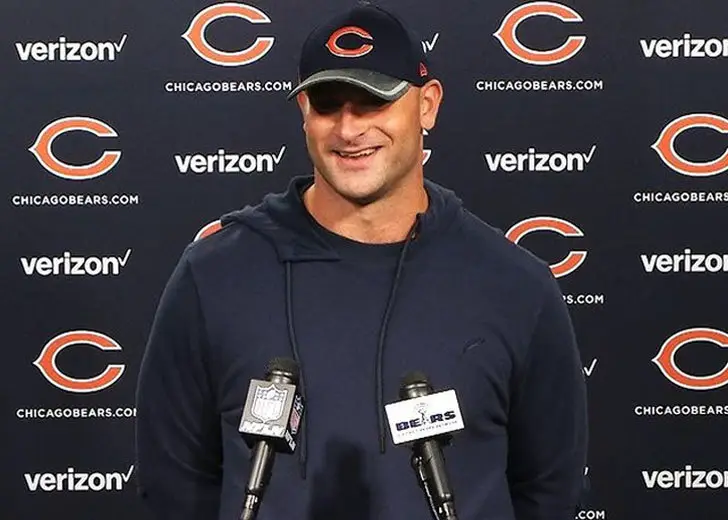 Kyle Long has captured the hearts of his fans as a National Football League (NFL) player. He was previously with Chicago Bears for six years, from 2013 to 2019.
Currently, he plays as the guard for the Kansas City Chiefs. Long's football career is well known, but the same cannot be the same for his personal life, especially his relationships and wife.
Here is everything we know about Long's personal life and his relationship history. 
Does Kyle Long Have a Wife?
As far as we know, Long does not have a wife. He has revealed nothing about being married on social media and interviews. 
Moreover, there have been no rumors about these topics. Thus, until and unless the NFL player reveals information about his wife or wedding, nothing can be said for sure. 

Kyle Long. (Source: Instagram)
It seems like Long is currently single as well. The only known relationship he had was with Shannon Ford. 
It is unknown when the pair started dating, but Long made it Instagram official in June 2017. He posted a picture of the two in front of his Lake Forest Home with the caption, "Got tired of eating by myself."
Ford is a model who reached the top 16 of Miss South Carolina Teen USA. She is a graduate of South Carolina Upstate, where she studied broadcast journalism and political science. 
She was also featured in Very Cavallari alongside Kristin Cavallari. According to E! News (via Bustle), Ford helped Cavallari handle her social media for her company Uncommon James. 
It might be possible that Cavallari was the reason behind Long and Ford meeting each other. Cavallari was married to Jay Cutler, a quarterback for Chicago Bears. 

Kyle Long. (Source: Instagram)
Cutler and Long were friends, and the latter has tweeted back and forth with Cavallari. Thus, it is possible that Long and Ford met each other through Cavallari and Cutler. 
But unfortunately, Long never said how he met Ford, and the two are not together anymore. However, it seems like the pair parted ways after a year or so of being together. 
The NFL player has also deleted his pictures with Ford from his Instagram. Since then, there has been no news about his girlfriend or wife. 
In 2015, Long made headlines after he said Olivia Munn was hotter than Cavallari. Long was asked on Twitter who had a hotter partner between Cutler and Aaron Rodgers, to which Long replied Rodgers. 
Back then, Munn was together with Rodgers, and Long chose Munn since Cutler and Cavallari were married. Cavallari jokingly called him out for selecting a rival teammate's girlfriend. 

Kyle Long with his parents, Diane and Howie. (Source: Instagram)
Kyle Long's Parents 
Long's parents have an adorable relationship that the NFL player loves to show off on his social media. His father, Howie, a former NFL player, met his wife Diane in college. 
They got together while they were at Villanova and married in 1982. Together, the pair have three sons, and all of them are involved in football. 
In 2016, Long said that his father was the most influential person in his life. Howie guided his sons morally and professionally throughout their lives. 
As a result, they look up to him since the lessons he passed to his sons are "priceless."