Kodak Black's Fiancee Mellow Rackz Isn't His 2nd Baby Mama
Kodak Black's first baby mama is Jammiah Broomfield.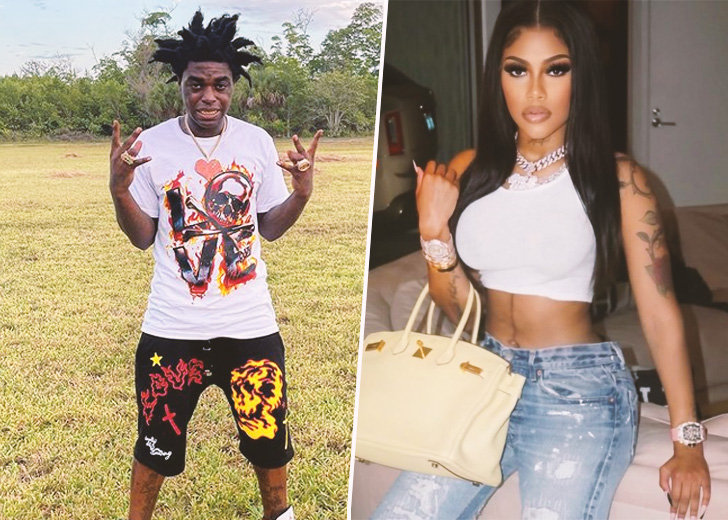 24-year-old rapper Kodak Black, legal name Bill Kahan Kapri (born Dieuson Octave),  is expecting a baby girl with his current girlfriend, Maranda Johnson.
The baby will be Black's second baby and the couple's first, as he already has a six-year-old son, King, from a prior relationship.
The news was confirmed by Bradford Cohen, the Florida rapper's lawyer, while speaking to TMZ on September 6, 2021.
The publication further reported that Black and Johnson had known each other for about four years, and the couple conceived a child together around April. "...so the baby girl's expected either late 2021 or early 2022," the report stated.
Cohen also shared the rapper was happy to know his second child will be a girl and can't wait to spoil his daughter. In fact, Black reportedly has been doing some shopping for her.
In March, Black also appeared on Instagram live, asking his followers for baby name suggestions. In the live session, he was accompanied by a woman [presumably, Johnson], who was not seen on camera but disagreed with several suggestions before suggesting the name Melly.
Who Is Kodak Black's Baby Mama?
But when the news of Black's second child came out in the media, some of his fans also thought the mother of his second child was Mellow Rackz, whom he got engaged to earlier this year in February. 
However, it has now been confirmed through various sources, including TMZ, that the rapper is welcoming his second child with Johnson and not with his fiancee Rackz.
Speaking of Rackz, she first confirmed her engagement with Black by sharing a string of posts to her stories where she revealed the rapper popped the question when a plane flew overhead. She also posted several pictures of the couple together on social media.
Black's attorney, Cohen, later confirmed the details on behalf of the rapper, stating how his client was over the moon. Cohen added that Black was doing well and enjoying his life with his family and close friends.
The same month, the couple also tattooed each other's names to cherish their love. While Black has tattooed his girlfriend's name on the back of his neck, Rackz got Black's actual name, Bill, tattooed in red ink, on her cheek.
All that being said, the two no longer appear together on public platforms, suggesting they have already broken up. In addition, the news of Black's baby with Johnson makes it clearer that Black and Rackz aren't dating presently.
Kodak Black's First Baby Mama
Black welcomed his son, King, with his ex-partner, Jammiah Broomfield. But since he was jailed due to his criminal charges, he and his baby mama ended their relationship.
After the split, the rapper signed a deal with Broomfield, settling child support and custody. According to court records, the deal stated that he has to pay Broomfield $4,200 a month for King until 2033.
The deal also ensured both of them had regular access to King. This meant their son could live with both his mother and father.
Broomfield is a 23-year-old high school dropout who started living with her parents after splitting with the rapper.