Kirsten Titus Reposts Flashing Picture from Instagram Story for Hilarious Reaction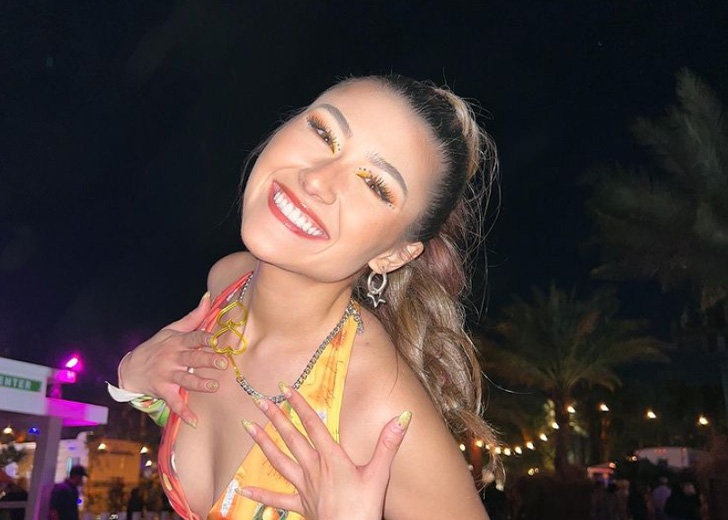 Kirsten Titus was having fun at Coachella, like everyone else at the event. So much fun that she forgot she flashed her privates to everyone on the internet on Instagram stories.
She realized that soon though, after a barrage of direct messages flooded her account. But instead of shying away from her error, she owned it amazingly.
Titus posted the same picture on TikTok, with a funny overlay, of course, and it made for hilarious content.
Kirsten Titus Flashes Once, Then Flashes Again
On April 23, Titus posted a picture on her Instagram story. She was innocently showing off the exotic fruity dress she wore for the occasion, on April 18, 2022.
It was a short miniskirt dress that deliberately exposed her side thighs. However, in posting a particular picture, she revealed more than she intended to.
The picture showed her sitting on a golf cart, posing for the camera. But it appeared as if her privates were exposed.

Kirsten Titus had a slight wardrobe malfunction at 2022 Coachella, where she was flashing her privates to her entire Instagram following. (Photo: Kirsten Titus/Instagram)
Fans noticed the flashing right away and notified the TikTok star, who swiftly took down the photo. It took Titus a few days, but she came back around to talking about the incident.
And instead of hiding, she openly made fun of what had happened and her naïveté. She posted a hilarious TikTok on April 24, 2022, involving everyone in the hilarity that was her wardrobe malfunction.
"I think I need to deactivate my ig," she wrote in the video's caption. The clip itself was made with 'Thousand Miles' by The Kid LAROI playing in the background.
"Show you then show your last mistake," the text overlay read as she first showed her face, wryly smiling at what had happened. Then, the video cut to show the picture with the malfunction.
However, the exposure had been covered by a cutout of her face with the same wry smile she had in the previous cut. Then the video showed the many messages she got about the snap.
"ooohh babes I love you but you might wanna double check this one," one text read, while the other one asked, "What app am I on," followed by shock and laugh-cry emojis.
Someone else said, "this is tha 2nd time u flashin us." They even made a joke, saying they wanted to think Titus did it on purpose, but she was "hella dumb," so they knew it wasn't on purpose.
The comment section was mostly people praising her for the way she handled the matter, along with a few jokes about her going commando at Coachella.
"I love that you handle it this way, this is why I respect and forever love you," one TikTok user commented, while another one said, "at least the girlies were watching out 4 u."
"coachella turned into coochella real quick," someone joked, while another one quipped, "not the kirstussy!," to which Titus replied with a text expressing disbelief at the clever joke. "Not the pepperoni muffin!" said a third.
Someone missed the entire ordeal and just requested, "no actually repost it I didn't see it maam."
Kirsten Titus at Coachella
Titus, @pepperonimuffin on TikTok, got the opportunity to go to the 2022 Coachella courtesy of YouTube Shorts. She and her best friend's trips to the festival were sponsored by YouTube.
The video-sharing platform flew both out and let them stay in the YouTube compound. They even provided them with fancy amenities such as custom-cooked meals, a luxury RV to live in their days at the festival, and snacks all the time.
They had hair and makeup people come in every day for the people at the compound and even prepared custom "things" for her and her best friend.
Titus did interviews, press, and photoshoots during the daytime and attended concerts at night.
The golf carts, which became her nightmare for a while, were really helpful to her because of her high heels. YouTube Shorts even provided them with special passes so they could be front and center during the performances.
Titus experienced a wardrobe malfunction when she wore the fruity outfit for day three at Coachella, which was the last day. She attended Doja Cat's concert that day and documented her entire hair, makeup, and outfit preparation for the day on TikTok.
The TikToker even "exposed" herself by discussing everything she did on social media.
She openly admitted to editing a picture to remove people from the background, coloring her nails through Photoshop so they would match her outfit, editing her armpits because they were hairy, and using an app to make her pictures look like they were taken through film camera.
She was rushing through the entire process, which might have contributed to her slight embarrassment. But it only became a subject of humor with no harm done.