Is Kid Cudi Gay? Behind His Wedding Dress and Boyfriend & Girlfriend Rumors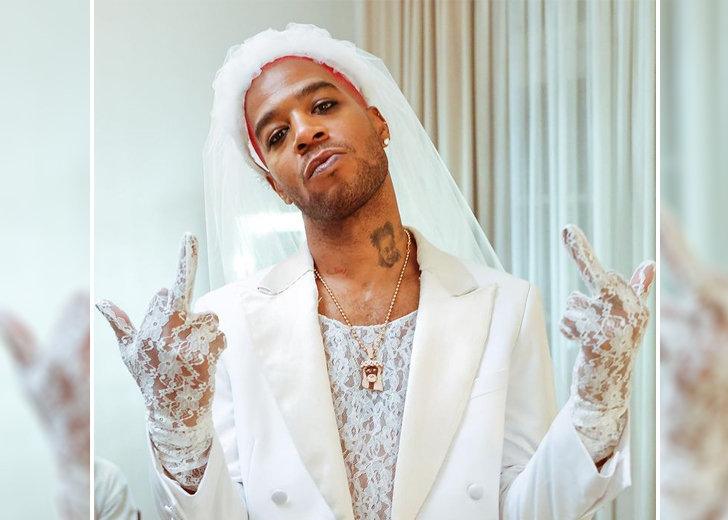 The internet has again been filled with queries like, "is Kid Cudi gay?," after Kid Cudi dared to make a feminine fashion statement at a fashion awards ceremony in 2021.
Read the full article to know about Kid Cudi's gay rumors, marital and dating status, relationship timeline, and net worth.
Is Kid Cudi Gay?
Kid Cudi, whose full name is Scott Ramon Seguro Mescudi, is a cisgender, straight man who has donned feminine dresses as a gesture of tribute to his idol, Nirvana's legendary singer and guitarist Kurt Cobain, who himself wasn't gay but fiercely advocated for gay rights. 
Cudi, 39, walked down the red carpet, wearing a fabulous white wedding dress, at the CFDA Fashion Awards in November 2021.
According to Vogue, Cudi, whose full name is Scott Ramon Seguro Mescudi, wore a custom bridal gown designed by ERL, a "white-hot West Coast label launched in 2018 by American Emerging Designer of the Year nominee Eli Russell Linnetz."
He was accompanied by the designer, Linnetz, who held the rapper's hands in front of photographers.
Netizens React to Kid Cudi's Wedding Dress Look
The Cleveland-born artist's wedding dress outfit quickly went viral on the internet, with many accusing him of pushing the "gay agenda."
In a since-deleted tweet, one Twitter user said they deleted all of Cudi's songs from their playlist the first time he wore a dress.
"Rapper Kid Cudi has officially come out of the closet," an online outlet, MTO News, also alleged.
"This guy is just trying to please certain people out there," another Twitter user wrote. "I don't see what the fascination is with men wearing women's clothes."
Someone added, "He's trying too hard now bro. I'm all for guys expressing themselves the way they want with their clothing, but this looks terrible."
Amid negative comments, some also took to social media to defend Cudi, with many stating that a straight man should be allowed to wear a dress without it causing controversy.
kid cudi in a dress so all the weirdos tweeting some conspiracy bullshit that he sold his soul/in the illuminati or tweeting out homophobic/transphobic shit lol

people love to hate and that's weird to me — alex (@Mescud) November 11, 2021
Some also praised Cudi for normalizing people being able to wear whatever they wanted to. "I love how Kid Cudi can wear a dress and absolutely rock that [expletive]."
Internet's Reports on Kid Cudi Being Gay and Having a Boyfriend Are False
It turns out all the reports on Cudi being gay and him dating his designer are baseless speculation.
Both Cudi and Linnetz, while speaking to People, implied that they were not dating — and Linnetz wasn't Cudi's boyfriend.
They shared that they only appeared as a couple to attend the event, and the rapper was sporting a wedding-inspired look.
"I just out of the blue sent him a text of a wedding dress and I was like, 'Will you be my bride?'" Linnetz told the publication.
Cudi then added, "I trust this man so I was down to take it wherever his mind went."
Besides, this was not the first time the rapper was spotted wearing a dress. He wore a floral gown for his performance on Saturday Night Live in April 2021.
The floral gown was a custom off-white dress with a fitted bodice and spaghetti straps.
The rapper has clarified that he is straight but loves to experiment with dresses.
He responded to the backlash by saying, "So I already made my mind up years ago that I wanted to do this."
"And it's cool because I'm also giving confidence to the kids and telling them to be themselves and do what they want to do," he added.
Head out to Cudi's Instagram to check out his experimental dressing and fashion ideas.
Is Kid Cudi Single, Dating, or Married Now?
Ever since Cudi revealed to Esquire in August 2022 that he was a relationship man who was single and ready for marriage and "more kids," fans have been eyeing his social media to check out if he has been in a relationship with someone. 
"I kept fighting it. Like, I want a girlfriend. I want a girlfriend. I need to be with somebody. Most people would think I enjoy being single because I'm single a lot. But I'm a relationship man," he revealed. "My goal is to find someone. Soon, hopefully. And get married and have more kids." Being a dad to Vada (he describes her as "the coolest, bravest person") is the best part of his life, and he wants to expand the family tree."
In addition, the magazine also revealed that he tried celebrity dating apps a few years ago. 
Till now, he has never been married or engaged but has a daughter, Vada Wamwene Mescudi, from his relationship with his ex-girlfriend Jacqueline Munyasya.
The former pair battled a tough custody battle which resulted in Cudi getting a fair visitation right. Later, he even purchased a property in Chicago to keep up with his daughter.
During the custody battle, Munyasya had alleged that Cudi was an absentee father with a "long history of consistent drug and alcohol abuse." She also described him as a person of violent tendencies.  
Cudi regrets Letting his Then-girlfriend Rocky Down
In the August interview with Esquire titled, 'Kid Cudi Is All Right,' Cudi went to length to express that he was disappointed in himself for letting his ex-girlfriend Rocky (Raquel Deriae) down when they were in a relationship. 
"I wish I showed up and had been the man I was supposed to be for Rocky. But I'm going to spend the rest of my life trying to make up for it, whether we're together or friends, whatever it ends up being," he revealed his approach to mend his relationship with ex-girlfriend Rocky—who he said was still close to him in life. 
Rocky and Cudi were seen spending time together in 2020 on social media.
A month later in September, Cudi's ex-girlfriend Rocky also made it to the premier of his album Entergalactic. 
Who are Kid Cudi's ex-girlfriends? 
In addition to his baby mama Jacqueline Munyasya and Rocky, Cudi's ex-girlfriends include Stella Maeve (2013), Jamie Baratta (on and off, 2009 to 2012), and Amanda Baynes (2010), according to Ranker.
What is Kid Cudi's Net Worth?
Cudi's estimated net worth is $16 million.
In April 2023, the Man on the Moon III: The Chosen star possibly hinted about his new album on Twitter by announcing he was beginning a "new chapter" in June 2023.
DJs all around the world: I wanna thank you from the bottom of my heart for playin my tunes all these years. I would not be where im at now with out any of you, and I am deeply grateful. 🙏🏾💕

The time has come for my evolution. June 2nd, we start a new chapter. Join me ⚡️ — The Chosen One (@KiDCuDi) April 17, 2023
In the same month, it was also announced that he would star in the Sonic the Hedgehog spin-off animated series, Knuckles, in the upcoming Disney kid movie, Carter, and in the zombie action comedy movie Hell Naw (acquired by Sony) as the lead character.