Inside Kevin Smith's Marriage with His Wife Jennifer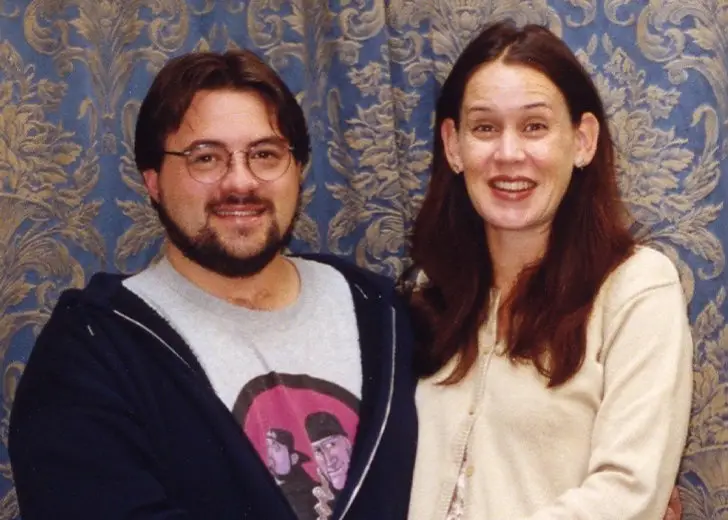 Kevin Smith and his wife Jennifer Schwalbach Smith had their daughter, Harley Quinn Smith, when they were relatively young.
The parents avoided being too mature with their only kid and raised her around the entertainment industry. 
The couple has been married for over twenty years, and they share a strong bond with each other to date. 
Dating History of Kevin Smith
The actor/director was in a romantic relationship with Joey Lauren Adams in 1995. Their love story lasted two years, and they separated in 1997.
Two years after the break-up with his ex wife, Kevin started dating Jennifer.
He didn't want another special thing to go to ruin, and so the two decided to tie the knot in 1999, just three months into their relationship.
Shortly after, the husband and wife welcomed their child into the world. 
How Kevin Smith Met His Wife Jennifer
While it may not have been love at first sight, Kevin and his wife, Jennifer, do have a hilarious story about how they met.
Following an informal rehearsal, Kevin informed Chris Rock that he had an interview set with a reporter from USA Today and that he thought it was "weird" that it would take place in his hotel room (as per Nicki Swift).
In response, Chris joked, "Better here than the bar downstairs. It's filled with hookers!" After Jennifer arrived in his room, Kevin thought Rock had sent a hooker to his room.
He thought that because he wasn't expecting to be interviewed by a stunning young woman like Jennifer. "Anyone I'd ever been interviewed by at USA Today had been in their late 40s," he added.
Kevin Smith and His Daughter: The Dynamic Duo
Kevin has been extremely supportive of his daughter's career in Hollywood, having cast her as a lead in Yoga Hosers and as Milly in Jay and Silent Bob Reboot.
They are reportedly working on a TV project after previously co-hosting a vegan podcast called Vegan Abattoir.
Harley's most notable part to date has been in Cruel Summer as Mallory Higgins, a high school student living in the 1990s.
Following the devastating Season 1 finale, the Freeform series broke a significant record by being the network's biggest multi-platform debut, and it has been renewed for a second season.
Recently, in January 2022, the father and daughter bumped into each other at a local marijuana store.
"When you're at the weed store and you run into your kid," Kevin, 51, wrote in the caption of his post.

Kevin Smith with his daughter in a marijuana store (Photo: Kevin Smith's Instagram)
"Someone raised that kid right" joked Kevin on the post, to which Harley replied in the comments with a snarky "It was a surprise but also not a surprise at all."
Harley said working with her father was a "cool gift." She said they think similarly, which makes it like she is shooting with another version of herself.
Kevin agreed and said he rejoices in working with his daughter and sees it as an opportunity to play with his daughter again.
"I thought those days were long behind me," said Kevin, showing his thankfulness.