Truth about Jason Mewes' Plastic Surgery, Tattoos and Teeth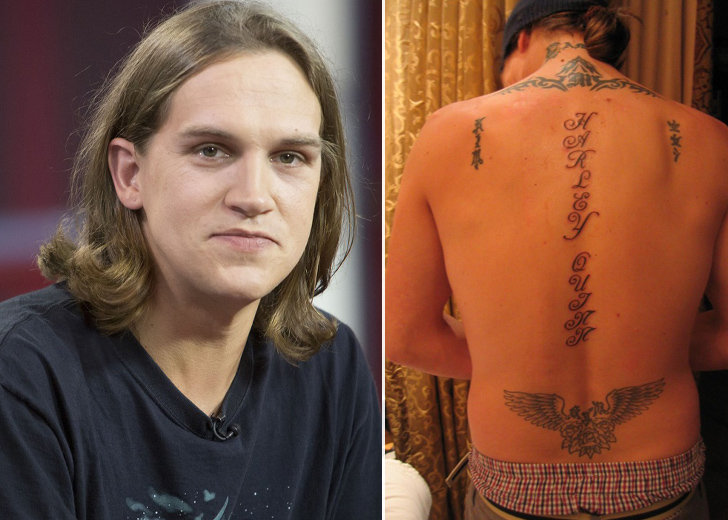 You may have known the talented American actor, comedian, producer, and podcast host Jason Edward Mewes for portraying Jay, an expressive character when paired with Silent Bob (portrayed by Kevin Smith), has been known as one of the most loved fictional characters duos, combinedly known as Jay and Silent Bob in the films, television programs, and comics created and written by Smith.
The characters appeared in movies such as the Clerks film series, Mallrats, Jay, and Silent Bob Reboot, and the television series Clerks: The Animated Series.
In this article, learn about Mewes' friendship with Smith and also get exclusive answers to the frequently asked questions about the Highlands native's teeth, tattoos, addiction, drug abuse, and personal life. 
While his reel-life persona made him a fan favorite, Mewes' life choices off the screen entirely caused him to go down the rabbit hole — personally and professionally. 
Jason Mewes has been sober for over a decade
The New Jersey native hit rock bottom when he found himself in the Christmas fire in 2002, awakened on the couch with flames around him.
Apparently, the Dogma star hadn't defused the candle that he had lit while high on drugs.
This particular incident was the turning point in his life as he decided to sober up and sought help from his close family and friends. Unfortunately, it did not last long, as he relapsed once again after three years. He got sober in 2006 after undergoing surgery.
Thankfully, his best buddy Smith was by his side, who got him into rehabilitation yet again. And the good news? He's been sober since 2010. He is also grateful to the company Denitox for his good oral health. 
Mewes also revealed to Civilized that he would have relapsed if it was not for his partner Smith and his fans. "Kevin asked me why I felt that I'd relapsed. And I told him at that moment in time when I'd relapsed, I wasn't really accountable to anybody," he shared.
"I wasn't going to AA meetings or anything. So he said, 'Listen, you want to do a podcast, then we'll do a podcast, and you have to talk about everything that's going on. This way, you're accountable to everyone who listens,'" he added.
Following his sobriety, the classic duo started a podcast, Jay and Silent Bob Get Old, where they talked about their journey and everything in between, which also helped them fight their own battle with addiction and drinking. 
Also, on Steve-O's podcast hosted by fellow recovering addict Steve-O, Mewes explained how his friend Smith tactfully refrained him from getting drugs by keeping him busy in empowering collaborations. He also went to lengths to account for his friend Smith's acts to ensure that Mewes remained sober, including paying for his rehab and treatment and housing him as a guest in his house. 
Mewes also shared an emotional Thanksgiving dinner story involving Smith that motivated his early recovery stints. He shared that Smith was crying during the occasion because his whole family was visiting his house, due to which he had trouble hosting the former.
"I remember I went to his house, it was Thanksgiving, and I always used to have Thanksgiving with him. I remember me and him sitting out in front of his house, and he's crying, saying 'I want to let you in, but the whole family is here," Mewes shared. 
He added, "And I had a tank-top on, and I had track marks. And he's like, 'I can't have you see them like that.' And I'm like, 'I can't come in for a plate of Thanksgiving dinner?' And he's like, 'You can't. Here, I am going to bring you some food.' That was the first time I got sober for a while."
Years later, after the incident, Mewes would relapse after taking medications for his kidney stones. But his friend Smith didn't give up on him and continued supporting him.  
In July 2020, Smith shared an Instagram post celebrating a decade of Mewes' self-restraint and sobriety.
His caption on the post was very heart-touching as he wrote, "I love you, Jay! Thank you for denying your demons so we can Reboot and Get Old together!"
Are Jason Mewes and Kevin Smith still best friends?
The fact that Smith wrote Jay's character, especially for Mewes, makes this pair even more loveable.
Over the years, their friendship has been thoroughly tested, but the two have overcome every hurdle and maintained mutual love and respect for one another.
Mewes and Smith are best buds like Jay and Silent Bob in a fictional universe and are also best friends in real life.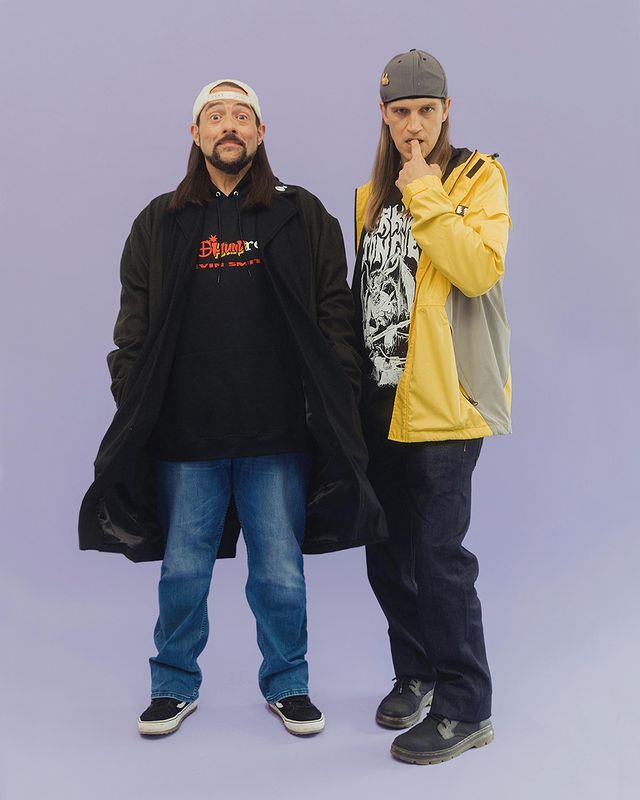 The Jay and Silent Bob duo: Jason Mewes and Kevin Smith. (Photo: Instagram)
Smith took to Twitter to say some kind words to show his affection for his pal and celebrate the decades-long friendship forged in Jersey with a throwback picture of him and Mewes. In the caption, he dubbed their relationship as "an alliance of hetero-lifemates that's lasted longer than most marriages and survived nine motion pictures."
Under the photo, he wrote "Me and the Boy, circa 1997. I've spent well over half of my life standing next to @JayMewes - an alliance of hetero-lifemates that's lasted longer than most marriages and survived 9 motion pictures (including @YogaHosers and Zack & Miri). Decades-old friendship forged in Jersey."  
Me and the Boy, circa 1997. I've spent well over half of my life standing next to @JayMewes - an alliance of hetero-lifemates that's lasted longer than most marriages and survived 9 motion pictures (including @YogaHosers and Zack & Miri). Decades-old friendship forged in Jersey. pic.twitter.com/vxPhGlkIug — KevinSmith (@ThatKevinSmith) November 28, 2020
One of Jason Mewes' tattoos is for Smith's kid
While Smith has his way of showing his love for his buddy, Mewes has taken it a notch higher. How so?
Well, he got the name of his best mate's daughter, Harley Quinn, tattooed on his back! While he has a fair share of tattoos on his body, this one is quite special and is a real example of the pair's friendship. 

Jason Mewes flaunts his tattoos, especially the one he inked for Kevin Smith's daughter. (Source: Facebook)
"The 7-year-old Harley was mystified, yet delighted," Smith wrote on the Facebook post, where he flaunted Mewes's tattoos. He also shared that the actor spent an entire day on the inker's table to complete the design.
"It's beautiful to see that you have so much love for your best friend's child. Kids need all the love they can get. I am sure, and awesome uncle," one user commented on the said post.
Besides the particular design, Mewes has multiple tattoos on his body. The famed actor has two big tattoos on his shoulders and multiple small tattoos on both legs. 
What did Jason Mewes' drug addiction do to his teeth?
Mewes always cracked up the viewers with his addiction stories on screen, but little did we know the star actually fell into drug addiction, especially morphine, in his early 20s in real life after starring in Mallrats (1995). That addiction expanded to harder drugs such as heroin, because of which his friend Smith advised him to take professional help from a rehabilitation center.  
And despite visiting the rehabilitation multiple times, the Clerks III star would usually relapse.
Talking about his addiction experience, his pal Smith revealed that Mewes's initial slide into drug dependency was caused by tragic family history as he was born to a drug abuser. He said,
Born the son of a he**** abuser, [and] spent most of his childhood raised by an aunt while his Mother fed her jones or spent years in jail.
Despite the problems at home, Mewes remained clean until his high school days, but tables turned when he started drinking and pot-smoking while shooting for Clerks.
On top of that, his friend Smith also said that the actor was playing his authentic self in the movie. However, the addiction was life-threatening to him and his relationship with Smith.
Not just that, the actor had to face charges of the law as well when he reportedly had an accident with the car of an off-duty police officer at a traffic stop. Then, he was driving under the influence. He was charged with drug possession after the police inquiry.
Mewes' drug addiction is believed to have rotted and weakened his teeth. Consequently, he underwent surgery and opted for fake teeth, also known as dentures.
Not just dentures; some fans argue that he's even had plastic surgery to get his chin, jaw, and lips done.
Has Jason Mewes had plastic surgery?
While Mewes has confirmed having fake teeth, he hasn't yet responded to the plastic surgery rumors.
Where is Jason Mewes' wife now?
Mewes is married to Jordan Monsanto. The couple's wedding was a civil ceremony that took place on 30 January 2009. The couple, however, had planned the more crowdier wedding for May that year.
Mewes and Monsanto have a daughter, Logan Lee, who was born on 1 April 2015. He expressed that his baby was his priority shortly after Lee's birth. He said, "I don't want to say being a parent has changed me, but my life has changed in the sense that everything is about Logan for me. All I do is think about her now. When I used to travel, I'd want to go out three days earlier than when work started, but now I've got to leave at the very last minute and come back soon because I've got to be with the baby."
The Scream 3 actor also joked that he would never view Jay and Silent Bob films with her daughter. "If she's 18, I definitely wouldn't watch them with her," Jason insisted. "At any age, I don't want to – among other things, she'd see me butt naked. That's enough to scare any child," he added.
On 19 February 2023 (Sunday), Mewes and his wife Jordan welcomed baby no. 2. On Instagram, he shared that his newborn son, Lucien Lee Mewes, was nearly born "in the backseat" of his car at the hospital entrance.
Mewes also acknowledges his past shortcomings and often expresses that he is lucky to have such a beautiful family. On 25 January 2023, he captioned, "This is my Heart! And how unbelievably crazy this guy/me thought so many years back that I was unworthy of a family is now about to have a son as well as this amazing little girl. Thank you @jordanmonsanto for letting me continue to be the," in an Instagram picture of him clicked with his daughter.