Kevin James' Life with His Wife and Kids Is Going Strong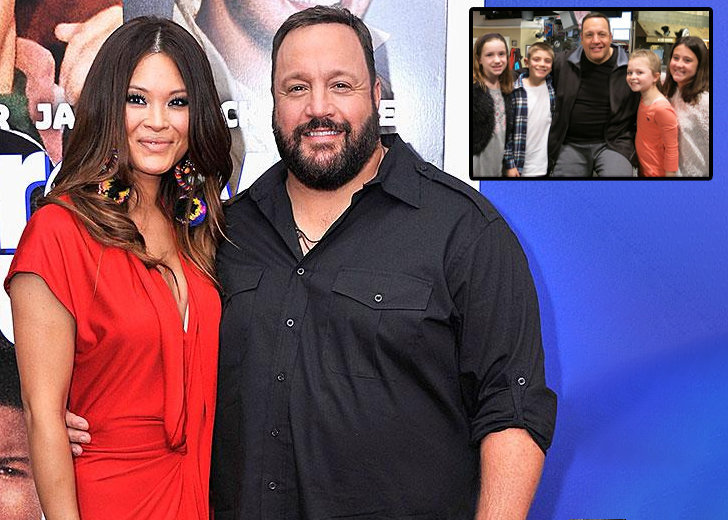 Kevin James, The King of Queens actor, has been married to his wife Steffiana De La Cruz for over a decade. During the span of their marriage, they have welcomed four kids together.
Unlike his romantic mishaps in reel-life, his real-life love story is amazing. He met his wife in 2001 when his friends and colleagues set him up on a blind date.
While we only see blind dates working out in movies, it turned out to be good for James in real life because right after his blind date, the couple moved in together. 
James looks to be a family man who loves spending time with his wife and kids.. 
So, let's take a look at his relationship with his wife and kids.
Kevin James and His Wife's Relationship
While James is not an unknown face to the industry, his wife has also has got to experience the on-screen world.
She can be spotted in a few episodes of the series The Kings of Queens, but she is best known for her roles in Zookeeper and Paul Blart: Mall Cop (1 and 2) 
However, James and his wife are both very private when it comes to details of their relationship.
The couple got engaged two years after dating in 2003. Their wedding was followed by their engagement the following year.
On June 19, 2004, the couple took their vows and made sure their wedding didn't miss a beat. The celebrations were made magical by a lavish reception afterward.
The love between them has only grown stronger, and they are just as smitten as they were the first time they met.
His expression of love carries humor, which must be an ingredient to their happily married life.
On 2020's Valentine's Day, James  posted a picture where the couple was seen humorously biting on a piece of cake, and he captioned it, "nothing can ever come between us." 

Kevin James and his wife smile for the camera. (Source: Kevin James' Instagram)
On their sixteenth anniversary, James shared a picture with his wife and captioned it, "you're all I need and the kids and Friday night pizza and Sunday pasta, but that's it you, the kids, pizza, pasta."
He has his way of expressing his emotions, and his fans and wife adore that about him.
Kevin James and His Kids
In September 2005, they welcomed their first daughter, Sienna Marie, and James said it was the most amazing feeling to know that someone will one day call him "dad."
After two years, in 2007, they expected another child. It was a girl again!
James told People that they were excited to bring their second daughter, Shea Joelle, home.
He added he loved being a dad and spending time with his wife and kids and now having another girl is a cherry on the top.
He shares pictures and videos of his wife and kids now and again.
On March 26, 2020, he shared a video of his son playing the piano and his daughter singing, and they looked so adorable. 
James and his wife and kids increased their family to five in 2011. They welcomed their son, Kannon Valentine. And finally, in 2015, they had their youngest daughter, Sistine Sabella.
James mentioned that his wife and kids are his inspiration to work, and they do it all for them. 
He makes sure he spends time with his family and takes on vacations so that their bond grows stronger.