Who Is Kevin Bacon's Son Travis Bacon? Get To Know the Musician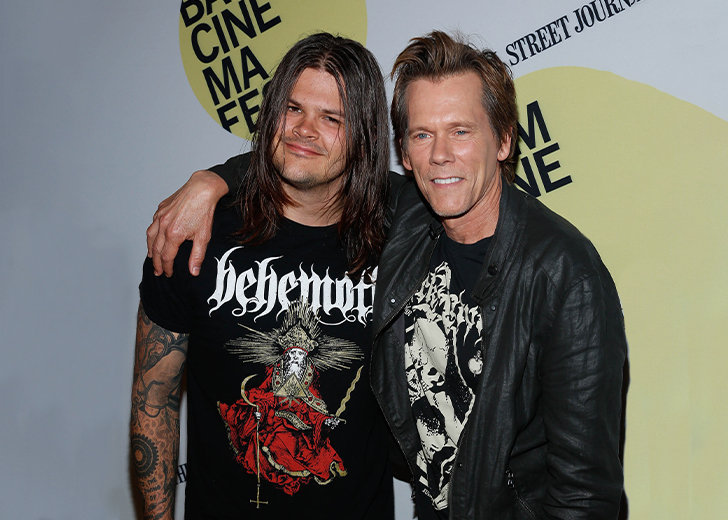 Kevin Bacon's family is a group of creatively gifted people. He is a great actor and musician, and his wife, Kyra Sedgwick, is a director.
The couple passed on their talents to their children, it seems. Their daughter, Sosie Bacon, took after her father's acting skills and is a successful actress.
Their son, Travis Bacon, on the other hand, inherited his father's skills as a musician. Travis is the most secluded member of the talented family and the most interesting, too, some might say.
Who Is Travis Bacon?
Other than being Kevin's son, Travis, born on June 23, 1989, is a well-established musician and artist in his own right.
For starters, he is a member of the industrial metal band called Contracult. He is one of the three members, the other two being someone named Culprit and Bec Hollcraft.
As of this writing, the band has released one album, A Cult Of Opposition, on September 18, 2020.
Other than his band, Travis has also made music for movies. He has four IMDb credits as a composer, the latest of which is for Space Oddity, a project he worked on with his father.
Travis has also dabbled in acting. In 2005, he played Lenny in Loverboy, a movie Kevin directed. But that is, to date, his only acting credit.
Talking about the secluded son's personal life, he has a girlfriend whom he has been dating since at least 2020.
Travis's girlfriend is Angelina Sambrotto. It's not clear when they started going out, but the first time she posted about their relationship on her Instagram was on October 30, 2020.
Since then, the two have been a regular feature on each other's Instagram, although Sambrotto outdoes Travis in terms of post frequency.
Sambrotto is a beauty entrepreneur with her own beauty line, Our Darling. Before launching her line in late 2021, she was working with top cosmetic companies since at least 2009.
Kevin Bacon and His Son Share a Tight Bond
Kevin and his wife take pride in being able to work with their children. The couple's latest undertaking, Space Oddity, has their son's name among the credits.
Travis provided the music for the movie and worked together with his father in doing so. A musician with leanings towards metallic tunes, the movie gave the two a chance to bond over music.

Kevin Bacon (right) with his son, Travis Bacon. (Photo: Kevin Bacon/Instagram)
"We've collaborated on amazing stuff because I'm a musician too," he told Hello! magazine on June 13, 2022, while promoting Space Oddity.
Even though the family is now happily working together and fine being in the spotlight, Kevin and Kyra tried to discourage them from working in the limelight.
The couple tried to protect their children after Kevin had a bad time dealing with his career slump around 2013.
"You never want bad things to happen," Kevin said during an interview with The Telegraph in 2013. "But of course, that's just not possible."