Keri Hilson Has a Husband and Is Pregnant — Fact or Fiction?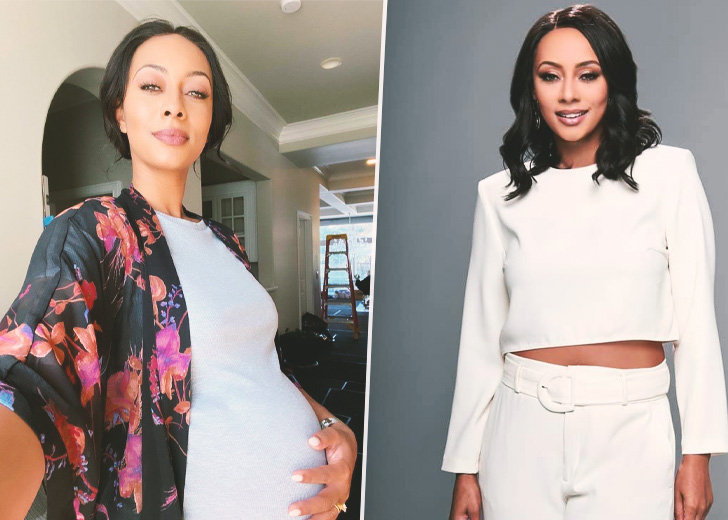 American singer and actress Keri Hilson sent her fans into a frenzy when she took to her Instagram to post a series of pictures of herself with a baby bump.
In December 2020, Hilson shared a couple of pictures showcasing a pregnant belly. However, the images were not captioned with text but were accompanied by face emojis, which did not hint at an ongoing pregnancy. 
In the post's aftermath, pregnancy rumors began to circulate on the internet, which led to speculations of Hilson being pregnant. During the ongoing saga, Hilson even received many congratulatory messages from fellow entertainers, media houses, and fans on her social media. 
Was Keri Hilson Really Pregnant?
After the images of Hilson with a pregnant belly attracted a surge of interest from fans and well-wishers, Hilson took to her Instagram a few days later to reflect on the subject. 
While the actress did not address the issue straightforwardly, she made a vague reference and used a sarcastic tone in her clarification.
Hilson posted a wedding picture in which she could be seen in proper wedding attire. At first glance, many might have assumed her to be married to her husband. However, there was a twist in the plot. 
In her post, accompanied by a long caption, Hilson wrote how she was "marriaged too" and made a big reveal after she told her followers of how she was proud of the role that was "stretching" her at the time. 
It was then believed that Hilson wasn't actually pregnant. Instead, her bump was artificial and a part of her character in the then-forthcoming movie Lust. The marriage and her husband were fake as well and were part of the same movie.
Keri Hilson's Relationship History
Per a 2020 report by Essence, singer Hilson was previously in a relationship with NBA star Serge Ibaka. Her dating timeline with Ibaka dates back to 2010, right after the release of her album No Boys Allowed.
Unfortunately, things did not work out between the ex-couple. They called it quits after reportedly dating for around four years.
Hilson faced wide criticism for how she handled her break up with Ibaka. However, during an exclusive interview with Rolling out, the singer promised to handle her future relationships with care. 
A "mistake" is usually the word people prefer to use when it really was a RISK they DECIDED to take. But word to the wise, make sure you can handle both outcomes. ✌🏾 — Keri Hilson (@KeriHilson) December 11, 2017
Shortly after her split with Ibaka, Hilson was in love again, as in 2017, she was known to be dating American footballer, Ricardo Lockette. 
However, their relationship ended prematurely after Hilson broke off with Lockette around mid-December in 2017. At the time of her split, the singer posted a cryptic tweet hinting at her decision to date Lockette to be a "mistake."
On the other hand, Lockette did not shy away from the issue as he went public with his response. A few days after Hilson's tweet, Lockette quoted her text and wrote, "Lol wish you the best," his tweet was followed by a cheers emoji. Hilson does not have any kids from her past relationships.