Rodrigo Blankenship and His Girlfriend Logan Harrell Are Engaged!
The couple has been together since July 2016.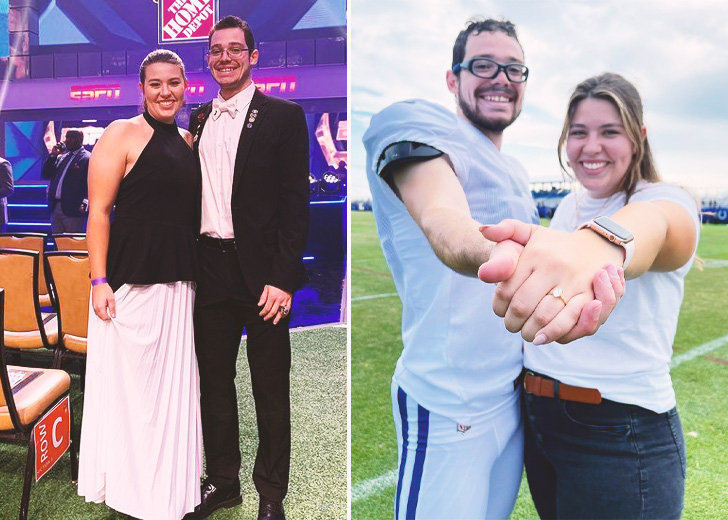 Last month, Rodrigo Blankenship popped the question, and his girlfriend Logan Harrell said, "yes."
On August 15, Blankenship, an Amerian football placekicker for the Indianapolis Colts of the National Football League, took to Instagram to announce that he and his girlfriend got engaged to each other, showing off the ring to the couple's fans and friends.
"'The Blankenship's' has a nice [ring emoji] to it. Can't wait to spend forever with you. #LadySpecs #RespectTheSpecs," he captioned the adorable snap. The snap photographed by Cynthia Sanchez was captured at Grand Park Sports Campus in Westfield, Indiana, with the footballer donning his football gears.
His post — on which the comments were limited by the placekicker — received over 1000 congratulatory remarks from his close friends and family members for the couple.
The same day, Harrell, the University of Georgia alum, also shared a series of snaps to express her happiness on getting engaged to the man she loves.
Together for over Five Years
The recently engaged couple has been dating each other since July 2016, making their relationship over five years old.
On July 30, 2017, Blankenship had even posted a snap of him and his girlfriend to mark the occasion of their first dating anniversary. "From my hoodies to my food to my joy to my tears... Here's to hoping for a whole bunch more years," he wrote in his long caption.
Similarly, he talked about his first date with Harrell at Siri Thai Cuisine last year, posting a few pictures of the couple — this time, it was on the completion of 4 years of togetherness. He said he would not have believed if someone had predicted the couple would still be together after four years.
In the post, he further wrote that he had shared an "incredible and blessed journey over the last 1,460 days together," and he would not change a single thing of them.
Their Connection With the University of Georgia
Surprisingly, both Blankenship and his soon-to-be wife Harrell have a connection with the University of Georgia.
Speaking of the NFL star, he reportedly graduated with a degree in digital and broadcast journalism from the said alma mater in December 2018, whereas his beloved girlfriend allegedly serves as a lab manager there.
On September 8, 2020, Harrell implied she was the boss at the university's lab through her Instagram post. In the post, she wrote, "Three people say I am the best boss," while dropping a snap where she held a coffee cup with the text, "WORLD'S BEST LAB MANAGER."
Logan Harrell's Constant Support For Rodrigo Blankenship
A quick scroll through Harrell's Instagram, where she has over 3000 followers, shows that she regularly attends Blankenship's matches to show her support for him.
Since they started dating in 2016 to the present day, she has made sure she gets into the stands, shouts out his name aloud, and encourages him to give his best on the field.