Meet Katiana Kay's Boyfriend William Goodall beyond Her TikTok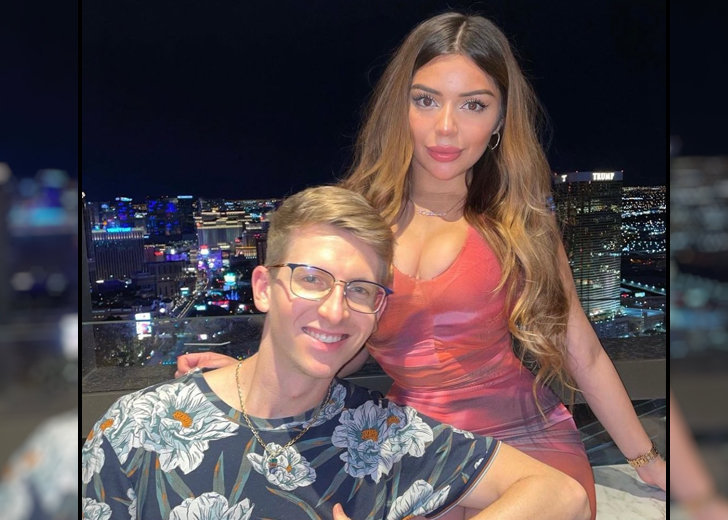 Katiana Kay is in a relationship with her boyfriend, William Goodall. The two often share about each other on their respective social media.
They even have a joint Instagram account where they have posted several pictures of themselves.
Kay and her boyfriend's relationship receive much attention from their fans. In fact, many were concerned about her after several speculations saying she was being abused popped up.
However, Kay and Goodall both took to TikTok to put those speculations to rest and assure she wasn't a victim of abuse.
Who Is Katiana Kay's Boyfriend William Goodall?
Goodall is an entrepreneur who has shared much of his experience in the craft in his TikTok, where he has over 42k followers.
He started his entrepreneurship journey by dropshipping while he was still studying. Goodall eventually dropped out of college to focus fully on selling things online.
However, he didn't continue dropshipping for long because it didn't make him happy. He started several businesses, each of which he gave up on after realizing it wasn't what he wanted to do.
And while he didn't get far with any of those businesses, he shared in a TikTok video that they had all taught him valuable lessons.
Using those lessons, Goodall has managed to start multiple successful businesses. Currently, he is the CEO of two different companies — Bay Smokes and Aw Naturals.
Bay Smokes is a company that is aiming to "provide mild and perfectly balanced alternatives to high-potency THC cannabis and also provide an easy alternative for tobacco users that they'll love."
Bay Smokes has collaborated with Tory Lanez to create their Black Leprechaun hemp products.
As for Aw Naturals, it provides a balanced alternative to traditional pharmaceuticals through plant-based dietary supplements.
Katiana Kay and Boyfriend
Kay and Goodall have been together for quite some time. However, not much is known about how they met or got together.
However, both Goodall and Kay have been dedicating posts to each other for a few years.
In November 2018, Goodall uploaded a picture of Kay's silhouette on top of the camelback mountain. He showed his appreciation for her in the caption.
"Getting to the top was even better because I had my partner with me," he wrote. "Life is like a mountain, better when you climb with a partner."

Katiana Kay with boyfriend William Goodall (Source: Instagram)
In another post he made in 2019, Goodall compared his life with Kay to living in space. 
"You are a blessing in my life, sent from God to this world," he wrote. "I'm humbled to be with you, changing life together."
Rumors about Abuse
On January 10, 2022, Kay addressed a rumor about how she looked older with a TikTok video. In the end, she revealed she was only 19.
However, the video brought about totally unrelated rumors. Several people noticed a few bruises on her thigh and asked about their origins. Many even speculated that it resulted from her boyfriend abusing her.
Some speculations went as far as to say that the one who owned her accounts was Goodall and that he was forcing her to do videos, which was why she looked scared in some videos.
Kay explained that her scared look was because of her past trauma, as well as her jaw condition, which affected her facial expressions besides her insecurities with her teeth.