Is Katiana Kay Being Abused by Her Boyfriend? Conspiracy Theory Explained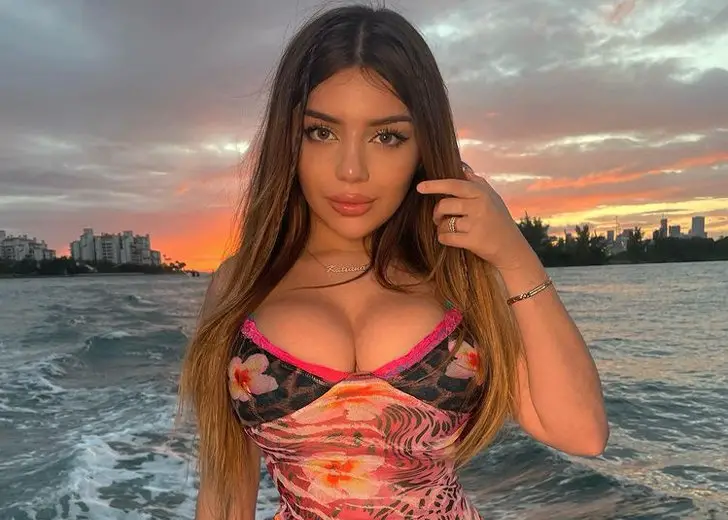 Katiana Kay is a social media personality known for her Instagram and TikTok presence. She has a large following on both platforms and an army of devoted fans.
Hardcore fans notice things ordinary people wouldn't. Something like that has happened with Kay, where her followers have started conspiracies about her being abused.
Several fan accounts have been created just to point out what everyone has been seemingly noticing about her.
Here's a dive into these speculations about Kay's allegedly abusive relationship with her boyfriend.
Is Katiana Kay a Victim of Abuse?
It all took off with a seemingly innocent post Kay made, talking about her age.
In a TikTok uploaded on January 10, 2022, on @katiana.kay, she addressed a rumor going around about how she looked older. At the end of the clip, she revealed that she was only 19.
But, while she might have been out to squash one rumor, she started another.
Fans seemed to notice a few bruises she had on her thighs. And they expressed concern in the comment section.
They asked how she got the bruises and if she was a victim of abuse. They also requested her to be more careful. However, a few others were more paranoid.
Some opined that she wanted people to see her bruises. They also sensed that she was subtly asking for help with the abuse.
People then started jumping to conclusions about how her boyfriend might be abusing her.
Similar was the case with another post she did, this time on her spam TikTok account @katianasecret on January 11.
She was just showing how her calf muscles had twitches. The fans, however, noticed marks and bruises on her calf and wrote the same on the video.
A fan account that goes by @help.free.katiana compiled all these posts, as well as a few others, and uploaded a clip on the channel.
But, things apparently started unfolding even before these bruises showed up on her accounts.
According to @katiana.kay.help, a TikTok account made just to post stuff about her alleged silent cries of help, she sent a signal to everyone even before these posts.
On January 7, the account posted a video with the caption "SAVE HER!!!" accompanied by #mystery and #helpkatiana.
The clip was a screen recording of the comment sections of her two consecutive posts.
In the first post, fans have commented asking her to make a video with her voice if she needed help. Another comment asked her to wear a blue dress in her next video if she was in danger.
Kay apparently did both those things. She wore blue AND spoke in her next video, fueling everyone's suspicions.
The internet sensation has reportedly done what fans have asked her to do on a number of other occasions.
Another thing fans are speculating about is that she is being used by her boyfriend. On two of her posts with her boyfriend, fans have voiced their opinions on this.
One of them was a skit they did where he was helping her fit into a corset that's seemingly not her size.
And in another, Kay talked about how her boyfriend picked a racier picture of her compared to her choice.
In both those posts, people have shared sentiments about how he could be using her for personal gain and making her dress in racy clothing for his gratification as she was just 19.
Other than there, there are many speculations about how her boyfriend owns her account and forces her to do videos, which is why she looks scared in a few of them.
None of these, however, have any solid proof.
Katiana Kay Addressed Rumors with Boyfriend
On the contrary to what fans believe is going on, Kay has not come out and said any of the above conspiracies are true. She has, however, addressed a few things.
Beginning with her scared looks in videos, she addressed this in November 2021.
In a TikTok, she explained how she looked scared in videos because of her past trauma.
Further, she elaborated on her jaw condition, which affected her facial expressions and insecurities with her teeth that made her look unusual while speaking.
And more recently, Kay went into her wardrobe choices.
She admitted to having a "weird" relationship with her body, and dressing the way she did helped her feel better.

Katiana Kay in a TikTok video with her boyfriend where she addresses some of the abuse speculations. (Photo: Katiana Kay/TikTok)
And on January 19, 2022, she refuted the speculation that she was being forced to wear these dresses. Well, kind of.
Again, in a TikTok skit, she admitted that her boyfriend made her wear the dress she was wearing. But the caption revealed a bit more.
She wrote it was okay because he wore skirts for her, too. They kissed at the end of the video.
With these refuted, there are a few more to go. And until she speaks up, there's no way of knowing if there is any truth to the more severe accusations or if this is just fans reaching.