'Cape Fear' Actress Juliette Lewis Remembers Her Father Geoffrey as Her Hero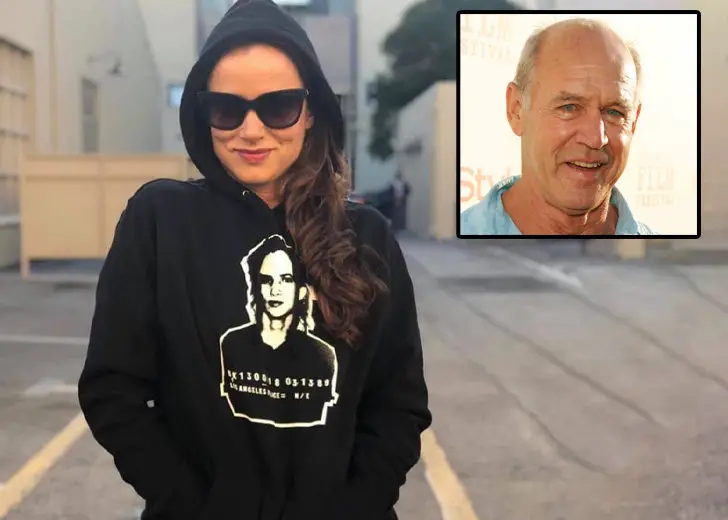 Born on June 21, 1973, in Los Angeles, Juliette Lewis is a proud daughter of her late father, Geoffrey Lewis, and mother, Glenis (Duggan) Batley, a graphic designer.
The Cape Fear actress sadly lost her father on April 7, 2015. He died of a heart attack in his Woodland Hills residence at the age of 79.
Juliette Lewis Says Her Father Is Her Hero
Remembering her dad on August 24, 2021, Juliette took to Instagram to share a series of father-daughter duo's pictures and a lengthy heartwarming note.
In the caption, she first described her dad as her hero while recalling a beautiful moment she had with him when she was nominated for the Golden Globe awards in 1992.
"We're laughing exactly the same because we were both tickled by same thing, the whole experience, how we arrived to be there how we were playing dress up at the ball together, and as a team, as outsiders.
Juliette added he was proud of her early success.

Juliette Lewis with her father Geoffrey Lewis at the Golden Globe Awards in 1992. (Photo: Instagram)
She also implied that the first three pictures in the slide were from the same Golden Globe event, where they evidently wore suits.
The actress wore a blue suit with a white shirt and red bow tie, whereas her father, Geoffrey, sported a black suit with a white shirt and black bow tie.
"4th pic- 'what's eating Gilbert grape' premiere [sic]," Juliette added, explaining the fourth picture was taken at the premiere of 1993 drama film What's Eating Gilbert Grape.

Juliette Lewis with her dad Geoffrey Lewis at the premiere of What's Eating Gilbert Grape. (Photo: Instagram)
Similarly, the fifth [and the last] picture saw the actress and her father spending time together. 
The Way of the Gun star remembered that her dad, who spoke slower, was trying to say something but forgot it mid-sentence when the picture was clicked.
"...but fortunately the dementia did not rob him of his love for his kids and of his infectious spirit," she wrote while sharing the moment was captured a couple of years before he passed away.
In the end, she emotionally stated that it sounded "so wrong" to say that her father "passed," "left," or "died."
Juliette Lewis' Parents Backed Her Career
When Juliette was in her early teenage, she started getting work offers for various acting projects.
However, she could not accept them because she was still a minor — and according to child labor laws, a minor cannot work more until they have a valid emancipated paper.
That is when her parents backed her career by helping her get emancipated from the child labor laws.
Speaking with HuffPost Live's Ricky Camilleri, she revealed her parents' support helped her start her career at a young age.
In addition, she praised her parents by describing them as lovely people.
She also revealed that her dad took her out of school time and again, telling the teachers they were visiting a dentist.
He apparently took her to watch movies like Star Wars. And all those things admittedly helped her fall in love with movies and dream of becoming an actress herself.
Besides, the actress is often spotted together with her mother. She and her mom were recognized walking together at a farmer's market in the Studio City neighborhood of Los Angeles.
That was in August 2015, a few months after her father's death.