Sienna Miller Reliving Her Relationship with Jude Law with 'Anatomy of a Scandal'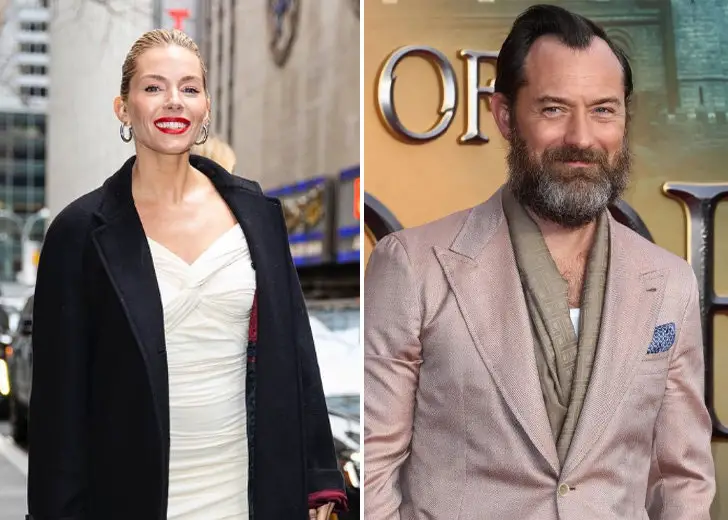 Sienna Miller is reliving her days of being in a relationship with Jude Law via her new Netflix show, Anatomy of a Scandal. She will play the role of Sophie Whitehouse, a politician's wife.
She discovers that her husband, the politician, cheated on her and now was accused of raping the person he had an affair with. Portraying Whitehouse brought up some past trauma of being cheated on.
Law had publicly confessed that he cheated on Miller, which had taken a toll on her. She had buried the moment deep down, but now, after almost two decades, those feelings resurfaced.
In an interview with Elle UK on April 4, 2022, Miller talked about her feelings about playing a cheater's wife and her own experience.
Sienna Miller's Feelings on Playing Cheater's Wife
Miller confessed playing Whitehouse was a "familiar terrain." She reflected on her "ugly" past and said she had experienced some things the politician's wife went through.
She compared her own life with Whitehouse's, and their way of dealing with such emotions was different. According to her, Whitehouse's "way of dealing with what's thrown at her is the absolute antithesis of what" she was.

Sienna Miller as Sophie Whitehouse for 'Anatomy of a Scandal.' (Source: Twitter)
Therefore, "in a kind of twisted, tourism sense," Miller portrayed Whitehouse to see how she would react differently to her scenario.
Similarly, through her portrayal of the politician's wife, she could reclaim the humiliation she felt from Law's behavior. She acknowledged it was not "deeply unpleasant" to relive her experience of being cheated on.
She reminisced about filming a particular scene from Anatomy of a Scandal where the politician admitted to cheating on Whitehouse. The actress had a mic on her chest, and during that scene, her heart was beating faster.
The mic and monitor picked up on her heartbeat "getting faster and faster." She confessed the scene made her think and put herself back in the past. 
She then thought, "I really must need help, if this is what I enjoy doing!" The reminiscing of her past was not bad, but it was "something cathartic."
She could substitute her memory with something else. Regardless of it all, Miller does not negatively feel toward Law and admires him despite the public humiliation.

Sienna Miller posing for a photo with her ex-boyfriend, Jude Law. (Source: Twitter)
Sienna Miller and Jude Law's Relationship
Miller and Law were once the most talked about couple in the Hollywood industry.
It was not because of how adorable they were together but how it ended. They met around 2003 while filming Alfie.
During that time, Law was going through a divorce with his first wife, Sadie Frost. He shares three kids with his first wife.
After their divorce was finalized in October 2003, Law and Miller were more public with their relationship. The duo got engaged on Christmas of 2004, and it was reported that they were "spectacularly happy."
Law went on one knee with an exquisite gold ring adorned with nine diamonds.
But unfortunately, the pair never got married because of the Fantastic Beasts: The Secrets of Dumbledore star's affair with his kids' nanny, Daisy Wright.
Wright revealed the affair first in an interview with Sunday Mirror in 2005. She opened up about her relationship with Law and showed her diary, where she wrote about their romance in detail.
According to Wright, one of Law's kids once caught them in bed and told their mother, Frost. Shortly after Wright revealed their relationship, Law came out with a statement of his own.
He apologized for cheating on Miller and said he was "deeply ashamed" for hurting her. He admitted he could not defend his actions and asked the public to give the pair privacy.
The two broke up soon after and got back together in 2009. However, in 2011, they parted ways for good.
Miller was in a relationship with Balthazar Getty in 2008 and dated Tom Sturridge from 2011 to 2015. Law, on the other hand, dated Samantha Burke in 2008 and Catherine Harding in 2015.
He got married on May 1, 2019, to Phillipa Coan for the second time.